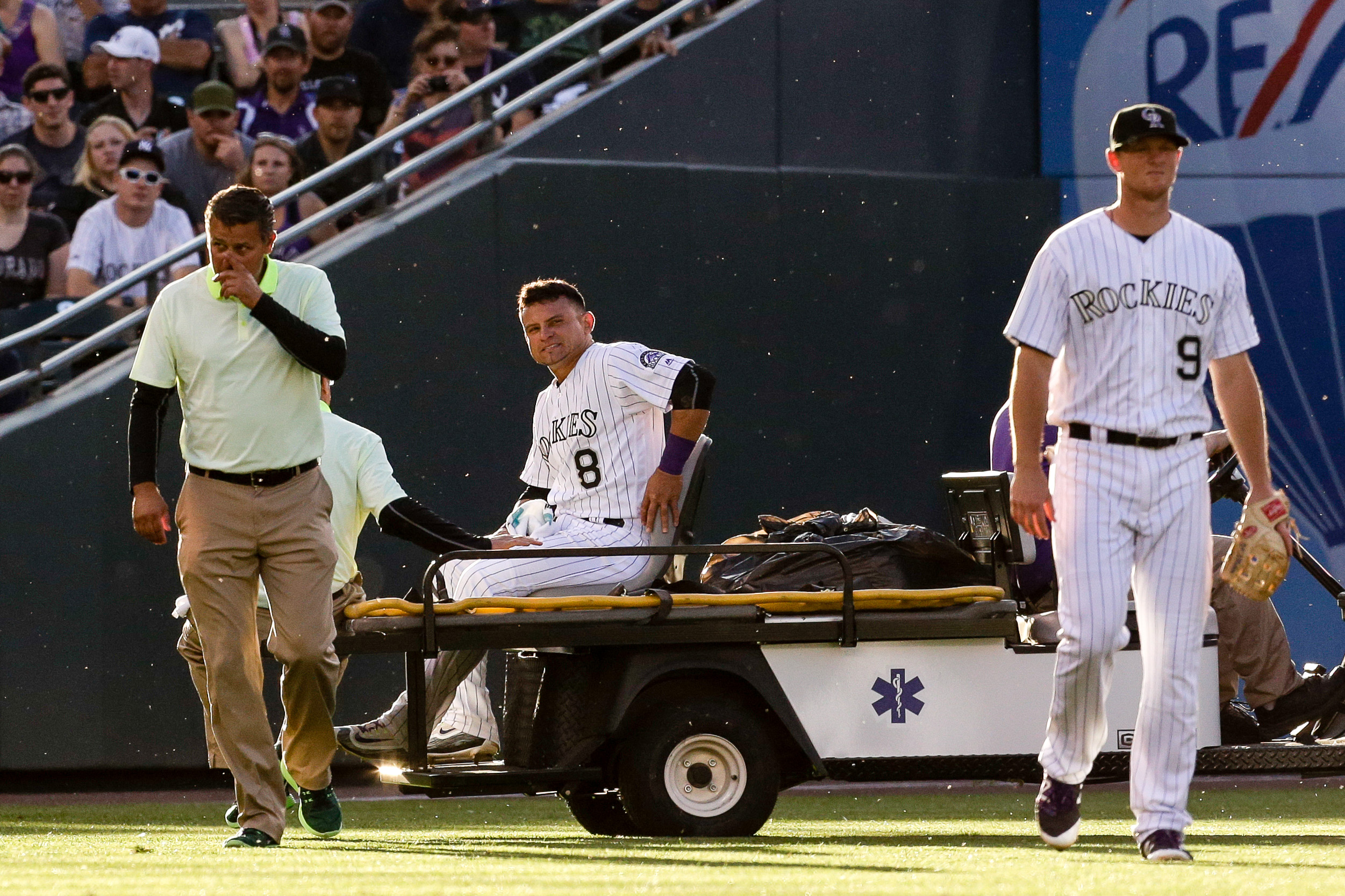 Almost immediately when you walk into the Rockies clubhouse, there are a set of computers, and when the Rockies win, Gerardo Parra opens up YouTube and queues the latest Latin hits to celebrate. After the Rockies beat the Yankees for the first time since 2013, in a 13-10 slugfest, there isn't any music playing at all.
This clubhouse is just not the same without Gerardo Parra.
In the third inning, Parra suffered a sprained ankle after Trevor Story dove into his leg while trying to make a play on the ball. Walt Weiss said that the team would reevaluate Parra before the next game before making any decisions about his health. Weiss said that he thought that all things considered, it was better than he thought it was going to be because, it wasn't an injury to Parra's knee.
What was most impressive was Story's reaction to the unfortunate incident, as his play was not affected, crushing a 454-foot line drive for his 17th home run of the season.
"GP is one of our leaders in the clubhouse, and he's always happy," Story said. "You never want to see someone get hurt but I was trying to make a play. I didn't want to hurt anybody.
"It helped a lot that GP came down and told me that he was all right and told me not to worry about it and go out there and play. I try to forget about it until after the game. All GP wants to do is win, so yeah that helps."
Weiss told his young shortstop that these things happen, and it's unfortunate, but he tried to put things in perspective by saying that it all happened because he was hustling to make a play.
"After that play I was concerned about him [Story], to be honest with you," Weiss said. "But that's the way he has been all year. Anytime there might be a chink in the armor, he has a big game.
"That's what I've been so impressed with him is the ability to turn things quickly back around. He doesn't get derailed. Not just for a young player but any player in this league. It can happen. He is showing great knack just to gather himself and get right back on track."
After Story got his home run, Ryan Raburn hit a solo shot after replacing Parra in the third, making it with the sixth time this season the Rockies have gone yard in back-to-back at bats. Raburn said he was trying to look for a pitch over the plate and he got it from Yankee starter Nathan Eovaldi. Sometimes, as a bench guy, all you get are a few stretches and then it's time to grab the bat. Raburn embraces a bigger role with this club now that Parra went down.
"I expect to go out there and perform and that's why it takes 25 guys," he said. "Part of being a role guy is you have to be ready to go out there at all times. Any way you can contribute is a big plus."
Weiss said before making any decisions moving forward with Raburn, the team would have to evaluate Parra.
"Regardless [of circumstance], I try to keep Raburn involved and try not to let him sit around for too long," Weiss said. "Because I know he's going to have to go up there and take some tough at bats. He's had some big hits off the bench for us. When you give him a start, he makes a big impact. He's been a nice piece for us."
Still, the walk over to Carlos Gonzalez' locker is particularly quiet. Growing up with Parra in Venezuela and coming up with him in the minors, Gonzalez said more would be missed from Parra than just what he brings to the lineup.
"He understands he is a big part of this organization," Gonzalez said. "He's a great player and he knows how to play the game. He's a really special guy. Not just the way he plays but he's a great teammate. He's a great clubhouse guy."
Parra is essential for manufacturing runs, but getting the left fielder back quickly will ensure this team has their emotional leader and that this clubhouse is a party again.