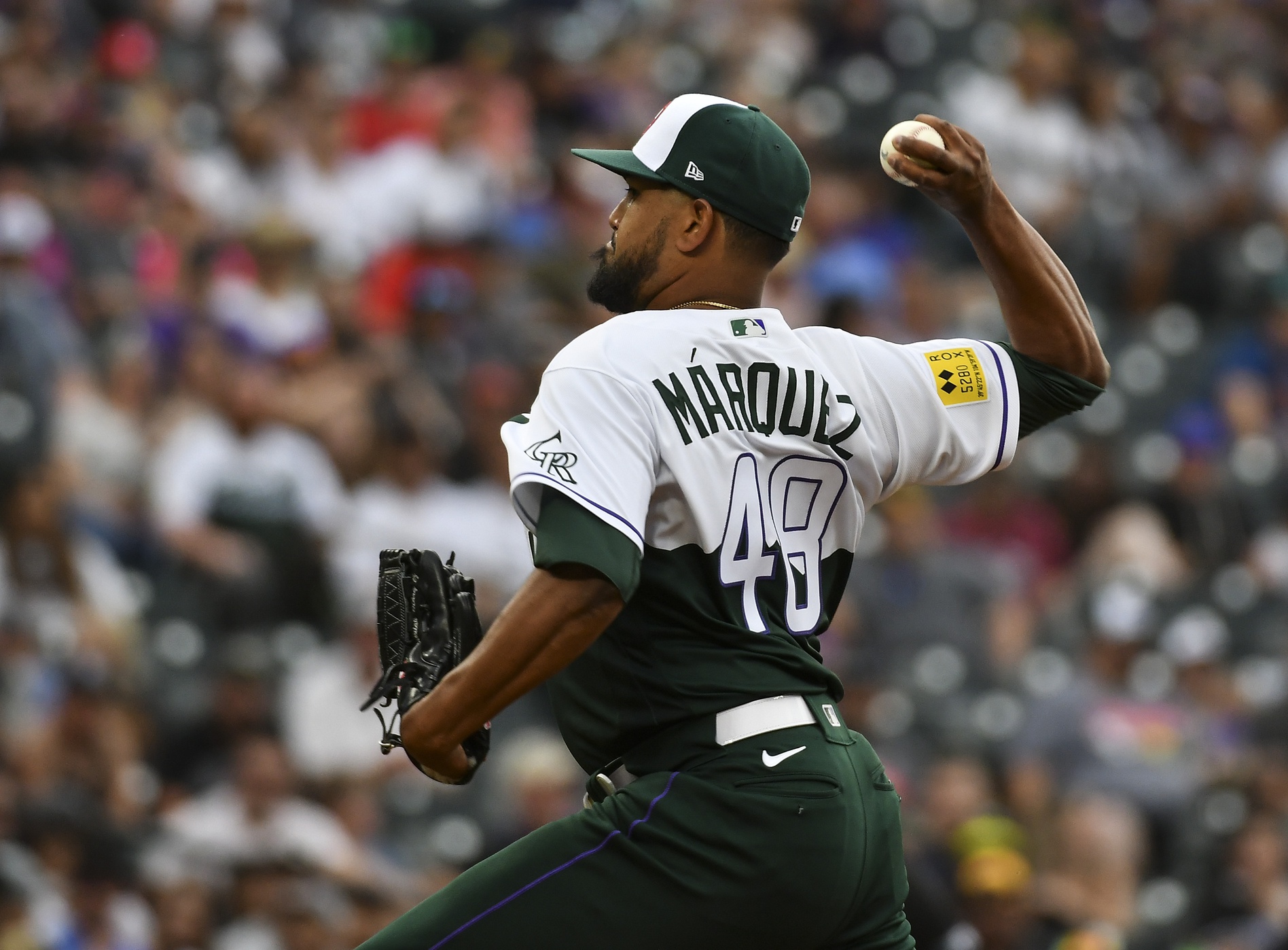 Trying to make sense of what is going on with the Colorado Rockies at this particular moment is a lot like trying to figure out what is going on with German Marquez.
Both have been perplexing, not just in how they have failed but even in how they have momentarily succeeded. 
The Rockies lone All-Star a year ago, Marquez came into this season with high hopes for himself, and also from fans and media, that this would be the year he finally stepped up his game and inserted his name into the Cy Young conversation in earnest.
For years Marquez flirted with being truly elite, showcasing top-of-the-line strikeout stuff and putting together several individual game performances that carried a palpable "wow" factor. But bad games and innings in between those outings would cost him in the ERA department, especially at Coors Field, and end up making his numbers look less than stellar by season's end.
Marquez had become fully aware of this pattern and seemed focused on putting an end to those rough patches but, frustratingly for him, they instead became the norm.
He tinkered with the grip on his sinker and made a few adjustments to his approach and at first it looked like it might work out nicely. His season debut saw him go seven strong, striking out five and allowing just one run to the powerhouse Los Angeles Dodgers in an eventual win. 
That was right in line with the good version of Marquez we have seen in the past, and it was reasonable to think it would be a common sight throughout the campaign. But it hasn't been.
Immediately thereafter he fell into the worst slump of his career…by far.
Over nine games, he pitched to an ERA of 7.50 and batters were hitting .330/385/.568. So basically, everyone who faced him during that stretch suddenly became an All-Star caliber hitter.
Nothing was working. He could hit his spots which meant he could execute his gameplan which rendered most analysis over what pitches he was using and why irrelevant. He couldn't simply throw his curveball and slider more because he was often behind in the count due to lack of fastball control and also he wasn't commanding those pitches either.
The best thing you can say about these nine starts is that at least Marquez managed to go six innings in five of them but that's just about it.
Quietly though, he may have turned a bit of a corner over his last four outings, culminating in a bit of an odd gem Friday night in Minnesota.
He pitched 7.2 innings and would have gotten the full eight if not for another defensive miscue from Ryan McMahon at third base. From a length and stamina standpoint, this was easily the best Marquez has been all year. He threw 101 pitches, 63 for strikes, and did not allow a single run.
He also only allowed three hits but the five walks and only two strikeouts remain a concern as the righty tries to right the ship. 
Still, it's hard to deny the stark contrast in numbers lately. In his most recent quartet of performances, he has an ERA of 3.16 over 25.2 IP but the biggest difference can be found in how hitters are faring in general, slashing just .226/.311/.387. That's more like it.
We need more data to see if this is truly a turnaround and not just a blip of good play. Similarly to how the Rockies swept the Padres then got swept by the Marlins, we don't want to run away with analysis of this time and assume that a drastic change has been made.
That said, if Marquez has turned the corner and can be more like the pitcher he has been the rest of his career and less like the one he has been this season, it can go a long way toward steadying the ship and relieving the fans from the harshness of these choppy waters.