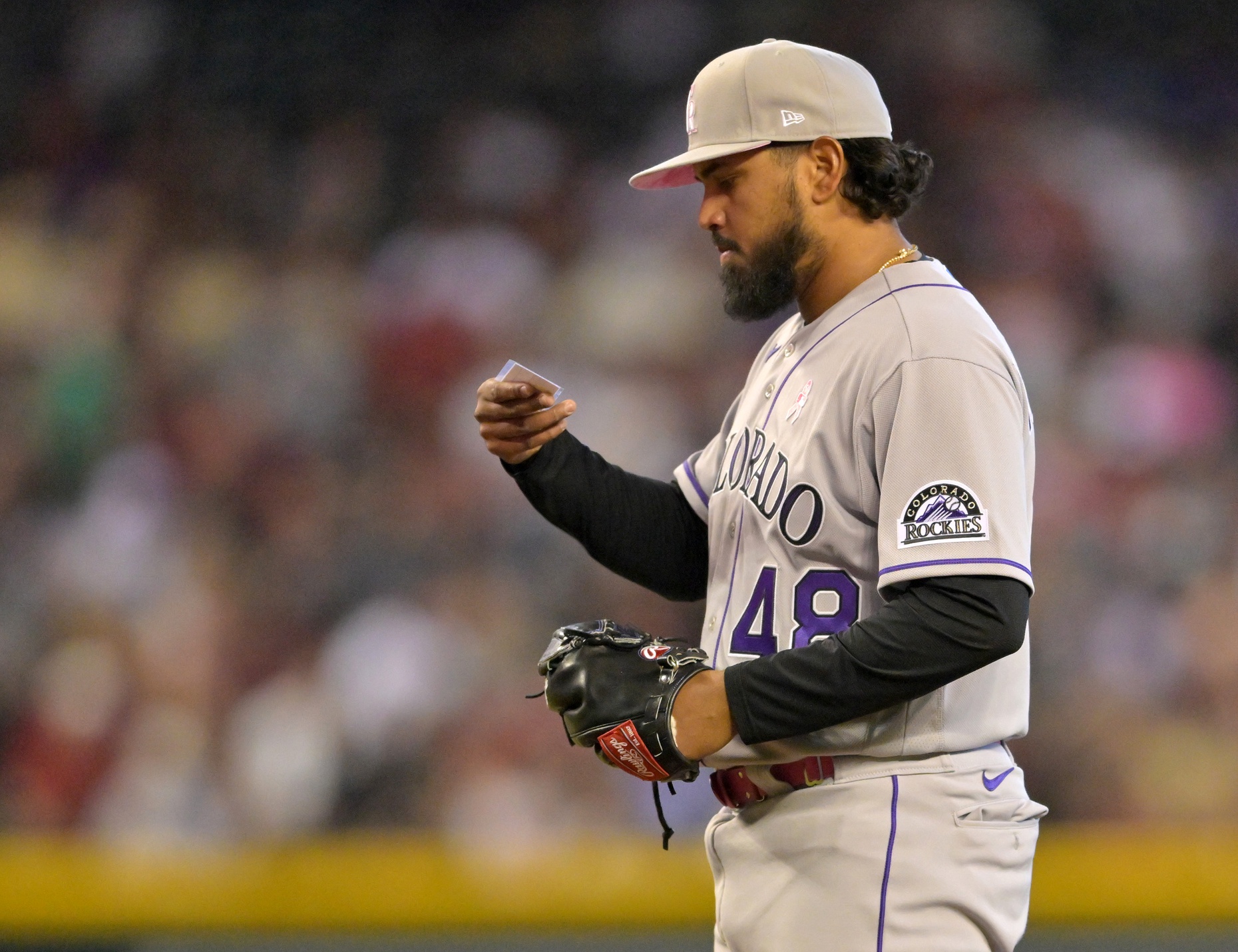 What in the world is wrong with German Marquez?
The Colorado Rockies righty came into the year with high hopes and high expectations that this might finally be the campaign where his prodigious stuff matched up with experience and took him into the Cy Young conversation.
Instead, everything seems to have fallen apart.
He looked like himself in his first start, a seven-inning, three-hit, one-run performance against the National League All-Star team… er… the Los Angeles Dodgers.
Since then, he has been truly dreadful.
In the eight games that have followed his season opener, Marquez has thrown 43 innings and been arguably the worst starter in baseball. Over that stretch, he has a 7.12 ERA and opponents are hitting .332/.383/.549 against him.
On the season overall, the man who was supposed to be the Rockies ace has posted a 6.30 ERA and given up more hits and more earned runs than any other qualified starter in the NL.
From a mechanical standpoint, anything and everything has gone wrong. At times, the pace of his delivery has been remarkably sporadic, and he has had trouble finding a consistent release point. He has spoken about a new fastball grip he came into the season with and whatever the plan was there, it isn't working.
There are those who would like to point the finger at the Rockies coaching staff or front office, searching for answers. Surely, a guy this talented didn't just completely lose his skills and ability to pitch, so they must be telling him to do something different.
While there are always ongoing conversations about making adjustments and adapting to new strategies, the fact is that what is happening right now is entirely on Marquez and it's entirely up to him to fix it. Coaches can only do so much.
Also, the problem isn't the game plan when he can't even execute that.
Baseball fans will argue until they are blue in the face about the values of pitching up in the zone vs. down in the zone but none of that matters when you are only hitting your spots about 30 percent of the time. It also doesn't really track that the Rockies coaching staff gets no credit for the pitcher Marquez used to be but take all the blame for what he is right now.
Furthermore, each pitch that a pitcher decides to throw is his responsibility. Coaches can teach to certain tendencies and catchers can throw down all the signs they want, manager Bud Black has made it very clear that it is the man on the mound who makes the ultimate decision on what to throw.
Unfortunately for Marquez and his teammates, he is just going through a moment in his career where everything that can go wrong is going wrong. And make no mistake, it is absolutely the job of the coaches around him to do everything they can to get him back on track.
But this, and not terribly enforced rules and badly missed calls behind the plate, is the real human element of the game of baseball.
Nobody can tell you exactly why Marquez has gone from being easily the Rockies best pitcher and an All-Star a year ago to a guy who can't seem to buy an out when he takes the mound.
Similarly, no one can say for sure how long it is going to last or what it will take to end it.
We do know, however, that the Rockies cannot absorb this for much longer. They are a team lacking in depth and star power that was built around the quality and consistency of their starting pitcher. And yet their best starting pitcher has been neither quality nor consistent.
Regardless of a start that has been powered by a potent offense, this team will only go as far as their rotation takes them. Right now, thanks to the fact that their most powerful mode of upward mobility is stuck in the mud, so are they.