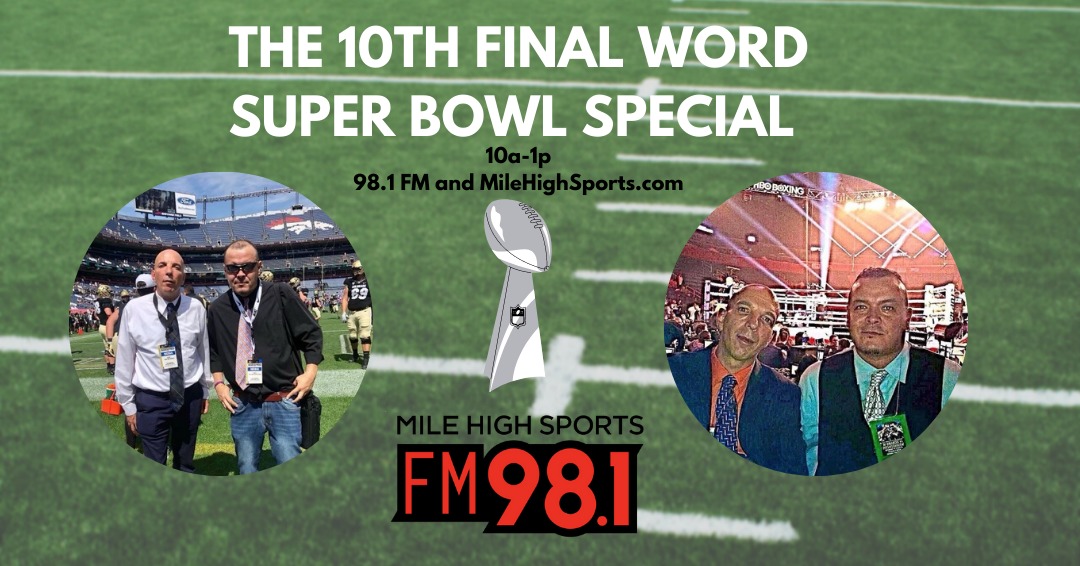 The big game is on deck with the Los Angeles Rams and Cincinnati Bengals set to clash in the final NFL football game of the season! 
Who will win? There are so many different ways to look at this game. Will the Rams seal the deal or will Joe Burrow lead the Bengals to glory? 
Tune into The Final Word with Alex Ramirez and Joe Rico on Mile High Sports radio 98.1 FM from 10a-1p for a full Super Bowl preview show. The fellas will preview the game from every angle and dish out their take on who will win the game! 
This will be the 10th Super Bowl preview show for Joe and Alex on Mile High Sports, and the fellas host Colorado's premier weekend sports talk program each and every Sunday on local airwaves. 
"Growing up in Colorado and being a huge sports fan of all the home teams, and now working professionally in the industry for the last ten years is something that's out of a fairytale." Ramirez told Mile High Sports. 
There have been plenty of memorable moments on the Final Word Super Bowl show over the years, including two appearances by the Denver Broncos and one championship. This year promises to be no different with Joe and Alex bringing the heat on Sunday! 
Catch The Final Word with Ramirez and Rico every Sunday from 10a-1p on Mile High Sports Radio FM 98.1 or stream live any time for the best local coverage of Colorado sports from Denver's biggest sports talk lineup. Rico and Ramirez are the longest-running sports radio duo in the Denver market. Be sure to follow the Final Word Facebook page here!