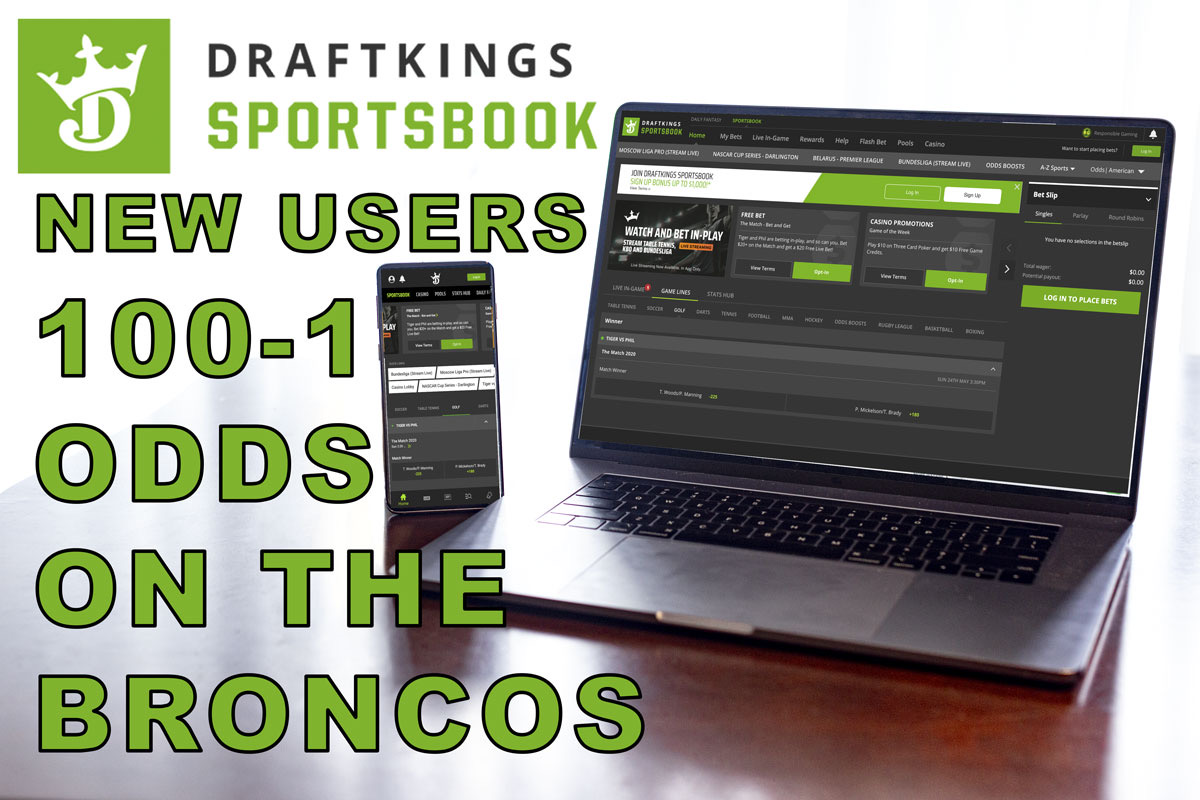 DraftKings Sportsbook rolled out an outrageous offer for the opening weekend of NFL action on the Colorado online sports betting market. It had so much success, the popular online sportsbook is bringing it back ahead of the second Sunday of the NFL regular season.
DraftKings Sportsbook is running a Week 2 promo in which new bettors get 100-1 odds on the Broncos (or any NFL team) to win. 
After a wild opening weekend around the league, new bettors that are looking to jump into the action with DraftKings Sportsbook can do so by taking advantage of $1,000 in free bets and an absurd +1000 odds on any NFL team to win. You can get these offers by clicking right here.

DraftKings Promo
States: AZ, CO, PA, NJ, IN, IL, IA, MI, MI, VA, TN, and WV
GET THE APP
If bettors don't want to back the seven-point underdog Broncos to win this week at these substantially boosted odds, that's totally understandable. Instead, they can simply apply this offer on any of the other 31 NFL teams, even the ones that are substantial favorites.
DraftKings Sportsbook 100-1 NFL Week 2 Promo
The Broncos are a big +275 moneyline underdog against the Steelers this week, but this 100-1 odds boost at DraftKings Sportsbook Colorado still represents significant value on teams that are not favored.
In this case, bettors can wager $1 on the Broncos and win $100 if they spring the upset. Typically, a bettor would have to wager roughly $36 dollars to return the same payout, so even though Denver is an underdog, this offer is still worth it.
On the other hand, if you're not feeling a Broncos upset this Sunday, then this boost can be applied elsewhere – and there are plenty of logical ways to use it.
Notably, there a total seven games that currently featured moneyline favorites of greater than -300. At such heavy odds, a bettor would have to risk more than $300 to turn a $100 profit. In this case, the special odds boost could save bettors well over $300 of risk to return a substantial payout.
Big Favorites at DraftKings Sportsbook
There are several huge favorites at DraftKings Sportsbook that can receive the 100-1 treatment. Let's take at some of the most intriguing options in Colorado and elsewhere:
San Francisco (-315) vs. NY Jets: The angry 49ers were stunned last Sunday by the Cardinals. Meanwhile, the Jets look like football's worst team. This could be a good spot.
Tampa Bay (-345) vs. Carolina: The Bucs have big expectations in 2020 and can ill-afford an 0-2 start. After Tom Brady and the offense struggled last week, they have the right opponent to get things going this week.
Titans (-345) over Jacksonville: Tennessee returns home after a tough win against Denver last week. While the Jags pulled off an upset against the Colts, the big number here suggests oddsmakers simply don't believe Jacksonville can hang.
Chiefs (-375) over Chargers: The Chiefs have the benefit of extra rest, they won the Super Bowl last season, and they looked unstoppable in Week 1. Now, they get a Chargers team that was lucky to escape a bad Bengals squad in Week 1. Yikes.
So, as you can see, there are several big value opportunities on the board in Week 2 with this DraftKings Sportsbook promo.
How to Sign Up
The process for getting up to $1,000 in free bets and 100-1 odds on any NFL team in Week 2 is easy. Click here to get things rolling, then make your first deposit ($5 minimum, though we recommend more to take advantage of the free bet offers).
Then, opt-in on the DraftKings Sportsbook app main page to get this special deal.
From there, simply pick a game, pick a winner, and make sure to apply the boost by selecting "BOOST THIS GAME."

DraftKings Promo
States: AZ, CO, PA, NJ, IN, IL, IA, MI, MI, VA, TN, and WV
GET THE APP