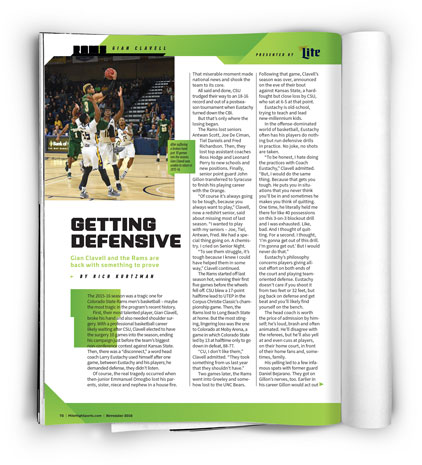 This story originally appeared in Mile High Sports Magazine. Read the full digital edition.
The 2015-16 season was a tragic one for Colorado State Rams men's basketball – maybe the most tragic in the program's recent history.
First, their most talented player, Gian Clavell, broke his hand and also needed shoulder surgery. With a professional basketball career likely waiting after CSU, Clavell elected to have the surgery 10 games into the season, ending his campaign just before the team's biggest non-conference contest against Kansas State. Then, there was a "disconnect," a word head coach Larry Eustachy used himself after one game, between Eustachy and his players; he demanded defense, they didn't listen.
Of course, the real tragedy occurred when then-junior Emmanuel Omogbo lost his parents, sister, niece and nephew in a house fire. That miserable moment made national news and shook the team to its core.
All said and done, CSU trudged their way to an 18-16 record and out of a postseason tournament when Eustachy turned down the CBI.
But that's only where the losing began.
The Rams lost seniors Antwan Scott, Joe De Ciman, Tiel Daniels and Fred Richardson. Then, they lost top assistant coaches Ross Hodge and Leonard Perry to new schools and new positions. Finally, senior point guard John Gillon transferred to Syracuse to finish his playing career with the Orange.
"Of course it's always going to be tough, because you always want to play," Clavell, now a redshirt senior, said about missing most of last season. "I wanted to play with my seniors – Joe, Tiel, Antwan, Fred. We had a special thing going on. A chemistry. I cried on Senior Night.
"To see them struggle, it's tough because I knew I could have helped them in some way," Clavell continued.
The Rams started off last season hot, winning their first five games before the wheels fell off. CSU blew a 17-point halftime lead to UTEP in the Corpus Christie Classic's championship game. Then, the Rams lost to Long Beach State at home. But the most stinging, lingering loss was the one to Colorado at Moby Arena, a game in which Colorado State led by 13 at halftime only to go down in defeat, 88-77.
"CU, I don't like them," Clavell admitted. "They took something from us last year that they shouldn't have."
Two games later, the Rams went into Greeley and somehow lost to the UNC Bears. Following that game, Clavell's season was over, announced on the eve of their bout against Kansas State, a hard-fought but close loss by CSU, who sat at 6-5 at that point.
Eustachy is old-school, trying to teach and lead new-millennium kids.
In the offense-dominated world of basketball, Eustachy often has his players do nothing but run defensive drills in practice. No joke, no shots are taken.
"To be honest, I hate doing the practices with Coach Eustachy," Clavell admitted. "But, I would do the same thing. Because that gets you tough. He puts you in situations that you never think you'll be in and sometimes he makes you think of quitting. One time, he literally held me there for like 40 possessions on this 3-on-3 blockout drill and I was exhausted. Like, bad. And I thought of quitting. For a second. I thought, 'I'm gonna get out of this drill. I'm gonna get out.' But I would never do that."
Eustachy's philosophy concerns players giving all-out effort on both ends of the court and playing team-oriented defense. Eustachy doesn't care if you shoot it from two feet or 32 feet, but jog back on defense and get beat and you'll likely find yourself on the bench.
The head coach is worth the price of admission by himself; he's loud, brash and often animated. He'll disagree with the referees, but he'll also yell at and even cuss at players, on their home court, in front of their home fans and, sometimes, family.
His yelling led to a few infamous spats with former guard Daniel Bejarano. They got on Gillon's nerves, too. Earlier in his career Gillon would act out and yell back at the coach, but last year he quietly absorbed Eustachy's barks. Now, he's with Syracuse.
Eustachy is old-school, challenging his players both mentally and physically.
That's where the disconnect came in last year. CSU's head coach knows his team must play non-stop on the defensive end if they want to beat taller, more talented teams. Last season's team simply didn't care enough, didn't want it enough on defense to be something special.
Prentiss Nixon is the one exception to that rule; the freshman point guard wore his shorts short and his extra effort on D was old-school, too.
"Prentiss, he brings the toughness," Clavell said of the 6-foot-1, 180-pound youngster. "He pushes me to be better. He pushes me to be on the floor [going for loose basketballs], he pushes me to jump over the scoreboard and dive for the ball like he did last year."
That hungry play was contagious, as Clavell stepped up his defensive intensity in the games before the senior was injured. But without multiple players setting an example the rest of the team took too many rests on defense and allowed opponents to come back and defeat them time and again.
For some, Eustachy's old-school approach makes them better.
"He can be screaming at me, cussing at me, all he wants me to do is play better defense," Clavell said. "All he wants me to do is take a better shot. All he wants me to do is be tough. That's all. I like that.
"[Eustachy's] an old-school coach, but you've got to know he wins everywhere he goes. He's a winner. You've got to respect that. So, you've got to adjust to the way he's doing things."
This year, there will be many newcomers adjusting to Eustachy's old-school mentality.
Junior college transfers Devocio Butler, Braden Koelliker and Che Bob will all be counted on. If they can't catch on and vibe with Eustachy's defense-first coaching, it will hurt CSU's progress. Besides those three, there are Alex Tarkanian, Robbie Berwick, Kevin Dorsey, Lorenzo Jenkins and Kevin Little, all transfers from Division I schools, who must sit out this season. They'll be ready to play in 2017-18, but none can help this upcoming year.
That leaves Clavell as the longest-tenured Rams player, starting his third season in Fort Collins and trying to lead and hold everything together from a player's perspective. It's been a long time coming for Clavell, who has a legitimate chance of winning MWC Player of the Year if he can consistently play defense at a high level. When the Rams take the court against Regis Nov. 8 to tip off the season in an exhibition, it will have been nearly 11 months since the redshirt senior has played in a game.
"I'm so excited just to get out there and play," Clavell said with a twinkle in his eye. "I miss playing. I come here at night and just sit around, up there, in Moby, and just look at the court. I just can't wait to get out there and play. It's been too long."
This year, Eustachy put together his best non-conference schedule since arriving in Fort Collins: They host New Mexico State, play at Stanford, at CU, host Wichita State and play Kansas State at the Pepsi Center in Denver.
Colorado is the team CSU's talented guard wants to face the most.
"We're nobody's 'little brother,'" the Rams' leader continued when talking about the Buffaloes. "We should come up with the win this year. We want it. We got embarrassed right here in Moby in front of a sold-out arena [last year]. Of course, it's going to be tough to win at CU. Things are going to go wrong, it's just a matter of how you handle the situation. We don't talk; we're all about actions."
Clavell said he doesn't consider CU a rival, but does Wyoming, saying of the Cowboys who have beaten Colorado State five straight times: "That's a frustrating team, man. The only one I haven't beaten yet. We're going to beat them this year."
CSU was picked to finish sixth in the Mountain West, a usual landing spot for Eustachy and Co. Still, the redshirt senior saw the mark as a disrespect, believing they're in the "top 3" of the 11-team conference. For Clavell, winning the conference and making the NCAA Tournament are the goals this season, his final as a collegiate baller.
Players are the key, of course, and none are more so than Clavell, on both ends of the floor. The kid can score from anywhere (he said he's going to make one from the "green line" used as part of volleyball markings, which is some 7-10 feet beyond the 3-point arc), but can he consistently give the effort his coach wants on defense?
"He gets you to those points and when it comes to the games, it makes it easier," Clavell said of Eustachy's defense-only, tough-nosed practices. "As long as you buy in. Are we gonna buy in or not? If we don't buy in, we're going to be an average team. If we buy in, we've got something special going on."