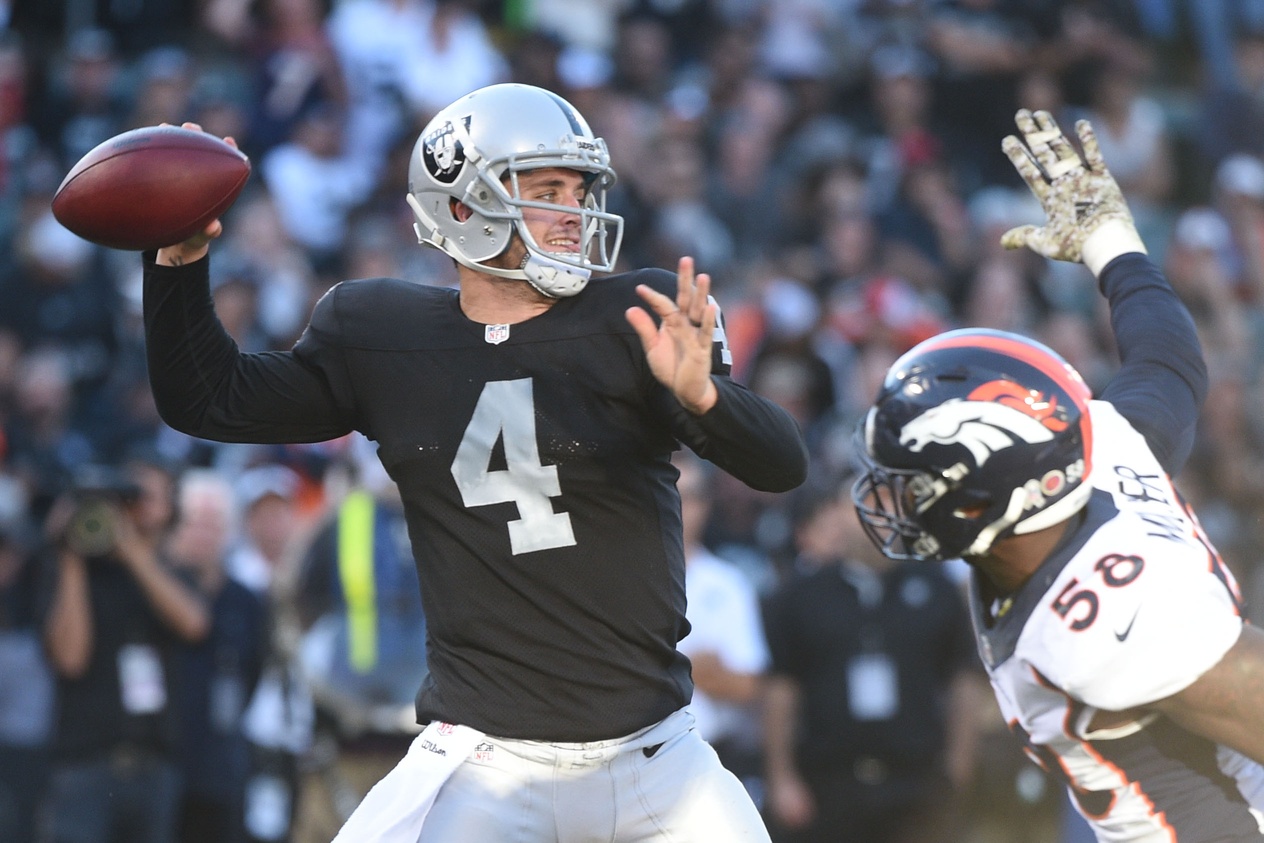 The Denver Broncos have a formidable group of pass rushers. Any combination of Von Miller and Shane Ray or Shaquil Barrett on the outside, with inside pressure coming from Derek Wolfe, can bring a quarterback down. And while Denver has at least three players on the field at any time capable of getting after the passer, Miller knows that bringing down Oakland Raiders quarterback Derek Carr means breaking down three key variables standing in the way.
"They have a great offensive line, for one. For two, they have a great quarterback as well. For three, they're not holding onto the ball as long," Miller said after Friday's practice. "They have great receivers getting open quick. A very tall task and a very tough task, just like every week."
Denver is tied with Cleveland for 19th in the league with 22 sacks on the season, and adding to that number against Oakland won't be an easy task. Head coach Vance Joseph understands that Miller – despite the added attention he receives on each play – is still Denver's best bet at disrupting opposing quarterbacks.
"Our best rusher is [OLB] Von Miller, right? Everyone's going to chip Von Miller. That's where it starts. But again, on third downs if we're ahead and they're getting five guys out, we have a chance to rush the passer. But everyone has a plan for Von Miller, he's our best rusher. We've moved Von around a lot this year—inside, outside and left and right to free Von up. It's going to be the same plan this week to try to find a one-on-one for Von. That's where it starts, with Von getting chipped and rubbed every play."
Playing with a lead and forcing the Raiders to throw will be play a big part in setting up Miller and the rest of the pass rush. Denver is turning the quarterbacking duties over to Paxton Lynch on the offensive side to try and kickstart an offense that has sputtered over the last eight games.
"Get the lead so we can rush the passer," Joseph said. "When you're behind, it's hard to take the ball away because offenses are smart. They're running the football on first and second down and throwing quick passes or throwing outside breaking routes. If we get a lead, we can rush the passer, we can cover them and we can take the ball away."
Click here to watch the full post-practice press conference with Von Miller, including how he says the team can overcome the frustration of a six-game losing streak, or check out the video below.
Video courtesy of Denver Broncos Facebook – AMP users click here to watch on Facebook