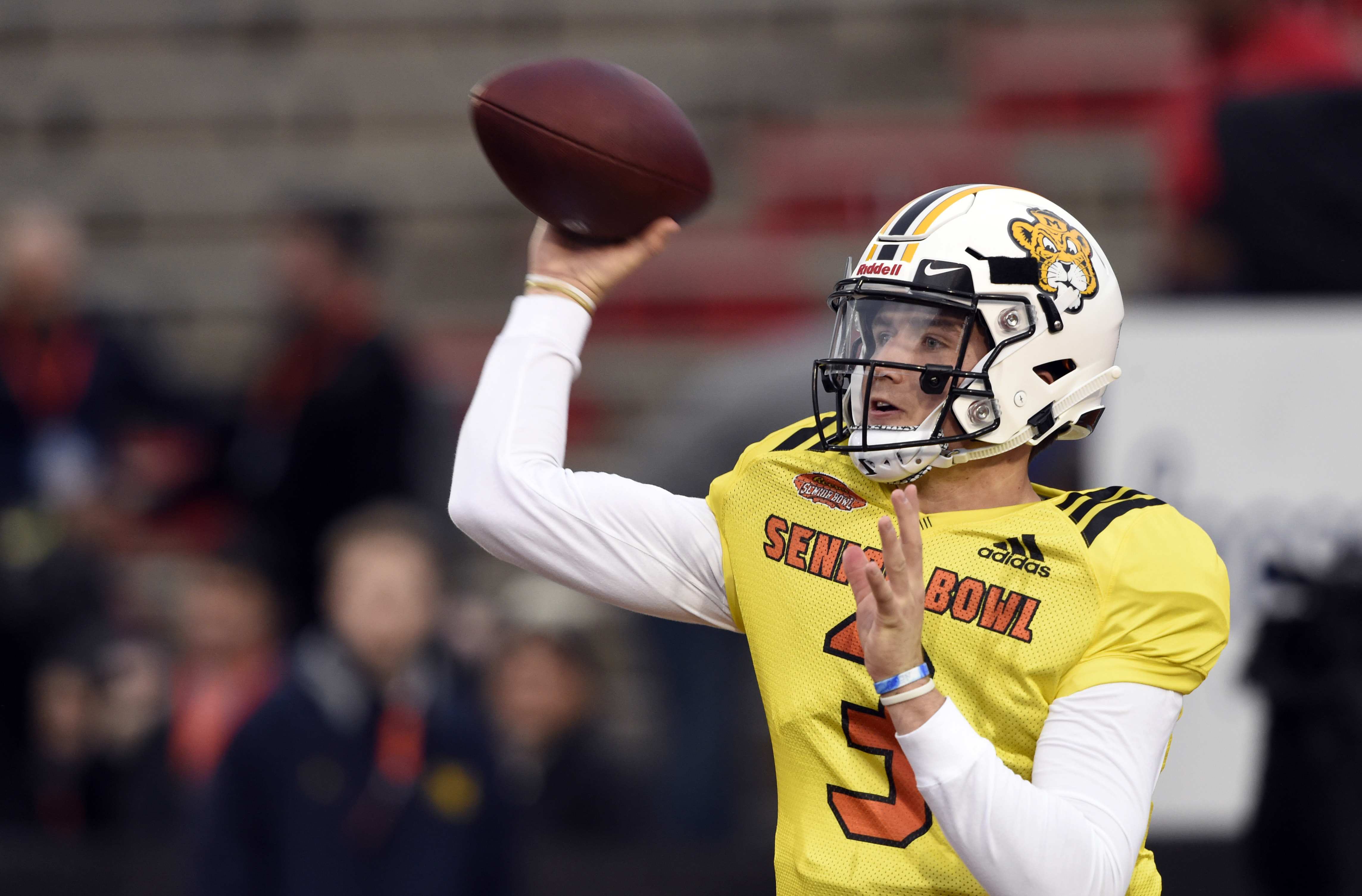 The Denver Broncos are committed to finding the quarterback of the future. Not only did the team trade for a veteran, Joe Flacco, but the Broncos also drafted Drew Lock in the second round and signed Brett Rypien as an undrafted free agent.
So, who are these new quarterbacks and what do they bring to the table? Let's take a deep dive into each guy.
Drew Lock
Lock has drawn comparisons to Jay Cutler – and when looking at his size, arm strength and college career, this makes sense.
"Jay has an absolute cannon," Lock said at his introductory presser. "For me to be able to get compared like an arm like that, by all means let it happen. But, at the same time, I'm going to try to make my own identity in Denver."
While comparisons to Cutler may make Broncos fans feel uneasy, as visions of No.6 sulking on the sidelines come to mind – the unfortunate reality is Cutler is still the best QB drafted by the Broncos. Not just in the last 15 years either – Cutler is the best quarterback the Broncos have EVER drafted.
Obviously the relationship didn't pan out with Cutler, but it's easy to forget he was on the verge of a breakthrough before Mike Shanahan was fired and Josh McDaniels was hired. In 2008, Cutler's third season with the Broncos, the big-armed QB threw for 4,526 yards, 25 touchdowns and completed 62 percent of his attempts.
Aside from his red zone woes, Cutler was developing into one of the more dangerous quarterbacks in the AFC with five fourth quarter comebacks between the 2007-08 seasons. In a different universe, Cutler could have gotten one more season in Denver with Shanahan, took his game to the next level and then went on to have a stellar career with the Broncos.
Of course, the situation didn't play out that way and Broncos fans were then subjected to the Kyle Orton and Tim Tebow eras. So, for whatever it's worth – maybe being compared to Cutler isn't the worst thing in the world?
Not to mention, even if Lock is drawing comparisons to Cutler's arm, it's pretty apparent that the rookie has the right mindset heading into the league. Lock didn't pout when he slipped out of the first round, after watching Duke's Daniel Jones (New York) and Ohio State's Dwayne Haskins (Washington) go off the board in the first 32 picks.
Instead, Lock embraced the fact that he ended up in an ideal location for his career, along with two talented players in Noah Fant (TE) and Dalton Risner (OL).
"The ending definitely turned out the way I wanted," Lock said. "Looking back at it, obviously you'd like to get picked a little earlier, but I'm here. We got Dalton because of it, we got Noah because of it, and if that's the way it was supposed to be, then so be it. I'm a Bronco now and I couldn't be more excited to be here."
While Lock certainly needs time to develop, especially with his drops and general timing under center, the young QB has certainly impressed with his handling of the media. It was obvious from Day 1 that that his arm talent was there. If the young QB can use his time under Flacco wisely and grow, there is great potential for Lock to surpass "Sunshine Jay" as the greatest QB ever drafted by the Broncos.
Brett Rypien
Along with Lock, Rypien is another intriguing, young option at QB. Denver recently waived Garrett Grayson and made the signing of the former Boise State quarterback official.
Although some were surprised to see Denver add another rookie QB to the mix, it's not shocking that John Elway was interested in Rypien. A four-year starter and the 2018 Mountain West Player of the year, Rypien was a staple of multiple extremely successful Boise State offensive units.
In his four seasons as the starter, Rypien never completed less than 62 percent of his pass attempts in a single season and finished his collegiate career with 13,578 yards through the air. With 90 passing touchdowns and only 29 interceptions, Rypien valued his team's offensive possessions and rarely made mistakes.
Despite going undrafted, many were extremely high on Rypien as an NFL prospect. In fact, Pro Football Focus had Rypien as the No. 7 QB available in the 2019 class.
From December, new #Broncos QB Brett Rypien was one of our QB sleepers for the 2019 NFL Draft! #BroncosCountry pic.twitter.com/74bseCdhjt

— PFF DEN Broncos (@PFF_Broncos) May 6, 2019
It will be interesting to see how Rypien fares this summer and beyond. The Broncos have more capital invested in Lock, but as Washington found out with "RGIII" and Kirk Cousins, it's good to have a backup plan.
Rypien has capable arm strength and makes good decisions with the football. Regardless of whether he ever actually ends up competing with Lock, he's a great player to have on the roster.