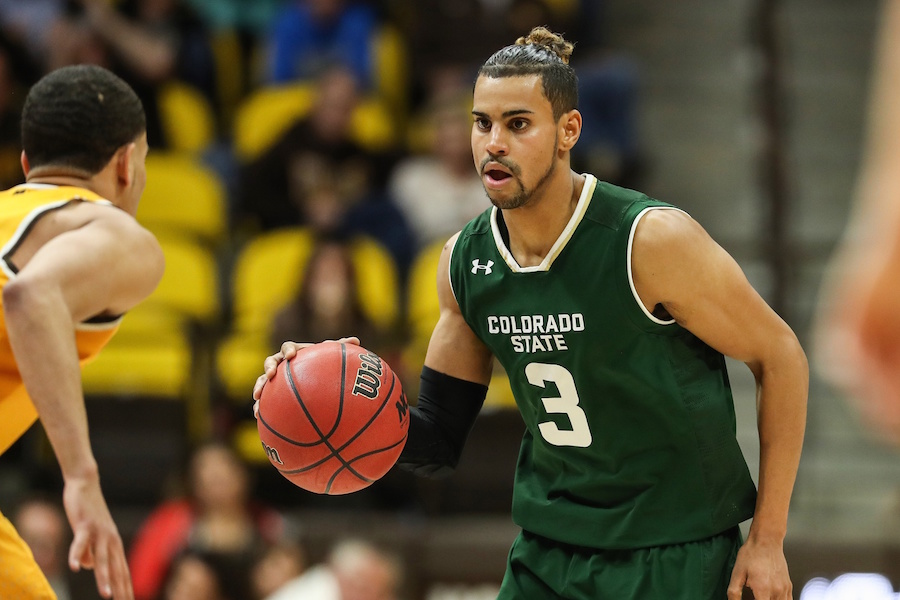 Read this story at CSURams.com
Recent CSU graduate and 2016-17 Mountain West Player of the year Gian Clavell will continue his pursuit of a professional basketball career, as he has signed a free-agent contract with the Dallas Mavericks and will join them in their upcoming training camp, the organization announced today. Training camps can have up to 20 players competing for a place on the 15-person regular season roster by opening day.
"First thing I want to thank God for giving me a chance to play basketball and accomplish everything I have," Clavell said. "I want to thank Fort Collins and Colorado State for accepting me and making it a fun three years. The Miami Heat gave me a chance this summer and I'll be forever grateful. That being said, I couldn't be more excited to start my NBA journey with the Dallas Mavericks. From Rick Carlisle to Donnie Nelson and Mark Cuban, it's a first-class, winning organization that I will come into and compete  and give it my all to try and earn a roster spot. I couldn't be more excited."
Recently, he played on the Miami Heat's summer league team in both Orlando and Las Vegas, averaging 12.4 points, 2.6 rebounds and 24.6 minutes per game while shooting 45.2 percent from the floor.
Clavell earned numerous honors for his play during the 2016-17 season, including Mountain West Player of the Year, All-Mountain West First Team, MW All-Defensive team and a U.S. Basketball Writers Association (USBWA) and National Association of Basketball Coaches All-District and Associated Press Honorable Mention All-American selection. Clavell led the Mountain West in league scoring at 20.4 points per game, including four games of 30 points or more. Clavell also ranks in the top 10 in the league in seven other categories, leading in minutes played (36.6 mpg) and ranking second in steals (2.0 spg) and 3-pointers made (2.9 3pg), fourth in 3-point field goal percentage (.386) seventh in defensve rebounds (4.9 drpg), seventh in field goal percentage (43.0) and eighth in overall rebounding (6.3 rpg).  He scored in double figures in all 16 Mountain West games and 26 of 27 games played overall. The Puerto Rico native tallied a career-high 37 points, with 30 in the second half and the game-winning layup with 3.8 seconds to play, at San Diego State, earning him MW Player of the Week honors. He also earned a spot on the MW All-Tournament team after leading the Rams to the championship game for the first time since 2003 and averaging 27.0 points in the three contests.