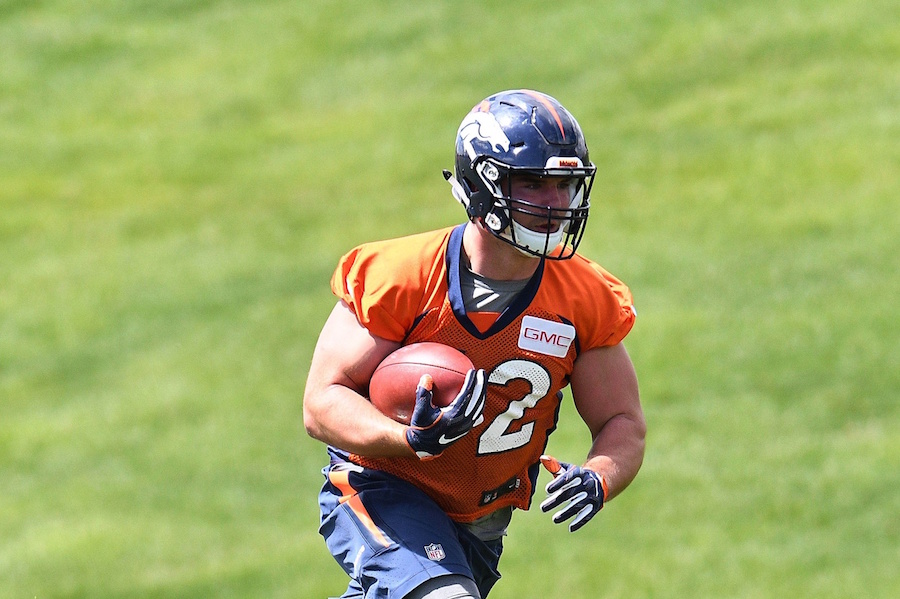 The fullback may be a dying breed in the NFL, but if Broncos special teams coach Brock Olivo had his way he'd have 22 of them on the roster. At least, 22 like Andy Janovich.
"Jano," Olivo told the gathered media about the fullback after Monday's practice, "Love Jano. Jano to me, if we had 22 Jano's we would be alright. He's tough, he never says a word and never complains. He just does his job. He's the first one in the meeting every day. He's on it X's and O's wise. He knows what to do, he's tough and he finishes. I love the guy if you could tell. He's going to be a four-phaser for us. He's a really good football player," Olivo said.
Read between the lines and it sounds like the second-year fullback will punch his ticket to the 53-man roster.
That possibility seemed somewhat at risk entering this year's camp as Denver moved away from the run-centric offense of Gary Kubiak and Rick Dennison to Mike McCoy's pass-friendly offense. The fact that Janovich missed a good chunk of last season with a pair of injuries doesn't help, as the NFL tape on him for this new coaching staff (Olivo included) is incomplete. Despite all that, Olivo clearly sees big value in the big fullback from Nebraska.
"That's the same deal with an Anthony Sherman in Kansas City," Olivo said about the disappearance of the fullback. "Great special teams player, but again the role of fullback, is it going to be here in a couple of years? Nobody knows. It's trending that way which is why we need to keep Jano on the field. His value is to be very high for us."
Janovich made a huge splash in Denver as a rookie when he took his very first touch 28 yards for a touchdown in the opener against the Carolina Panthers. The following week he turned his only touch – a passing play this time – into a first down. He added another first down with his only reception the following week.
Although he was limited to mostly blocking duties due to a broken hand in late October and then being placed on injured reserve with an ankle injury in late November, his new head coach sees great value in what the 24-year-old brings to the Broncos.
"He is very valuable to our football team from a physical standpoint," Vance Joseph said Monday. "He is an old school fullback that can also carry the ball. That's going to be great for Brock. He's a big part of what we do offensively, special teams wise."
The second-year fullback is as humble as a Nebraska summer night is long. Give a listen to his interview with The Big Show on Mile High Sports AM 1340 | FM 104.7 and you'll understand why. And why his coaches like him so much.
Janovich may be one of the last few of his kind, but Olivo said he'll be more than willing to beat on the table to keep him on the roster.
"Absolutely. I don't even think that's going to be a necessity," Olivo said. "Our personnel department does a great job of evaluating and Vance does a great job of evaluating. They know the value Jano brings to us. We love him."