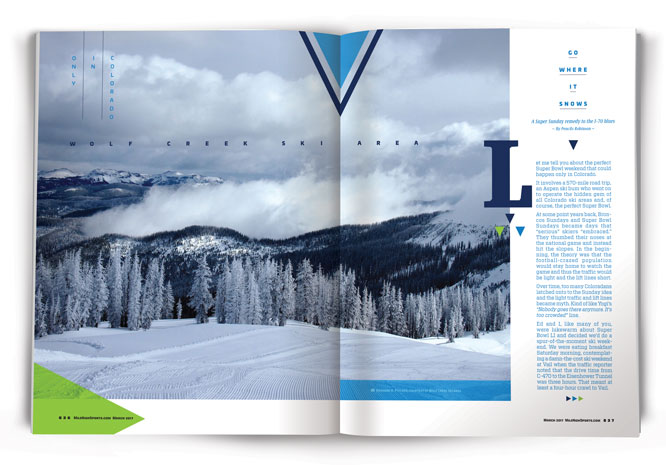 This story originally appeared in Mile High Sports Magazine. Read the full digital edition.
Let me tell you about the perfect Super Bowl weekend that could happen only in Colorado.
It involves a 570-mile road trip, an Aspen ski bum who went on to own the hidden gem of all Colorado ski areas and, of course, the perfect Super Bowl.
At some point years back, Broncos Sundays and Super Bowl Sundays became days that "serious" skiers "embraced." They thumbed their noses at the national game and instead hit the slopes. In the beginning, the theory was that the football-crazed population would stay home to watch the game and thus the traffic would be light and the lift lines short.
Over time, too many Coloradans latched onto to the Sunday idea and the light traffic and lift lines became myth. Kind of like Yogi's "Nobody goes there anymore. It's too crowded" line.
Ed and I, like many of you, were lukewarm on Super Bowl LI and decided we'd do a spur-of-the-moment ski weekend. We were eating breakfast Saturday morning, contemplating a damn-the-cost ski weekend at Vail when the traffic reporter noted that the drive time from C-470 to the Eisenhower Tunnel was three hours. That meant at least a four-hour crawl to Vail.
And just imagine, we imagined, the traffic coming back on Sunday.
A year ago, I had driven to Durango on assignment for MHSM in early January and remembered driving past the Wolf Creek Ski Area at the top of Wolf Creek Pass. How about going there? A quick check of MapQuest provided the sobering stats: 285 miles, 5 hours (adjusted for real speeds). But beautiful U.S. 285 and U.S. 160 and no $500 hotel rooms and no $150 lift tickets.
And no bumper-to-bumper bullshit. It's only an hour longer than Vail, and we'd be moving, not swallowing some idling Tahoe's exhaust.
After realizing we wouldn't need our passports, we tossed our hastily-packed bags into the car and just after 1 p.m. headed west on Hampden, which magically becomes southbound U.S. 285. A little over an hour later we were cruising at 10,000 feet through Kenosha Pass, then descending into Fairplay and taking in some of the most breathtaking scenery in the world. Chaffee County welcomed us with a sign that said, "Now this is Colorado." No arguments from us.
There were maybe seven or eight cars in front of us and a few behind, but we maintained the speed limit and seldom touched the brakes until 285 took a sharp left at Johnson City. Past majestic Mt. Princeton, over Poncha Pass and into the San Luis Valley where the Sangre de Cristo Mountains kept us company to the east as we finally slowed down to go through the small Valley towns of Villa Grove and Saguache. Twenty-three miles south of Saguache we left 285 and took Highway 112 to Del Norte, where we hooked up with Highway 160 which took us the final 16 miles to South Fork.
A little after 5 o'clock we pulled into the garage of a 3-bedroom condo we had booked en route from riograndevactionrentals.com for $189. The unit was part of the development surrounding the Rio Grande Club and Resort which includes an amazing 18-hole championship golf course, highlighted by the sandstone outcroppings and the pine, aspen and cottonwood trees along the Rio Grande River on the front nine and dramatic elevation changes along Alder Creek on the back nine.
Although hardly frazzled from the drive, we relaxed at Big River Lounge in the elegant Rio Grande Club. We helped bartendress Eva make her first–ever manhattans and dined on Big Daddy's stuffed pork chops.
Promptly at 7:30 Sunday morning, we were seated at the Spruce Lodge Restaurant on Highway 160 right along the way to the ski area. This is the place to fortify one's self before a day of skiing. But owners Rob and Dee Plucinski don't serve just anyone. According to the menu: "Happy People Eat Here: If you are grumpy or in a hurry, please come see us another day. Our food is handcrafted and made when YOU order it."
We smiled all the way through the homemade buttermilk biscuits, hand-carved ham and chicken fried steak and eggs.
Ed, a fitness nut of sorts, almost ordered the Premium Organic Tofu, which is described as "4 full ounces of – just kidding – we don't really have tofu." A non-offensive Polish joke.
Fortified, we headed out of South Fork and up Wolf Creek Pass, which is celebrating its 100th anniversary, having been completed in August of 1916. The Durango Herald declared the 10,857-foot above sea level pass the state's most dangerous, but it was scenic and snow-free on this Super Sunday. Twenty-five minutes after leaving South Fork we were parked for free in the Wolf Creek Ski Area parking lot, 100 yards from the ticket office.
The ticket office was the first clue that Wolf Creek is a whole different concept than the big operation ski areas in the rest of the state. Adult (13-64) daily lift tickets are $66; active duty military $44; seniors (65-79) $37; kids (6-12) $34; and codgers (80+) FREE. Adding to the felicity of our weekend was the fact that we hit one of the ski area's 15 "Appreciation Days" when lift tickets are $44, $27 and $24 for adults, seniors and kids. Have these people never heard of the immensely popular (with owners) practice of gouging?
We moved onto the Sports Center, as we had decided to rent the latest demos (which you can do ahead of time online). It was here that we began to feel the family nature of Wolf Creek, the small-time vibe that Ed described as "Loveland, when I started skiing as a kid."
Wesley Laverty, a former Pagosa Springs (the nearest town, nine miles south) High School wrestler and shortstop, couldn't have been happier to meet our equipment needs. He's been working part-time at the ski area for 12 years and his dad has worked at Wolf Creek for 30 years. He hooked us up with some great skis and conversation, made us feel welcome and comfortable. As we'd experience throughout the day, every Wolf Creek employee gave the distinct impression that there was no place on earth they'd rather be. And we believed them.
Next, we looked up an old contact of Ed's, Alamosa-born and South Fork-raised Sarah Stephens, Wolf Creek's P.R. director, another employee who acted like the only thing she hated about her job was her day off. She arranged for us to meet with Rosanne Haidorfer-Pitcher, who is married to Davey Pitcher, the son of 98-year-old Kingsbury Pitcher who owns the Wolf Creek Ski Area with his six children.
Sarah also offered us the services of Craig Taylor as a ski instructor and guide.
Craig arrived in Pagosa Springs in 2004 by way of New Jersey and Denver and must have been a pretty accomplished skier to get offered a job as an instructor at Wolf Creek without any teaching experience. Tanned and fit at 60, he looks like he could still play high school lacrosse. He works as an arborist, stalking pine beetles and doctoring trees during the six months the ski area is closed.
Craig gave us a brief overview of the mountain for which he had obvious respect and admiration. He liked the compact size (1,600 skiable acres compared to 5,300 for Vail), the emphasis on family skiing (20 percent beginner slopes, 35 percent intermediate) and, of course, the snow. Natural snow. They'd already had 315 inches with a base of 115 and will easily reach their season average of 430 by the time they shut it down in early April.
Wolf Creek's slogan – "The Most Snow in Colorado" – is no idle boast. They've opened as early as Oct. 8 (when they've made "a little snow for the beginner slopes, mostly so lessons could take place") and the powder is the stuff that hounds the dreams of accomplished skiers.
Craig took us down to the ski instructors' locker room for some sunblock (badly needed on a 35-degree, cloudless day under an indigo sky) and a look at his personal rocking chair he found along the highway. A sign is taped to the chair that says, "If Craig's not here, he's off his rocker."
By 9:30 we're headed out to the slopes with Craig lingering at the ski school area and the Wolf Pup Center, obviously proud of a program that includes kids from schools in Bayfield, Pagosa, Creede, Monte Vista and throughout the San Luis Valley. Especially over Christmas and spring breaks, the children of the skiers from Dallas, Lubbock, Albuquerque, Phoenix and Oklahoma swarm the Wolf Pup Center. He noted that Wolf Creek has sponsors available for kids who can't afford it.
We rode the Raven Chair without a wait and warmed up coming down Bunny Hop. Craig instantly recognized me as a lifetime 70-year-old beginner and adjusted our pace accordingly. The groom was impressive and my Nordica NRGY 90 169's gave me immediate confidence beyond my ability.
Speaking of recognition, Craig regularly pointed out "regulars" as we rode on the lifts and added a footnote:
"That's Joanne, she's here almost every weekend… See that guy in the blue? That's Steve and he's one of the best technical skiers that visits here… There's Marty; he's great on the bumps."
It was like he knew everyone there by the color of their coat or their skiing style.
We rode several of the area's nine lifts, never waiting more than a minute to board. We graduated to more intermediate runs, as I achieved my overall goal of avoiding a spill. I almost lost it once when I hit a rare ice spot. Craig noted that they don't use the "I" word at Wolf Creek. Turns out it was some "firm snow" that I encountered.
The San Juan Mountains were spectacular at every angle, as were the snow-capped Sangre de Cristos behind them to the north. Craig noted that they see a lot of military aircraft over the area, including one sighting of Air Force One, which seemed eerily close over 11,900-foot Alberta Peak.
Having stayed perpendicular all morning, I decided not to push my luck and at 11:30 headed for the Wolf Creek Lodge, allowing Craig to expose Ed to some more challenging runs.
I basked on the sundeck of the Lodge and watched the line of skiers go through the grill line, ordering $6 brats and huge $7 burgers. A couple of ladies asked if they could share my table and one introduced herself as Heidi Kerr-Schlaefer, who it turns out is the Mayor of HeidiTown and the 2007 founder of HeidiTown.com, an entertaining and informative source of Colorado travel and festival information.
A grinning Ed appeared a little after noon and soon thereafter Roseanne Haidorfer-Pitcher joined us and offered to buy us lunch. I'm sure if we had gone to Vail and dropped enough hints and waited around long enough, the owner of the ski area would have eventually bought us lunch. But here we were, on our first day at this mountain, and the owner, an elegant lady at that, was offering to do just that. We couldn't refuse.
Here's all you need to know about Roseanne Haidorfer-Pitcher and the Wolf Creek Ski Area: When she goes for lunch at her own ski area, she waits in line like everyone else. And she sits outside at a table with all the other skiers.
I hate to admit it, but if I had my own ski area, I'd be cutting in line (lift and lunch) like all those bullies used to do to me when I was an 80-pound weakling at Toaz Junior High.
But Rosanne, a tanned, trim, athletic 61-year-old who skis or boards almost every day (often accompanied by her Border Collie/Black Lab mix Spencer), was just one of the crowd and as unpretentious as a pair of lace-up ski boots.
After growing up in Philadelphia and learning to ski at Philadelphia Ski Club in Montgomery County and on family trips to the Poconos and Elk Mountain, she headed west to become an Aspen ski bum in 1975 and '76. While working as a ski instructor at the Santa Fe Ski Area (owned by Kingsbury and his wife Jane from 1962 to 1984), Rosanne met and eventually married Davey in 1987.
It was obvious that Rosanne was in her element at Wolf Creek and enjoyed running the only family-owned ski area in Colorado. She acknowledged that it was hard but rewarding work and admitted she sometimes gets behind in her job because she loves to ski so much.
As low-key as she seemed, she and her husband have to be hard-nosed business people to make this small operation turn a profit. She was proud of the fact that they don't build anything for the ski area unless they have the money to pay for it. She termed their philosophy "organic growth."
When asked about the possibility of raising lift ticket prices from their currently "beyond reasonable" level, she indicated that providing affordable recreation for families was a major focus of Wolf Creek. They've also resisted getting into the lodging and fancy restaurant business for which there would no doubt be substantial demand. "We're about skiing and families, not night life," she said.
As much as we were enjoying the conversation and the sun-drenched afternoon on the deck at the Lodge, we started thinking we'd like to end the day watching the Super Bowl, however indifferent we were to the outcome. So, we said our goodbyes and headed northbound at 1:45 with hopes of utilizing the miracle of Comcast recording to see the end of the 4:30 game before midnight.
Despite one pit stop and a slow-moving, non-yielding hay truck up Red Hill Pass (our only traffic delay), we were in southeast Denver, guacamole and margarita in hand, watching Super Bowl LI kickoff by 6:30.
By the end of the most exciting NFL final ever played, we knew we had beaten the odds and pulled off the most perfect Super Bowl weekend two Coloradans had ever devised.
Hail 285. Hail Wolf Creek. Hail Brady.
To Hell with I-70.
***
Schedule for Your Next Stress-Free, One-Day Ski Outing
6:30 p.m: Gas up the car
7:30 p.m: Pack your gear into the car
8:30 p.m: Go to sleep, set alarm
2:45 a.m: Wake up*
3:00 a.m: Hit the road*
7:30 a.m: Ham and biscuits at Spruce Lodge Restaurant, South Fork*
9:00 a.m: Buy cheap lift ticket at Wolf Creek Ski Area
9:15 a.m: Ride the Raven Chairlift
11:30 a.m: Grilled brats and burgers on the sundeck at Wolf Creek Lodge
12:15 p.m: Hit the slopes
3:30 p.m: Ride the lift, take your last run
4:00 p.m: Get your ass over the pass
8:30 p.m: Dinner at Beso de Art (102 Market in Morrison), Adelitas Cocina y Cantina (1294 S. Broadway) or Pino's Neighborhood Pizzeria & Wine Bar (1400 E. Hampden)
10:00 p.m: Good night
Pencils' Note: For a more leisurely two-day affair, leave Denver at 6:30 a.m. on Saturday, get to Wolf Creek in time for lunch at the Lodge, then buy a half-day lift ticket for $51. Spend the night nine miles south in Pagosa Springs for as little as $60 at the Alpine Inn or as much as $525 at the Heritage House Condominiums and Homes. Or stay on the South Park side at one of Rio Grande Vacation Rentals' condos or homes from $150 to $420. Ski until 2:00 the next day and eat dinner at home.
*Editor's Note: If your life doesn't revolve around thoughtfully prepared, lengthy, sit-down, meals (as Pencils' does), give yourself an extra hour or two of sleep and forgo the hour-long breakfast commitment. Buy donuts the night before or stop by my favorite eatery, 7-Eleven, and graze in the car. Pencils wouldn't recommend this, but I provide it as "food for thought" – or, perhaps, "thought for food."
Pencils' Note II: Never waste a meal, Ed. And don't for God sakes, eat donuts in your car.