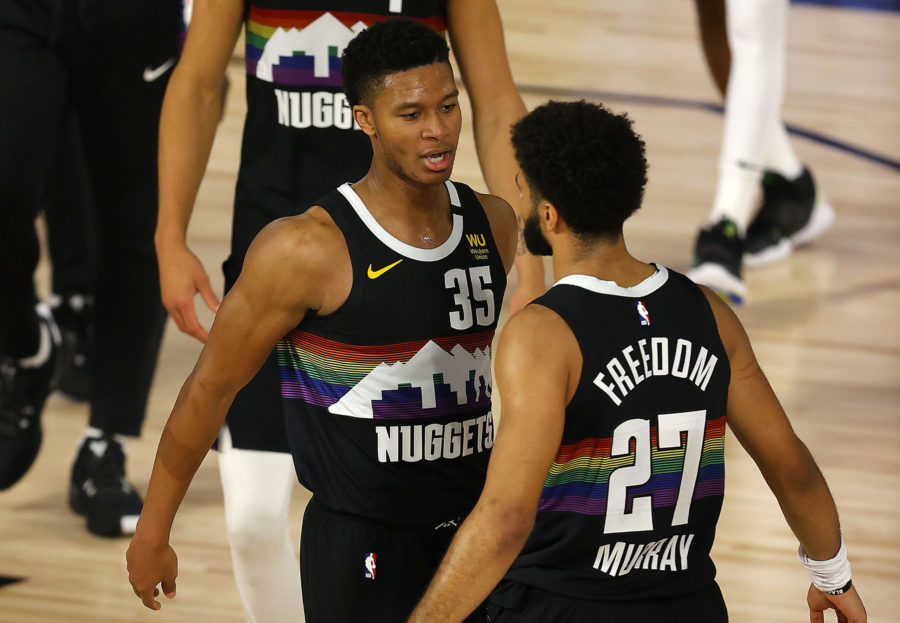 The Denver Nuggets were embarrassed in Game 3 against the Utah Jazz as they were completely dominated from start to finish. Denver lost 124-87 and were called out by head coach Michael Malone for their defensive efforts and not playing with a sense of urgency.
In Game 4, there were changes made which led to Denver putting together one of their best performances in the bubble as Jamal Murray erupted for 50 points. Unfortunately, it was not enough as the Jazz pulled away with a 129-127 victory to take a 3-1 series lead.
With their backs against the ropes and the season on the line, Denver came out in a must-win Game 5 and lived to fight another day as a second-half surge pushed them past the Jazz to force a game 6.
Here is my good, bad and awesome after a Nuggets 117-107 victory to keep the season rolling.
Good – Nikola Jokic's first-half push  
In Game 3, Nikola Jokic was outplayed by Rudy Gobert, and many questioned how engaged he was in the blowout loss. Malone called out his star players and said he wanted him to step up and play up to his potential.
In Game 5, Denver did everything in their power to keep the season alive, and it began with their star player having an incredible opening quarter.
🃏🃏🃏 pic.twitter.com/ZQzQGDyygZ

— Denver Nuggets (@nuggets) August 25, 2020
Jokic has made it a point since Game 3 to take over in games and he has made himself an offensive weapon that Denver can run through.
While it looked as if the Jazz would run away with a win and end the series, the Nuggets All-Star big man had other plans. Jokic understood that Game 5 was a must-win game and came out and played with a sense of urgency. The Serbian big man came out perfect to begin the game as he went 8-8 from the field and also a scorching 5-5 from beyond the arc. He had the most points in a quarter for the season with 21 points, and that started out a blazing scoring night for him. Jokic's ability to knock down 3-pointers allowed him to spread the floor and take Gobert out of the paint which allowed his teammates to get inside of the paint.
Denver went into the second quarter with a 33-32 lead and tons of momentum which turned into a significant stretch of basketball for Denver.
In the second half, Jokic slowed down a bit as a scorer, but that is when Murray took over and shouldered much of the scoring load.
With so much riding on the game, Jokic being able to get himself going early and doing all that he could to keep Denver's season alive is what the Nuggets needed from their best player.
Bad – Denver fails defending the 3-point line…again
With Gary Harris missing yet another game due to injury, the Nuggets made changes defensively in an attempt to at least generate some difficult looks for the Jazz.
Jokic's red-hot start offensively took away the fact that the Nuggets defense struggled yet again on the defensive end in the opening half.
second effort ☑️ pic.twitter.com/XutPA46ud9

— utahjazz (@utahjazz) August 25, 2020
Denver gave up 32 points in the first quarter and the open shots were flowing for Utah's offense which led to the Nuggets going into the half with a nine-point deficit.
The three-point defense has been an Achilles heel for the Nuggets all series long as the Jazz has gotten almost every single look that they have wanted from deep, and in a must-win game, there was hope that the Nuggets would defend the three-point line better.
Denver's pick and roll defense turned into shooting practice in the opening half for the Jazz, and it was not until the second half when the Nuggets started to adjust.
Mitchell carved up Denver's defense in Game 5 for easy baskets at the rim, and he also makes it a point to get inside of the defense and kick it out to open shooters.
Utah shot 50% from beyond the arc before halftime and continued to get open looks, which helped the Jazz extend their lead.
Denver received a second-half push and a much more concerted effort on the defensive end. Still, if they can make adjustments earlier — especially on how they defend the three-point line — then the Nuggets will have a much better chance at fast starts and catching back up in the series.
Awesome – Jamal Murray refuses to quit
After Murray's 50-point performance, the Nuggets point guard sat in the media conference call and stated that his team did not want to go home and they would not leave without a fight.
Murray proved it as he put together another sensational performance in Game 5.
Murray got off to a slow start to the game, but came alive when it mattered and drove it home for the Nuggets.
Murray finished with a game-high 42 points and also had eight rebounds and eight assists to go along with it.
Denver was down by as many as 15 points in the game, and it looked as if they were going to pack it in, but a mini-run by the Nuggets franchise player ignited the Nuggets and then Denver went to him to close it out.
Too cold.

Too clutch. pic.twitter.com/zyWGHakaCZ

— Denver Nuggets (@nuggets) August 26, 2020
Denver followed Murray's lead, and it percolated through to the defensive end.
After allowing 63 points in the first half, Denver's defense held Utah to 44 points in the second half. Denver forced eight turnovers and were much more physical, which led to the win.
Denver has to continue to ride their star players and also capitalize on the defensive end as well.
With Murray playing the way that he is right now, there is always a chance.