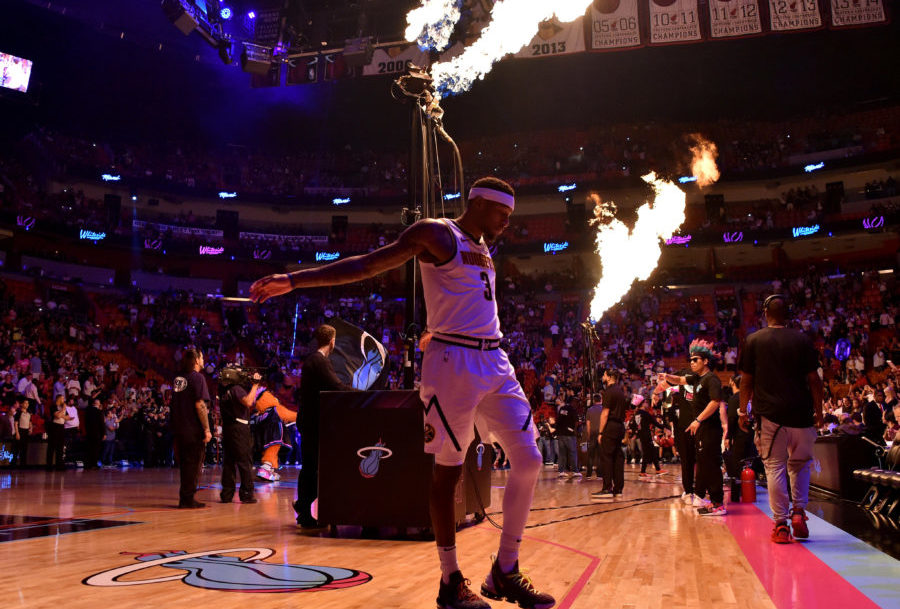 Somehow, someway, the Denver Nuggets managed to fight their way to a 103-99 win in Miami against the Heat even though Denver was on the second night of a back to back, did not arrive in Miami until 4 o'clock in the morning, and were without Gary Harris once again.
Nikola Jokic was brilliant with his fourth triple-double of the 2018-19 season, Torrey Craig flew around the floor and impacted the game in a plethora of ways, and Denver eventually managed to grab their 11th road win of the season in 20 tries thanks to Jokic's late-game heroics.
With that, here is the good, bad, and ugly from the Nuggets big-time road win against the Heat in Miami.
Good — Nikola Jokic's brilliance
Nikola Jokic was unstoppable in Miami against the Heat and his team needed every last point of the 29 he poured in.
By the time the final buzzer had sounded, Jokic had secured his 20th triple-double of his short career and it was the fourth time he accomplished that feat in the 2018-19 season. He managed to rack up 29 points on 11-of-21 shooting to go with 11 rebounds and 10 assists as he carried Denver to their 17th win in their last 21 games.
Yes, the statistics that Jokic was able to amass are incredibly impressive, but the numbers do not fully quantify just how impactful Jokic was. Jokic was whipping passes from every single spot on the floor, hit shots from the rim all the way out beyond the 3-point arc, and was relentless when fighting for rebounds. When the Nuggets offense faltered, Jokic stepped up and pulled his team out of their struggles. When Denver needed a big bucket in a high pressure moment, Jokic took it upon himself to deliver.
Jokic was simply brilliant in Miami and there was no ending more fitting than Jokic hitting an absurdly difficult floater with 2.9 seconds left to give Denver their 27th win of the season to continue holding onto the first seed in the Western Conference.
Nikola Jokic had his 4th triple-double of the season, his 20th of his career, and carried the #Nuggets to their 11th road win and 27th win of the year to remain the 1st seed in the Western Conference.

Oh, and he even hit the game-winning shot in Miami to secure the win. pic.twitter.com/xYMHBfuU0H

— T.J. McBride (@TJMcBrideNBA) January 9, 2019
Bad — Gary Harris misses 14th game with third different injury
The bad news continues to pile up for Gary Harris, who missed his 14th game of the season on Thursday night due to tightness in his left hamstring — the third different lower body injury in this season alone that has forced him to miss at least one game.
There is still no official update on Harris' availability for the near future, but it does seem like a good sign that he was originally listed as questionable and was not immediately ruled out prior to taking on the Heat. There has been no update on his injury and Harris' availability for Denver's home matchup with the Los Angeles Clippers is still unknown.
Still, the Nuggets are going to badly need Harris as they continue to push on towards the playoffs. Harris is arguably Denver's second best player on both ends of the floor and, without him in the fold, Denver's ceiling is significantly lower than it would be with him. Hopefully he can return in short order, but if these lower body injuries continue to pile up, Harris may end up with an injury prone title slapped on his resume.
Ugly — Torrey Craig does the dirty work on the glass
Making the 'ugly' section something positive is technically cheating, but I could not care less. Torrey Craig's game was not pretty, which is why it is considered ugly, but it was incredibly effective.
There is absolutely no way the Nuggets escape with a big-time 103-99 win in Miami over the Heat without his unrelenting energy and refusal to quit on any play. Craig was an absolute monster on the offensive and defensive glass, played mostly mistake-free basketball, hit his open shots, dished out a few assists, and continued to play terrific defense. By the time the game ended, Craig defended almost every single player on the Heat roster and was effect in doing so.
Simply stated, Craig's performance against the Heat was arguably the best game of his career. He had a career-high 16 rebounds, career-high 10 defensive rebounds, tied a career-high with six offensive rebounds, tied a career-high with four assists, and also tied his career-high with three made 3-pointers.