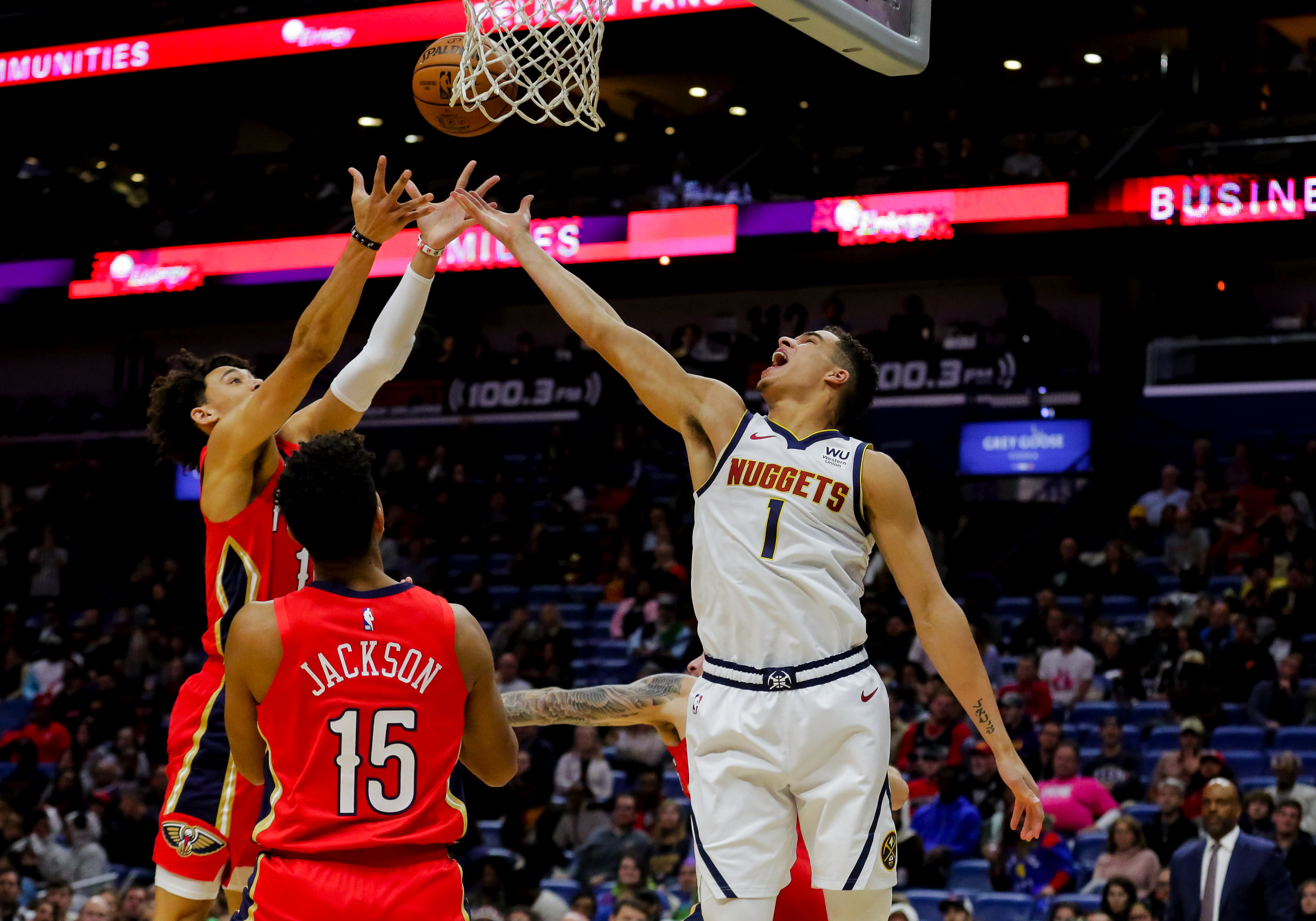 The Denver Nuggets headed to New Orleans to face-off against the Pelicans on Halloween night fresh off of their first loss of the season on Tuesday against the Dallas Mavericks on their home floor.
The game was bittersweet. Nuggets fans had circled this game on the schedule before the season began because it was a nationally televised against the new-look Pelicans with Zion Williamson. Unfortunately, Williamson did not play, but that does not mean there weren't a few highlights and spooky moments in Denver's 122-107 loss on Halloween night.
With that, here are the good, bad and ugly from Denver's first road loss of the 2019-20 season.
Good  – Fans get what they want
This has nothing to do with Thursday's game, but has everything to do with the fans getting what they want which bodes well for the rest of the season.
According to Altitude TV, they have reached a new deal with DirecTV which means that fans locally will be able to watch the Nuggets and Colorado Avalanche this upcoming season.
🚨BREAKING NEWS🚨

A new deal with @DIRECTV has been reached! pic.twitter.com/JZ9YTPh0JY

— AltitudeTV (@AltitudeTV) November 1, 2019
Fans of both the Nuggets and Avalanche have not been able to watch their teams this season because Comcast, DirecTV and Dish Network all failed to reach a deal to carry Altitude before both the year began for both teams, but it appears that DirecTV has made the first move.
It is still uncertain if Comcast or Dish Network will also reach an agreement anytime soon, but one big cable provider has made the necessary moves to get subscribers to buy and use their service.
Although the Nuggets do not play again until Saturday, it is believed that Altitude will be back for viewers as early as Friday.
This is not only good news, but great news. Hopefully is just a stepping stone for the other two big cable companies to get involved as well so that Nuggets fans all across the region are able to watch their team.
Bad – Michael Porter Jr.'s debut ruined by loss  
One of the most consistent questions surrounding the Nuggets since the beginning of last season has been 'when will Michael Porter Jr. be ready?'
Well, his time finally arrived as he made his NBA debut on Halloween against the Pelicans.
Porter Jr. had a widely-anticipated debut. He was highly regarded as the top high school player in the country his senior season and had to sit his entire first season in the league due to injuries after being labeled as a top-three pick for all but one day leading up to the 2018 NBA Draft.
Since drafting Porter Jr., Denver has been careful with him. He sat out of Summer League for precautionary purposes before having a great preseason where he showed flashes as a scorer.
In his debut — while it was brief and most of his baskets came in garbage time — he managed to showcase exactly what makes him special.
Porter Jr. is still getting back into game shape and with that comes a bit of rust. He still; however, managed to finish with a team-high 15 points on the night and also showed promise as a defender.
Defense and moving without the ball were two areas that there were of concern and he answered both. He was up and down on the defensive side, but showed his length can be bothersome. On offense, he fit in seamlessly into the flow of the offense without forcing much and also displayed his ability as a shot creator and maker.
It is only a 21-minute sample size, but it was great to finally see the rookie make his debut. He deserves more minutes with how well he played, but unfortunately it did not translate to a win.
Ugly – Defense and 3-point shooting
On a night that had so many positives — such as Porter Jr. making his NBA debut and Altitude making a deal to return back to television — it was discouraging to see how poorly Denver's defense played as well as how horrid their three-point shooting was.
Denver's offense has been an area of concern in their first few games and with the up-tempo pace that the Pelicans force on teams, it still was not enough to get the Nuggets out of their funk; especially from deep.
Denver went 7-26 from three-point range. To make matters worse, they shot 11% from beyond the arc in the first half and finished shooting 26.9% from deep for the game.
Shots were not falling for Denver and instead of going inside, they kept on shooting.
New Orleans kept on attacking the paint throughout the game and pushing the pace. It paid off as the Nuggets were not able to slow them down.
Denver's defense has been their strength in their first three wins, but the Nuggets took a step back on that end in Thursday's game which added to the loss.
The Pelicans got whatever they wanted in the open court. They had a 37-20 advantage on fast-break points by the end of the game, knocked down open 3-pointers (45% from deep) and executed on offense.
Denver will have to figure things out soon regarding their offense that has not fully shown up this season.
Their lack of scoring has led to players looking discombobulated and disinterested on the defensive end and is a key reason that the Nuggets have dropped their last two games.