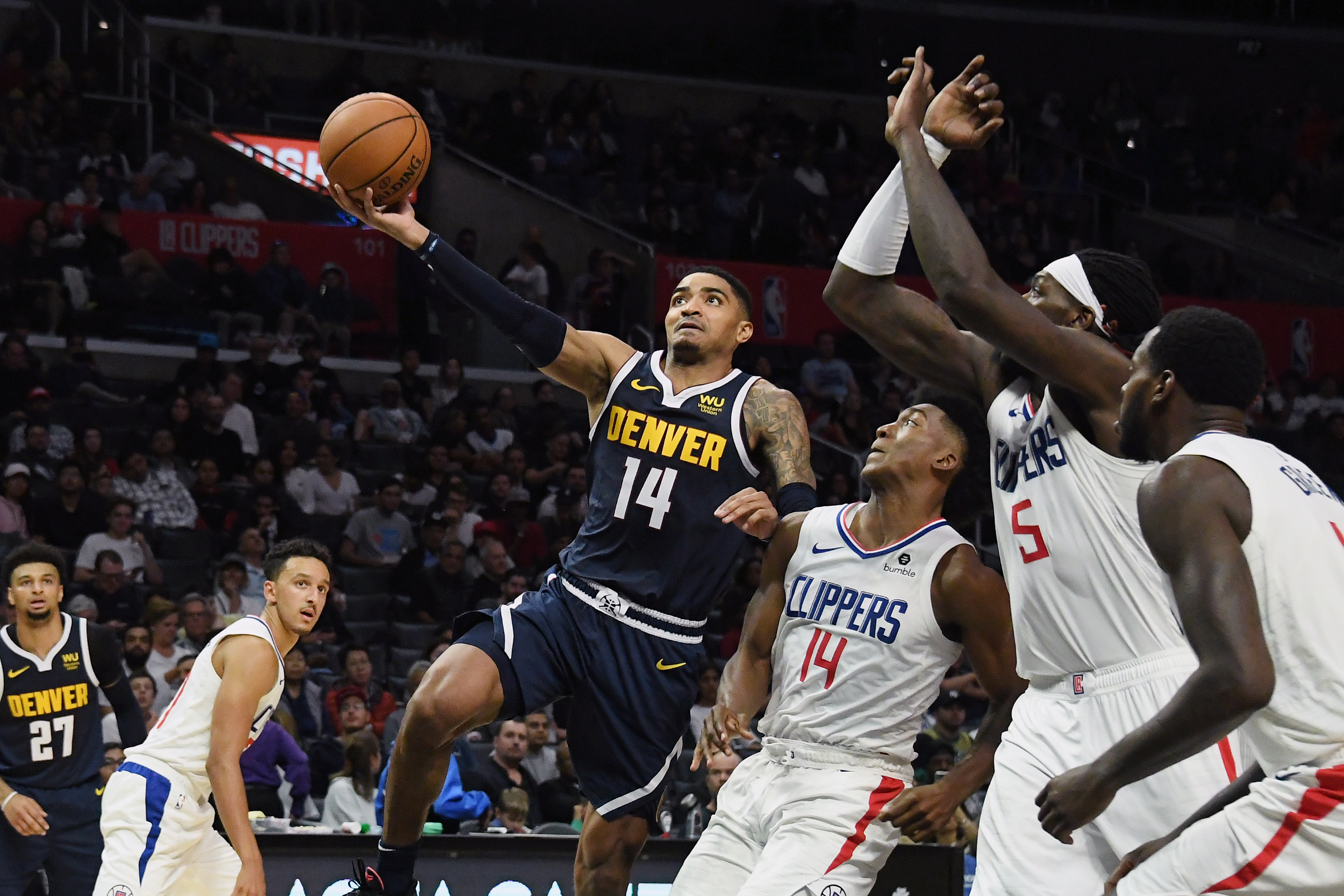 After two preseason games, the Denver Nuggets have managed to stay undefeated, but that does not mean they are anywhere near ready for the regular season.
There was some good, some bad, and some ugly during Denver's 111-91 win over the Los Angeles Clippers. Let's take it step by step, shall we?
Good – Denver's bench unit continues its dominance
The Nuggets had the benefit of a strong bench unit last year, but the 2019-20 iteration of Denver's reserves have even more potential than their predecessors.
As everyone knows now, the only member of the Nuggets rotation from last season that is no longer on the team is Trey Lyles, who struggled greatly. Now, Denver has Jerami Grant as their backup power forward and his presence has taken Denver's bench unit from formidable to elite.
It is incredibly difficult to find fault with Grant's play through two preseason games. He was brought to Denver to be the ideal finisher and defender to elevate Denver's play on both ends of the floor and he has not disappointed. Grant has drilled four of his seven attempted 3-pointers, defended all five positions, is deterring shots in the paint as a rim protecter, and has seamlessly fit into the Nuggets style of play.
The only other new addition to the bench unit is Michael Porter Jr., who continues to impress against opponents' end-of-the-bench lineups. So far, Porter Jr. has made offensive basketball look easy, has showcased a strong understanding of what his role is on this Nuggets roster, and a passion to get better each time he steps on the floor. Malone has challenged Porter Jr. to be an impactful defender, to focus on the nuances of playing off-ball on offense, and to crash the glass constantly as a rebounder. In Porter Jr.'s 28 minutes of action over two preseason games, he has eight rebounds, has remained aware on or off the ball on defense, and has stayed in constant motion on offense despite playing without the ball. Through two games, Porter Jr. has made 10 of his 14 attempted shots for 21 points to go with eight rebounds, one assist, one steal, and only one singular turnover. In his 28 minutes of action, the Nuggets have outscored their opponents by 21 points.
Those two are being added to an already stellar backup backcourt of Monte Morris and Malik Beasley, both of whom earned votes for Sixth Man of the Year and shot over 40% from three-point range last season. Morris is one of the most steady floor generals in basketball and Beasley's upside is immense as a shooter, transition threat, and defender.
The glue to pull the bench unit together is none other than Mason Plumlee, who continually shows that his impact on the Nuggets team is bigger than it appears at first glance. Against the Clippers, it was Denver's bench unit that saved the day and they were led by Plumlee's eight points — on a perfect 4-of-4 shooting — to go with four rebounds and six assists in 16 minutes of action.
The Nuggets will trot out a bench unit featuring Morris, Beasley, Porter Jr. (or one of Torrey Craig or Juancho Hernangomez), Grant, and Plumlee which is a scary thought for the rest of the league.
Denver has the players to put together one of the best bench units in the league.
Bad – Nuggets' turnover issues
This is simply the most preseason-related issue possible.
Of course, when a team only has a little more than two weeks with all members of the roster practicing together, there are going to be some bad decisions made on offense and a unnecessary turnovers committed due to unfamiliarity. Still, when the Nuggets are averaging 24 turnovers per game and have 48 total turnovers in their first two preseason games, it is an issue that needs to be addressed.
The other problem is that the players who are committing the most turnovers are mainstays in the rotation. Gary Harris has nine turnovers in 45 minutes of play. Paul Millsap has six turnovers in 40 minutes of play. Jerami Grant has five turnovers in 39 minutes of play. Overall, 27 of Denver's 48 turnovers have been committed by their starting unit (which includes Will Barton who only has two turnovers of his own).
This issue should work itself out as the Nuggets get more reps together and Malone gets after them in film sessions, but for now, it is a notable issue that Denver is dealing with.
Ugly – Jamal Murray's uninspiring play
The most worrisome development throughout the first two preseason games is the lackluster play of Jamal Murray.
After agreeing to a five-year, $170 million maximum contract extension during the offseason, the expectations of Murray have spiked. Now, Murray is going to be perceived as a maximum contract player and he needs to produce like one.
Through two preseason games — which is not nearly enough time to properly evaluate Murray's play — he has struggled. Murray is only shooting 41.2% from the field and has missed the only two 3-pointers he has attempted. To make matters worse, he has just as many turnovers (4) as he has assists (4) in his 46 minutes of action and is defense has remained underwhelming.
It is obvious that preseason means very little in the grand scheme of things, but when considering that Malone has vocally challenged Murray to begin the season on the right foot, his slow start is notable. Murray has always struggled at the start of the season. He missed the first 16 shots of his NBA career his rookie season, only made two of his 21 attempted 3-pointers to begin his sophomore campaign, and shot 40.8% from the field in his first seven games last season.
Preseason is nothing more than an opportunity to get into a rhythm. Hopefully Murray can find his own rhythm before the regular season arrives.