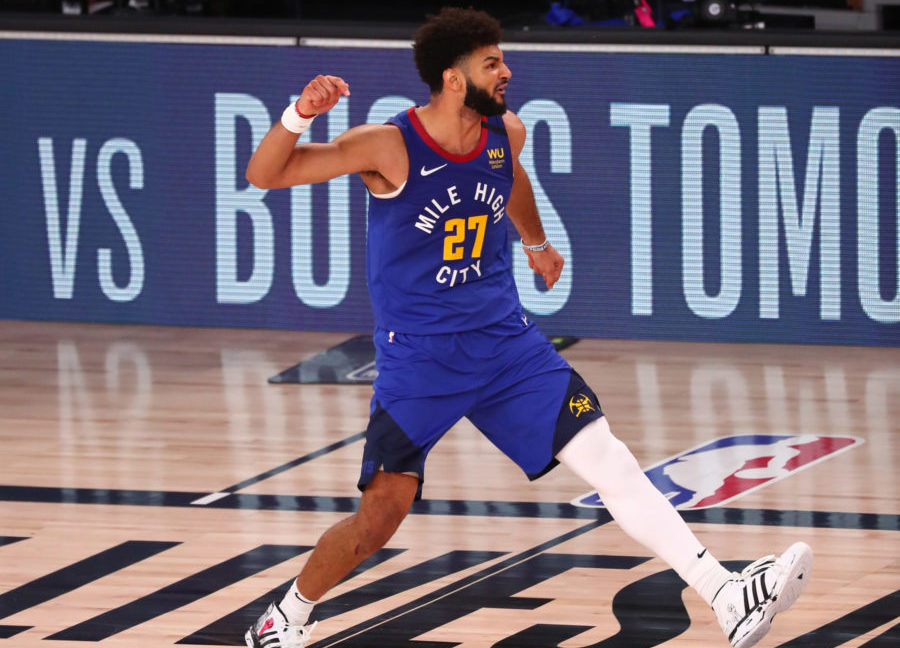 Wow.
Somehow, after looking lifeless at times, the Denver Nuggets have roared back behind the historic play of their starting point guard Jamal Murray to turn a 3-1 series deficit to the Utah Jazz into a series tied at three wins apiece with Game 7 set to decide who will take on the Los Angeles Clippers in the second round of the Western Conference Playoffs.
The Nuggets beat the Jazz in Game 6 by a score of 119-107. They were led by Murray, who turned in his second 50-point performance of the series to keep the Nuggets alive. Jokic added in 22 points and nine assists of his own to help out his team while Jerami Grant had 18 points on just nine shots.
Denver got a superstar performance from Murray, plenty of help from Jokic, and strong bench play which allowed Denver to maintain and extend their lead.
Here is the good, bad, and awesome from Denver's Game 6 win.
Good – Gary Harris returns and makes an impact
This was the most unexpected aspect of the Nuggets Game 6 win.
Not only did Gary Harris return to play his first game since March 11th, but he legitimately helped Denver for every minute he was on the floor in an elimination game for his first game in the bubble.
No, his stat line does not jump off the page — he finished with four points, three rebounds, and two turnovers in 20 minutes — but his impact was felt at every moment. Whenever someone on the Jazz tried to drive to the rim anywhere near Harris, he managed to disrupt their offensive flow. Whenever it looked like the Jazz were going to get an offensive rebound, Harris peeled off and stole back the possession. Whenever Harris was matched up with Mitchell, he made sure he was physical with him to try and limit Mitchell's effectiveness. Every aspect of the Nuggets defense that is unquantifiable was significantly improved with Harris on the floor.
Now the question shifts. What will Harris' role be in Game 7? Well, first off Harris needs to see how his body responds to playing his first game since March 11th.
After the game, Harris told reporters that he was tired and waiting for the morning to see how his body responded to his first game in months.
Then the next step — if Harris is healthy and ready to go for Game 7 — is to find out if he should come off the bench again or if finding him a spot in the starting lineup makes sense.
As we will discuss next, Millsap has been a significant detriment for the Nuggets in their playoff series against the Jazz. Would it be smarter to slide Jerami Grant to power forward and start Harris at small forward? That is likely the question Malone is pondering right now.
Bad – Paul Millsap is sadly one of Denver's biggest problems
There is no more escaping this reality.
Paul Millsap is no longer able to help the Nuggets in their playoff series with the Jazz and he should only play sparingly in Game 7 if at all. He might even be at risk of losing his starting spot to either Michael Porter Jr., who has played better in the past two postseason games, or Gary Harris, who just returned from a right hip muscle strain.
At this point, Denver is statistically much worse with Millsap than without him. Against the Jazz so far, the Nuggets are posting a 118.1 offensive rating and a horrific 133.1 defensive rating which turns into a -15 net rating. When Millsap is off the floor for the Nuggets, Denver is posting a 122.8 offensive rating and a 114.7 defensive rating which equates to a +8.1 net rating.
Denver is factually better on offense and defense when Millsap is not on the floor. I wish it was not that simple, but Millsap no longer possess the skills to match up with Utah.
When Millsap is defending away from the ball, he is showing that he is not quick enough to recover to open shooters which has hurt Denver's already struggling three-point defense. To make matters worse, Millsap also no longer possess the strength to matchup with centers in the paint like Rudy Gobert.
That combination of issues has rendered Millsap ineffective against the Jazz and no amount of toying with schematic changes by Malone has made Millsap's job easier.
It might be time to pull the plug on Millsap for this series, but that will be up to Malone to decide.
Awesome – Jamal Murray keepings finding new heights with each playoff performance
During last season's playoffs, which feels like it was a decade ago, Jamal Murray had a strong finish, but a slow start. He was trying to find where he fit in the Nuggets hierarchy that was clearly built around Nikola Jokic, who was sensational throughout all 14 of the Nuggets playoff games in 2019-20.
After a slow Game 1 and a big resurgence in Game 2 against the San Antonio Spurs, Murray began to shine while playing within the two-man game with Jokic and many began to wonder if Murray could blossom into Denver's second star.
That question has been answered emphatically after Murray's six games against the Jazz in the first round of the playoffs this year and he is no longer performing only in the shadow of Jokic's brilliance.
This has been Murray's series. He is the one leading the Nuggets back from the brink of elimination and gave them a chance in Game 7 to avenge their losses early in the series. He is the one reaching heights that were perviously looked at as impossible for the young guard. He is regularly and consistently forcing people to reevaluate just how good he can be.
So how good has he been you ask? Tonight, Murray became the fourth player in NBA playoff history to have multiple 50-point games. Murray is averaging 34 points, 6.2 rebounds, and 6.7 assists per game in his six playoff games this season and is shooting 58.5% from the field and 57.4% from three-point range. Oh, and Murray is 21-23 from the free throw line. In every facet, Murray has been better than he has ever been in his NBA career.
When the Nuggets were lost, Murray got them back on track, gave them the emotional boost they needed, and then he proceeded to put up historic numbers to help his team have a shot to reach the second round.
Denver still has one more game to win, but regardless of what happens on Tuesday for Game 7, Murray has grown into the superstar Denver always hoped he could be.