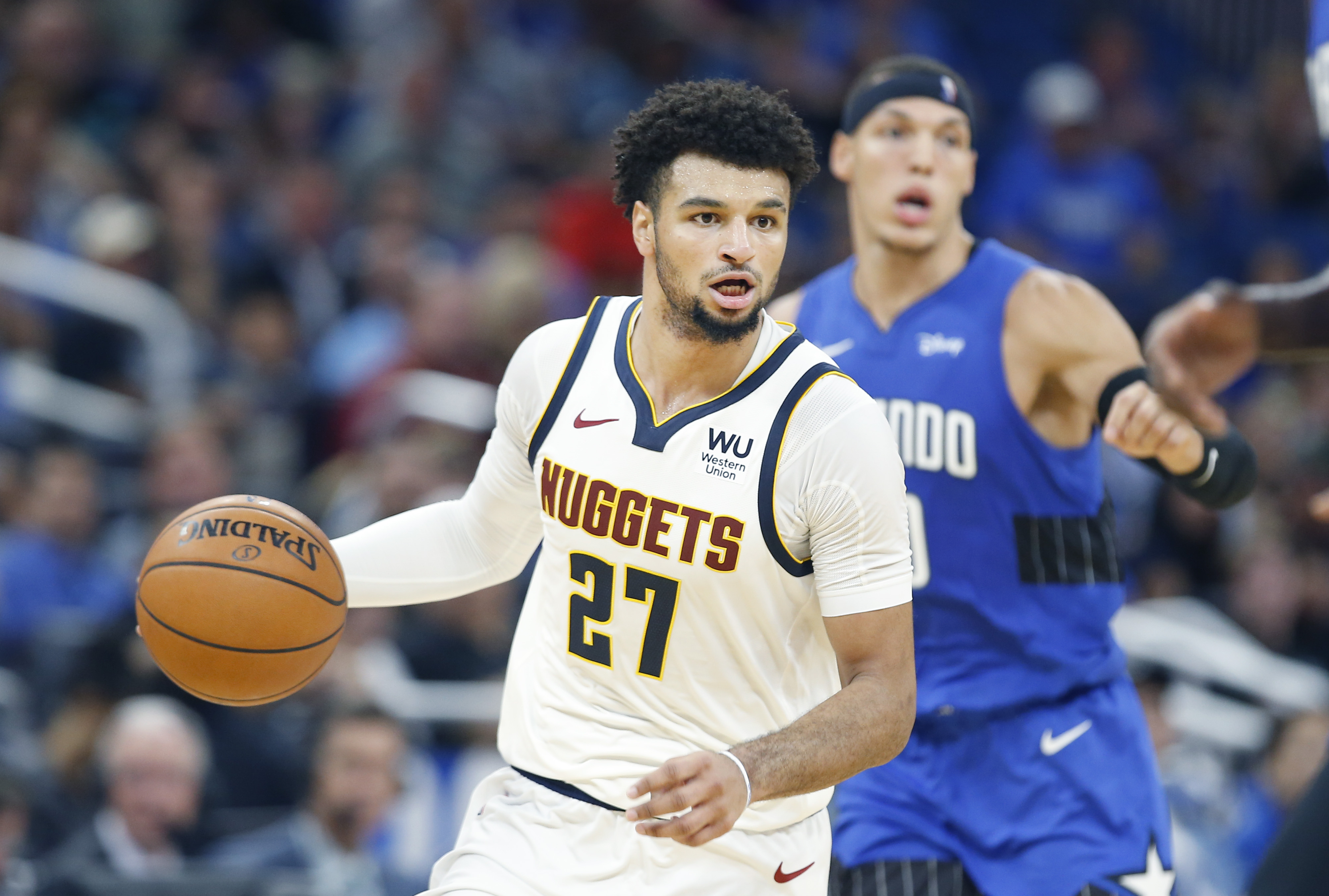 After starting the 2019-20 season with three wins in their first five games, the Denver Nuggets were looking to finally play a strong and well-rounded 48 minutes — a feat they have not yet accomplished.
Denver's offense has been unrecognizable at times while their defense has slowly, but surely gotten worse as the year has progressed. To make matters even more concerning, Nikola Jokic has looked uninterested on offense and unplayable on defense for long stretches. The Nuggets needed a bounce-back performance badly, but they had to do so on the road in Orlando against the Magic.
After an awful first half, the Nuggets battled back in the third and fourth quarters to secure their fourth win of the season. It was far from pretty, but Jokic and Murray came alive late to grab an ugly win.
With that being said, here is the good, bad, and ugly from the Nuggets 91-87 win over the Magic.
Good – Jamal Murray shines 
At first glance, Murray's statistical output was nothing incredible, but when watching his play in Orlando, it was clear that he was the Nuggets best player for all four quarters.
Yes, Jokic had some insane stretches of play in the second half, but Murray was exactly what his coach wanted him to be — consistent.
When the Nuggets looked like they had no energy, Murray would find a way to inject the game will his own concoction of adrenaline and passion. When Denver's defense started to fall apart, Murray began giving every last shred of effort he had left to help hold off the Magic's offense. When the Nuggets offense began to sputter, he came alive as a passer and as scorer.
Most importantly, when the game was on the line, Murray had two big buckets including a dunk in traffic with less than a minute left to effectively put the game away and give the Nuggets their fourth win of the season.
Malone has been essentially begging Murray to find a semblance of consistency and this was the game that everything came together. Not only was he productive on the floor, but was just as important in huddles and on the bench as a leader.
Denver badly needed a win and Murray stepped up when the needed him. He finished with 20 points, four rebounds, four assists, and a steal while shooting 7-15 from the field and 2-3 from three-point range, but his impact was much more important than those numbers indicate. Murray was the leader the Nuggets needed on Saturday night. He set the tone from the very start of the game and did not let up until the final buzzer.
Murray had one of his most impressive games as the leader of the Nuggets when they needed it most.
Bad – Denver's offense continues to struggle
The Nuggets have been viewed as one of the most potent offensive teams in the National Basketball Association for the past few years, but their first five games of the season have not displayed their scoring prowess in a light that many expected.
Denver's win over the Magic was no different.
Somehow, the Nuggets won on the road despite shooting the ball terribly. By the time the game ended, Denver shot 37% from the field, 32.1% from three-point range, and 71.8% on free throws.
The Nuggets offensive attack is entirely out of whack. They had moments where the offense looked like the war machine it was last season, but for the majority of the 48 minutes of play, the Nuggets were unable to create good looks. The few times that Denver did managed to create an open shot, they missed them.
If it wasn't for the fact that the Nuggets outscored the Magic by 21 points at the free throw line, Denver would have all but assuredly lost this game.
Somehow, some way, Denver needs to resurrect their offense and that starts with none other than Nikola Jokic, who was a disaster in the first half, but came alive in a big way in the final two quarters.
Ugly – Nikola Jokic's effort and passion
During his pregame media availability, Malone said that he wants Jokic to take at least 15 shots.
By the time the first quarter ended, Jokic had played eight minutes, but had not taken a single shot. He had zero points, zero rebounds, zero assists, zero steals, and zero blocks in the first frame of play. He played with little-to-no aggressiveness, was a disaster on defense as Nikola Vucevic continually ate him alive in the post, and gave no effort to fix these issues.
By the time the first half came to an end, Jokic only had four points on 1-4 shooting, two rebounds, and 1 assist in 15 minutes of action. For an MVP candidate on a potential finals-contending team, that is unacceptable.
Thankfully, Jokic came alive in the second half. He had eight-straight points to begin the third quarter and had 16 points, three rebounds and three assists in the second half of play. He was hitting all types of absurd shots and helped carry the Nuggets back into the game, but he was still far from the best version of himself.
Yes, Jokic's incredible passing ability was on display. He was able to hit multiple 3-pointers and even unleashed a one-legged fadeaway on the baseline, but it is not enough. The Nuggets go as Jokic goes and right now Jokic's passion and urgency are at an all-time low.
Despite his horrific first half, Jokic still managed to finish with 20 points, seven rebounds, four assists and was a +14 in his 31 minutes which is almost comical. For Jokic to somehow be a +14 in a four-point game after the disaster of a first half he had makes almost no sense, but it is more proof of just how incredibly talented Jokic is.
The Nuggets need Jokic to get back to playing like Jokic again. If he continues to try to do just enough to get the Nuggets wins, they will end up losing a lot more games than they should. Jokic is the heart of this Nuggets team and if he stops working, everything stops working.