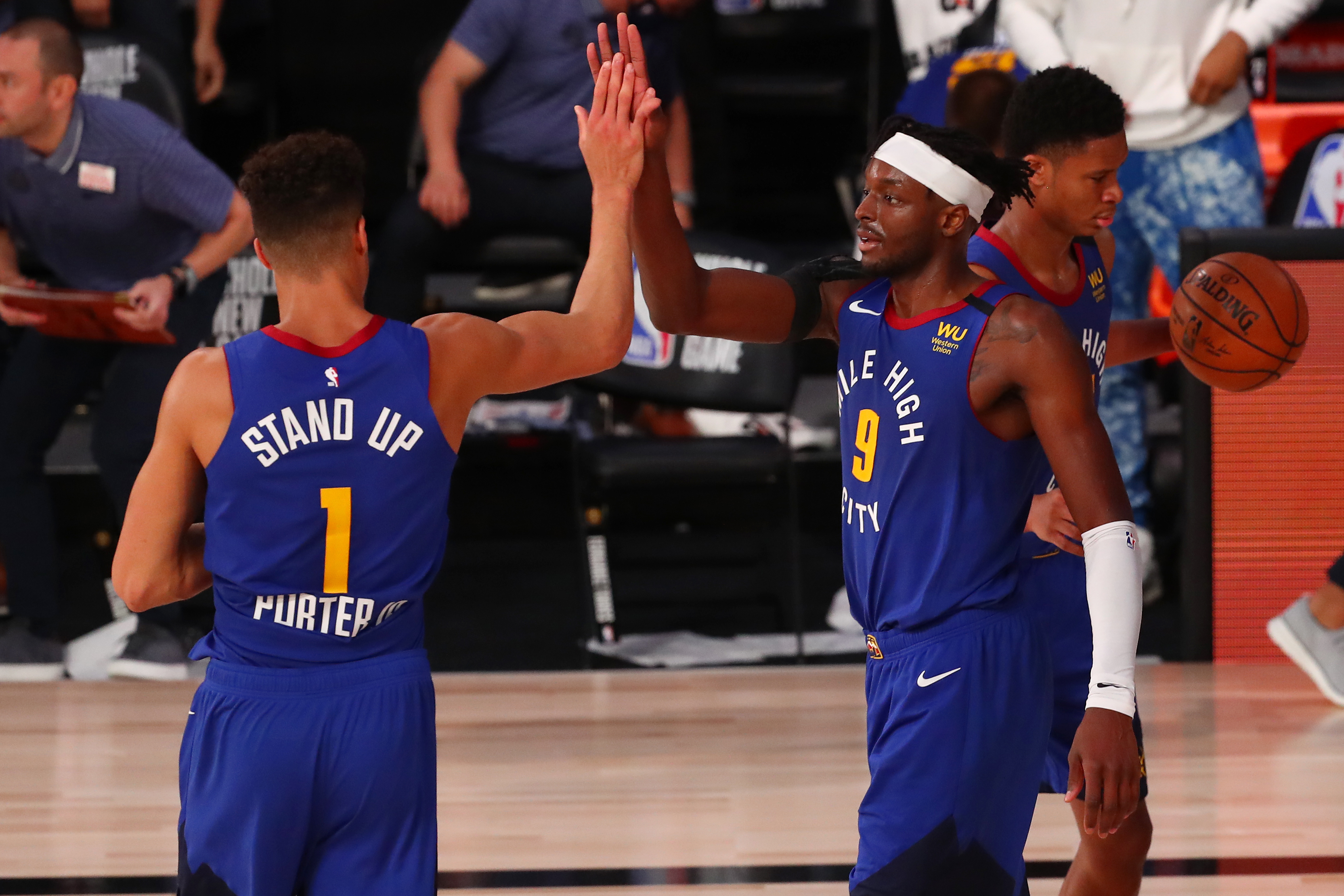 Well, despite all of their injuries, the Denver Nuggets came off a win over the Oklahoma City Thunder on Monday afternoon.
On Wednesday, with the same injury concerns, Denver squared off with the San Antonio Spurs looking to push their record to 2-1 in their three seeding games. The Spurs battled and kept the game close despite being outmatched in terms of size, but ultimately the incredible showing by Michael Porter Jr. and the steady play of Nikola Jokic was too much to overcome.
Here are the good, bad, and ugly from the Nuggets 132-126 win over the Spurs.
Good – Michael Porter Jr. follows up career-best night with another strong showing
From start to finish, the Spurs had no answer for Porter on the offensive end of the floor.
It did not matter who the Spurs tasked with defending Porter. He scored from all over the court and did so in a variety of ways while making it look mostly effortless. He grabbed offensive rebounds before putting them back up for easy second-chance points. Porter scored off cuts to the rim from a multitude of angles. He created his own jumpers seemingly at will. Oh, and he was also a catch-and-shoot sniper from beyond the three-point line.
The Spurs tried to defend him with bigger players and guards alike and there was no answer to slow him. Porter methodically and consistently beat down the Spurs defense until the Nuggets had won the game. Porter even poured in 10 of his 30 points in the final quarter despite clearly fighting fatigue.
The last aspect of his game that was truly encouraging was his ability to switch between off-ball scoring option with the starting unit to being the primary scoring option with the bench unit. Malone brilliantly flexed Porter's minutes into the bench unit to provide more shot creation for that group and it helped Denver survive minutes when Jokic was not on the floor. For most players, it is hard to flip between such conflicting offensive roles, but Porter did a strong job of it against the Spurs despite his lack of NBA experience.
Porter finished with 30 points on 11-19 shooting from the field and 5-9 from three-point range to go with 15 rebounds against the Spurs. He now has back-to-back games where he scored at least 30 points and pulled down at least 12 rebounds.
What a stretch of games Porter has had. These performances may push him into serious contention for a starting spot once the playoffs arrive.
Bad – Injuries continue to plague the Nuggets
Well, the Nuggets once again were short-handed on their path to the playoffs.
Prior to tip off against the Spurs, the Nuggets announced that Jamal Murray (left hamstring tightness), Gary Harris (right hip muscle strain), and will Barton III (right knee soreness) would all miss their third-straight game.
Obviously that is concerning, but there is so little information to analyze about their respective injuries that speculating when they could return is somewhat impossible. What is known is that Murray has been listed as questionable before each of Denver's three seeding games which makes it seem as if he is the closest to returning. For all we know, Murray could return on Thursday for the Nuggets second game of a back-to-back when they take on the Portland Trail Blazers.
In their spots, the Nuggets elected to start Monte Morris, Torrey Craig, and Porter. To the delight of Malone, all three of them played relatively well. Craig had some great defensive moments and lots of hustle plays, but struggled shooting and finished with just eight points on 3-8 shooting from the floor. Morris had himself another fantastic showing with 19 points on 8-13 shooting to go with two rebounds and four assists. Still, no one shined like Porter shined as outlined above. His 30 points and 15 rebounds propelled the Nuggets to victory.
While it is good the Nuggets are getting plenty of time to see what Porter can do and they are still winning games, their injuries drastically limit their ceiling in the playoffs. Hopefully they can get healthy fast.
Ugly – Will Barton being labeled as "selfish" by Nuggets fans
For the past few years, Nuggets fans have singled out Barton as a selfish player who should lose his starting spot.
The tweets about him seem to be relentless at times, but it is simply incorrect to say that Barton is selfish. Some people may enjoy a different style of play, but Barton has consistently proved just how selfless he really is; especially as a leader and a teammate. His tweet after the Nuggets win over the Spurs was a perfect example to use as an explanation:
MPJ is special! Ready right now! 6'10 small forward with a ratchet & a handle! Stop playing with him! Can't be on a leash with that type ability! It's time! Gotta let him be him! Shorty different!

— Will Barton (@WillTheThrillB5) August 5, 2020
Barton is currently one of three Nuggets starters who have not played in their three seeding games and he also starts at small forward; the same position Porter has thrived playing. On one hand, it is very clear that as Porter earns more playing time in the playoffs, it will likely come at the expense of Barton's minutes which is an overall negative for Barton. Despite that reality, Barton went to twitter to not only support his teammate openly, but to advocate for him to play more minutes and to be let off of the "leash" he is on in terms of his playing time.
For a Nuggets team that prides themselves on continuity and chemistry, these moments are not only important, but necessary. These are the types of selfless moments that allow the Nuggets altruistic style of play to function at the level it does. Without these acts of selflessness by players like Barton, the Nuggets cultural foundation begins to weaken.
Denver has three phrases that are on the wall in their practice court — hard work, selflessness and trust. There might not be a single player on the Nuggets roster who embodies those three phrases like Barton does.