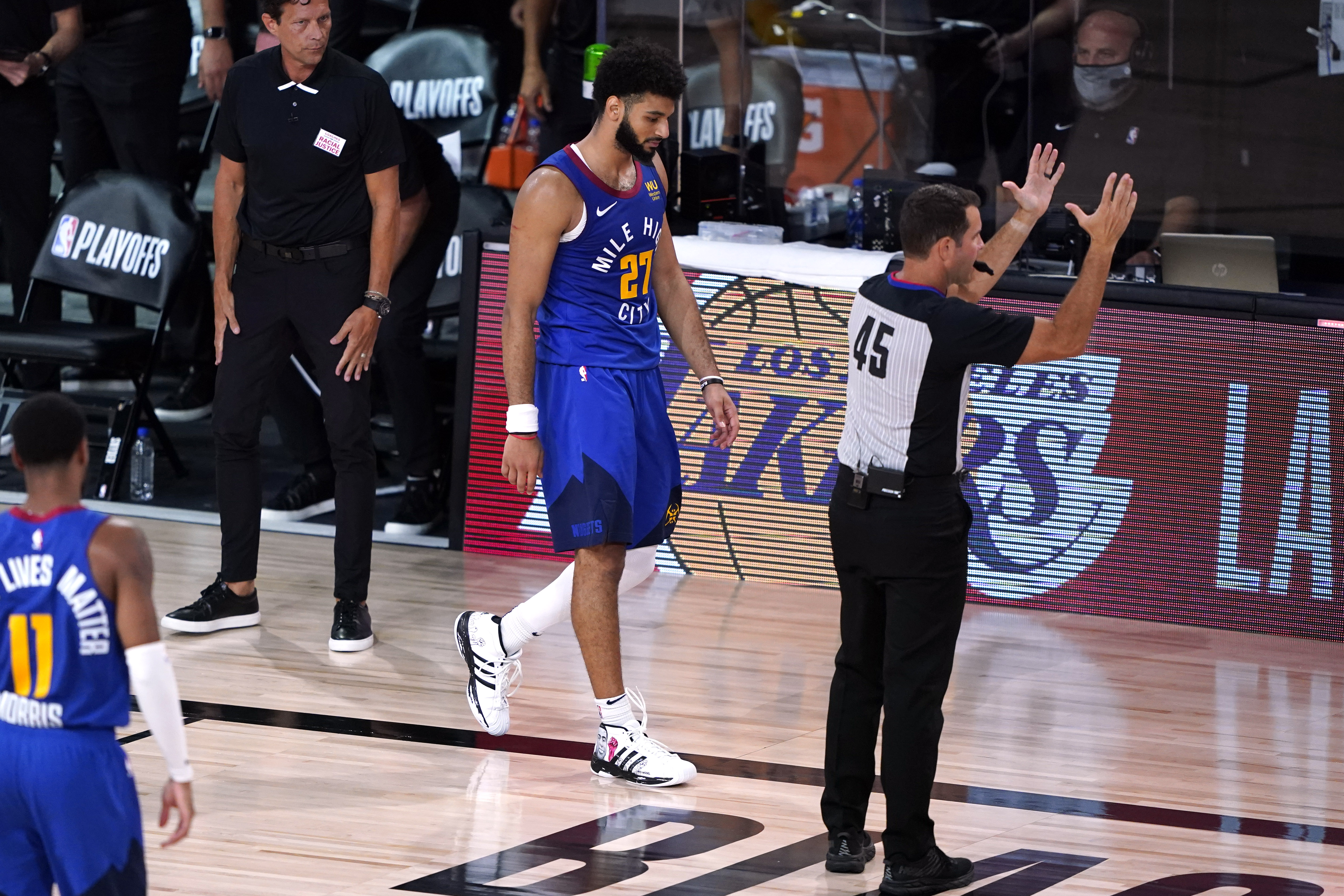 The Denver Nuggets knew their backs were against the wall after their lackluster showing in Game 3 against the Utah Jazz.
That Game 3 loss pushed Denver into a 2-1 deficit in their first round playoff matchup with the Jazz which meant Denver had to find a way to win or stare down the tough reality that is being behind 3-1 in a playoff series.
Denver battled and got a truly magnificent game from Jamal Murray, but it was not enough as the Jazz managed to escape with a 129-127 victory over Denver nearly extinguishing their title hopes.
Jamal Murray and Donovan Mitchell each had at least 50 points, but by the time the final buzzer sounded it was Murray who had lost the duel and with that, here are the good, bad and ugly from Denver's Game 4 loss.
Good – Nuggets switch up starting lineup with strong results
Well, Nuggets head coach Michael Malone had seen enough from his starting lineup in the first three games of the postseason. After Denver's embarrassing Game 3 loss, Malone elected to go into Game 4 with two new starters.
Malone took Torrey Craig and Michael Porter Jr. out of the starting group and inserted Monte Morris and Jerami Grant. Immediately, Malone's decision proved to me a smart one for multiple reasons on both ends of the floor.
Grant was a massive infusion of energy in the first half. He was getting easy baskets off dunks in transition with regularity while also finding success as an off-ball scorer. Even more encouraging was that he paired his expanded offensive skill set with a couple 3-pointers which gave the Nuggets that much more of a boost. Defensively, he was active and did a decent job of slowing Donovan Mitchell in the first half. Eventually Grant was just like every other defender that Denver used on Mitchell, but he had more of an impact than most did when attempting to check the explosive lead guard.
Monte Morris did not shine bright in the box score, but his impact was felt in every facet of the game. Morris being in the starting group gave the Nuggets an additional creator alongside Murray which unlocked a whole new level of this Nuggets offense. Whenever the two-man game between Jokic and Murray fell flat, Murray or Jokic were able to reverse the ball to Morris who could then run a pick and roll with Millsap or get Denver into another offensive set. Craig does not have the offensive skill to run an offense like that so having Morris on the floor gave Denver a much more well-rounded group. Defensively, Morris battled all night long regardless of who he was matched up with. He left everything on the floor and did whatever he could to give Denver an edge.
Malone's alterations to the lineup did help, but unfortunately it was not enough.
Bad – Denver's defense is still unable to slow Utah
There is no more glaring issue than Denver's defense throughout their time in the bubble and throughout the postseason.
Their complete inability to defend has left the Nuggets swimming up stream while being weighed down by an anchor. No matter how much better their offense becomes, it is not going to be enough to out-pace their truly abysmal defensive play thus far.
Instead of reliving past defensive horrors, let's just focus on Game 4.
The Jazz shot 14-29 from three-point range which equalizes out to a scorching hot 48.3% from distance. Additionally, Utah found success inside the arc as they managed to hit 28-44 two-point shots which is good for 63.6%. Oh, and Utah shooting 31-36 from the free throw line did not exactly help Denver out at all. The Jazz also only committed a total of 10 turnovers all night long.
That is a long-winded way of saying the Jazz got whatever offensive look they wanted it and it took little to no effort to do so. Everything on offense looked incredibly easy for the Jazz and when that is juxtaposed against Denver's struggles sustaining an offensive flow, it becomes so clear just why the Jazz are winning this series.
Somehow, Denver has made everything hard on themselves on both ends of the court while the Jazz are doing whatever they want and are succeeding doing it.
The only way Denver could give themselves a chance to come back from a 3-1 deficit is to find a way to defend much better and in a more sustainable way. That might be an unrealistic goal at this point, but what does Denver have to lose?
Ugly – Denver now down 3-1 in their series with Utah
This is the harsh reality Denver now faces: they must beat this Jazz team three-straight times in order to make it to the second round of the playoffs.
Is that impossible? No.
Can the Nuggets pull it off? Yes.
Is it in any way likely? No.
Only 11 teams since 1968 have managed to win a series after being down 3-1 and from Denver's point of view, there are not many positives to draw motivation from. Denver has been thoroughly outplayed in three of their four playoff matchups with the Jazz including two complete blow outs. The thought that Denver could suddenly flip a switch and run the table is just not a realistic hope at this point.
With that being said, Denver has Nikola Jokic and Murray still. They have the talent around them and they have the chemistry to get back on the same page quickly. All hope is not lost yet, but it is going to take a miraculous turnaround for the Nuggets to find a way to win this series against the Jazz.