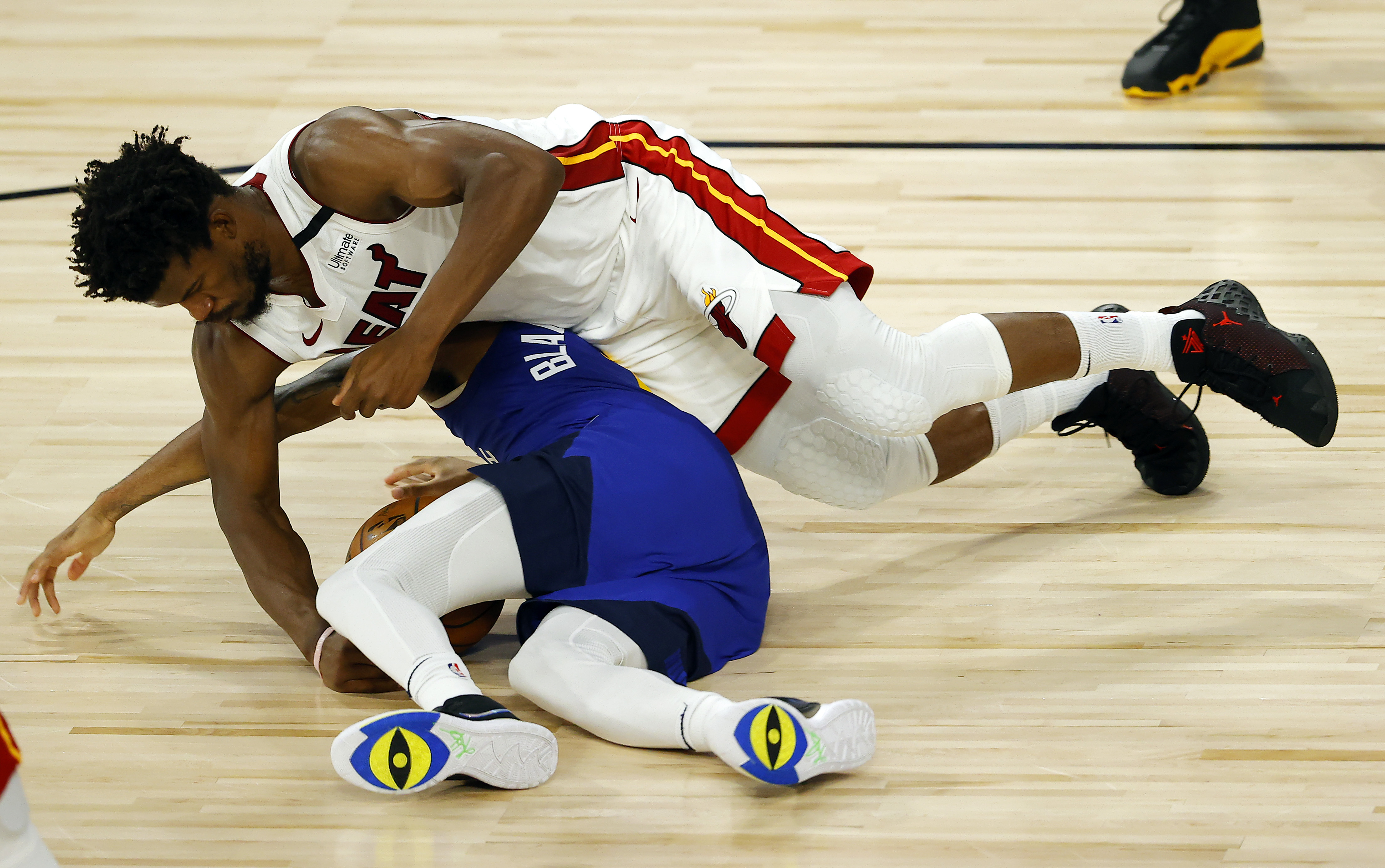 The Denver Nuggets came out of their three scrimmage games with more questions than answers and yet, they had to begin their path to the playoffs against the Miami Heat for their first of eight seeding games.
Denver came out of their three scrimmages without a strong understanding of who would be ready to go in their seeding games. They only had eight players available in their first two scrimmages before eventually getting reinforcements in the final tune-up game. Unfortunately those reinforcements were short lived.
All three of Jamal Murray (left hamstring tightness), Gary Harris (right hip muscle strain), and will Barton III (right knee soreness) missed Denver's first seeding game which left Denver without three starters and without many answers. In their place they started Monte Morris, Torrey Craig, and Michael Porter Jr., but it is clear that Denver's lack of competitive playing time as a unit is becoming more concerning as the postseason draws near.
To make matters worse, Denver got obliterated in the second half of their matchup with the Miami Heat. Here are the good, bad, and ugly from the Nuggets 125-105 loss to the Heat.
Good – Michael Porter Jr. gets a big opportunity to play with Denver's roster depleted
Key players — let alone three starters — at this stage of the season is seriously concerning, but in Denver's first seeding game, it provided the Nuggets a chance to evaluate where Michael Porter Jr. is at and how ready he is for the playoffs.
Being that Porter was a late arrival to Orlando, he missed two of Denver's three scrimmages which left him behind the curve. Ever since, he has been working to catch up, but there was concern that he might not get enough minutes in Denver's seeding games to get into a rhythm for the playoffs.
Well, that concern did not exist in Denver's first seeding game. They were without Murray, Harris, and Barton which allowed Porter plenty of opportunities to shine.
Porter wasted no time getting going as he took the Nuggets first three shots and missed all three of them. He finished the first half with just one made shot in five attempts, but added in strong defensive effort as well as three assists.
It almost felt as if Nuggets head coach Michael Malone told Porter to go hunt his own shots early on. He was not playing the off-ball role that he thrived in earlier in the season and was forcing bad shots early in the shot clock. If Porter wants to earn playoff minutes, he needs to play within the Nuggets offensive system and not try to take it over.
Porter's defense and playmaking helped make up for some of the selfish moments he had as a scorer in the first half, but he made it a point to address those issues once the third quarter arrived.
Porter was more focused as an off-ball scorer in the second half. He scored on cuts and as a catch-and-shoot three-point sniper in addition to eliminating bad shots, but his defense struggled which eventually led to him getting yanked by Malone in the third quarter.
During the stretch before he was pulled from the game, Porter fouled a jump shooter and let Jae Crowder get loose for a triple after Porter died on the screen which led to the Nuggets lead disappearing. Porter was upset with Malone's decision, but in a playoff environment there is no room for mistakes like that. Malone is preparing for the playoffs and if Porter doesn't prove he is ready for that stage, Malone will not play him. Hopefully that message is now crystal clear to Porter.
Porter returned to the game late in the third quarter because Denver desperately needed some shooting, but ultimately he was unable to make an impact that turned the tide for the Nuggets. He finished with 11 points, three assists and three turnovers. He was only able to grab one rebound in 24 minutes of action.
Hopefully Porter can build on this performance and produce more effectively in Denver's next seeding game because without Porter playing well, Denver's ceiling is significantly lower in the playoffs.
Bad – Denver misses another opportunity for their team to prepare for the postseason
As Denver continues pushing towards the playoffs, their time to come together as a full team is dwindling rapidly and at this point, it is fair to question if anything the Nuggets have done in Orlando thus far will have any impact on their postseason performance.
First off, Denver only had eight or nine players for the majority of their practices before even playing in scrimmages. Then in the first two scrimmages, the Nuggets had eight players available. They haven't been able to run any five-on-five in practice and their head coach has had to step in and play some point guard at different moments. Denver has been without multiple starters at every juncture of their path to the playoffs which has left Malone deploying lineups that would never be played if Denver was healthy. Because of he absurdity of the lineups Denver has been forced to play, no players are really able to get comfortable or into a rhythm.
In addition to that, the Nuggets are still missing Murray, Harris and Barton which throws everything off in regards to their preparation. Instead of solidifying a strong playoff rotation and getting players comfortable within those lineups, Denver is essentially throwing darts in the dark. No one knows who will be available on a day-to-day basis which has left the rest of the projected playoff rotation in disarray.
Lastly, how ready will Denver's starters be when the playoffs get here? The Nuggets are not known to start fast; their issues to begin this season and their struggles after the All-Star break are evidence of that. Now those issues are compounded by the fact that Denver's starters have not all shared the floor together in over four months.
It's hard to say where Denver has been able to improve during their time in Orlando in regards to their hopes of playoff success.
Ugly – Nuggets get demolished in the third quarter
It was unquestionably the third quarter where the Nuggets lost to the Heat.
Miami put a 38-22 beating on Denver that left the Nuggets unable to recover. Denver had eight turnovers in the third quarter alone. What is even worse is they had more turnovers (8) than made shots (7). So not only were the Nuggets feeding Miami's transition scoring, but Denver was also unable to score on the other end.
To make matters worse, Denver's defense was virtually non-existent. Miami shot 12-18 in the third quarter which equates to 66.7% from the field. They also drained 4-7 shots from three-point range and got to the foul line 12 times while converting 10 of those freebies.
The Nuggets let this game get away from them, but hopefully this loss will serve as an eye-opening experience. It was an extreme litmus test that Denver failed. Now they have to reassess and return in just over two days for their next seeding game abasing the Oklahoma City Thunder who the Nuggets could face in the first round of the playoffs.