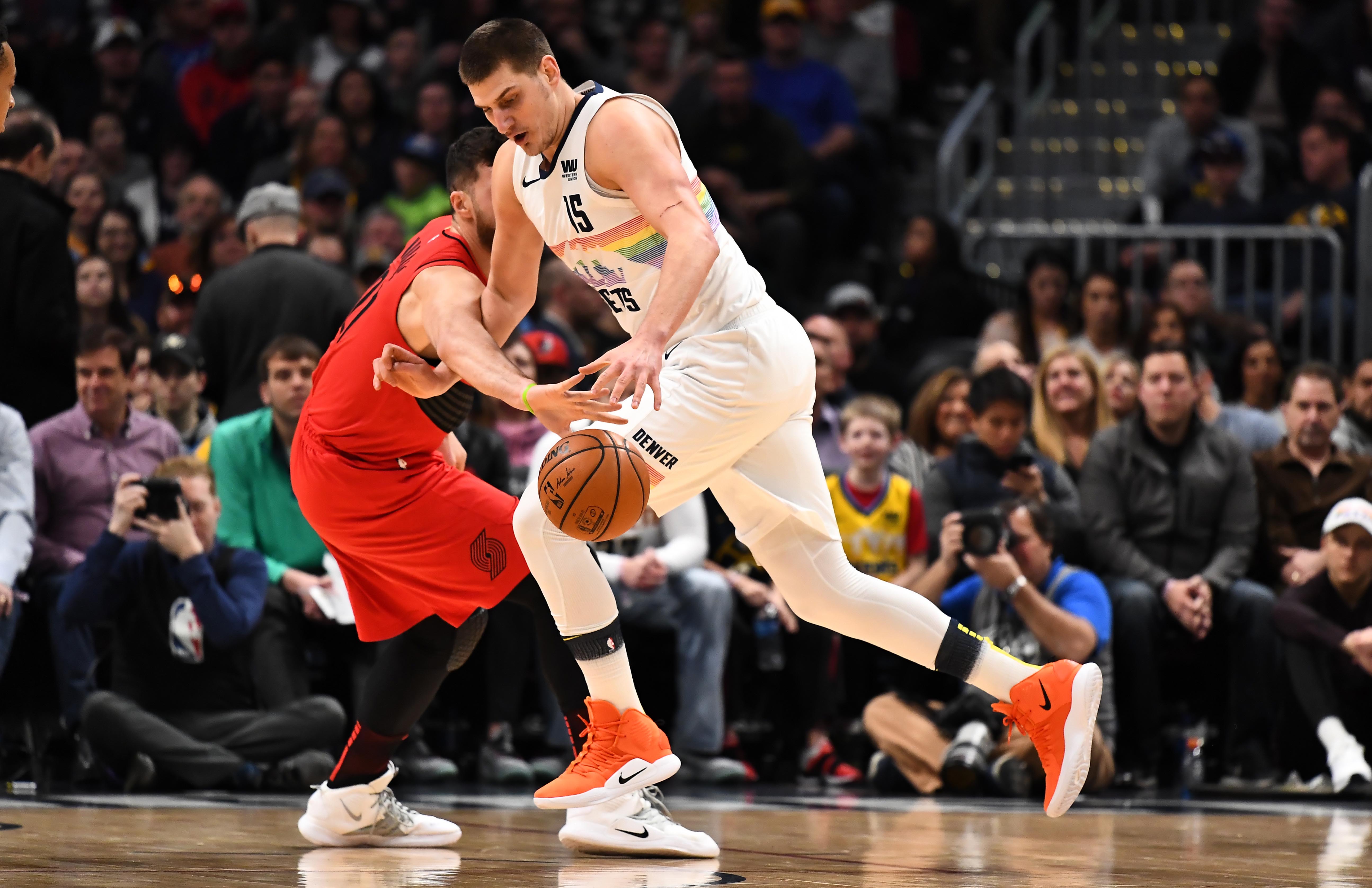 After a brutal loss to the Phoenix Suns, the Denver Nuggets were looking for a way to get energized and back to their winning ways once again. Denver's loss Phoenix created a level of frustration to the point that Denver came out looking for blood when taking on the Portland Trail Blazers.
The team that showed up against Portland was a completely different team than the one in Phoenix. The Nuggets made it their 12th-straight home win of the season behind Nikola Jokic's 40 point, 10 rebound and eight assist performance. With Denver beat Portland 116-113, here are the good, the bad and the ugly from the game.
Good – Denver is almost at full strength
Denver is not quite all the way back, but are getting as close to full strength as they have been.
The easy answer for the good is Jokic having one of the most dominant performances of the season as he recorded 40 points and willed the Nuggets to victory, but then again look at the way that these games are being won. Who would have thought that the Nuggets would come into the game with the top overall record in the West when you consider how many injuries they have gone through? Not only are players dealing with injuries but the duration of those injuries is alarming. But somehow the Nuggets have managed to overcome them all.
Denver has had to play without three of their starters for a good amount of the season and Sunday's game was another game that Denver was not at full strength. One good thing was that Will Barton returned for his second game back from injury.
In Sunday night's game, Barton did not play a ton as he is still being eased back into action. After a six point, five rebound and three assist performance on Saturday against the Suns, he followed it up with seven points. He only played 14 minutes on the night, but hit one of the most timely shots of the night.
WILLY B THREE pic.twitter.com/eFQFfe0dxR

— Denver Nuggets (@nuggets) January 14, 2019
This shot gave the Nuggets a much-needed push with Portland on their heels.
Boy does it feel good to have Barton back and, barring any other setbacks, Denver can head into the All-Star break trying to find their rhythm again with the team at full strength.
Bad – Harris remains out
One of the negatives for the Nuggets to begin the season has been injuries and, while they still have managed to continue winning games, Denver is not healthy yet. Denver shooting guard Gary Harris has missed the last four games with a lingering hamstring injury.
Harris headed into Sunday's game listed as questionable. Even more worrisome was that Harris did not return from his injury in Saturday's game against Phoenix. Malone even stated that he believed Harris would return on Saturday. If not on Saturday, then on Sunday.
Harris sat out a few games earlier in the season with lower body injuries before returning for a few games. He then went back down with hamstring issues that has now caused him to miss the last few games without a timetable of when he will return.
Denver getting healthy and heading into the All-Star break with a strong overall record is great, but what is even more important than that is getting into a rhythm on both ends of the floor and they cannot do that with various injuries to different players. Coming together and being on the same page is just as crucial for their development; especially if they want to make a playoff push.
Ugly – Busy month continues
Looking at the schedule, it was known that January would be a very busy month as the Nuggets have 16 games scheduled. Not only is it 16 games, but there were nine home games in the month and seven road games. Denver also has three sets of back-to-backs in January. Sunday's game was the second night of one of those back-to-backs.
Denver was undermanned and it showed as the starters had to play some big minutes on Sunday. Luckily, they get a day off before returning back to action on Tuesday against Golden State.
With having only so many capable bodies to play and coming off of a road loss Malone had some tough decisions to make. Malone decided to go deep into his bench and played second-year sharpshooter Tyler Lydon some meaningful rotation minutes with the bench to give starters a break.
Sunday's game was the Nuggets fifth game in seven nights so the fact that they competed and played with tons of energy shows a team that has progressed in many ways since last season.
Denver still has eight games to go in the month of January and they must find a way to continue to win while fighting through fatigue and injuries. Heading into the All-Star break with the top-overall record would be exceeding all expectations and it is critical that Denver ends the month strong.