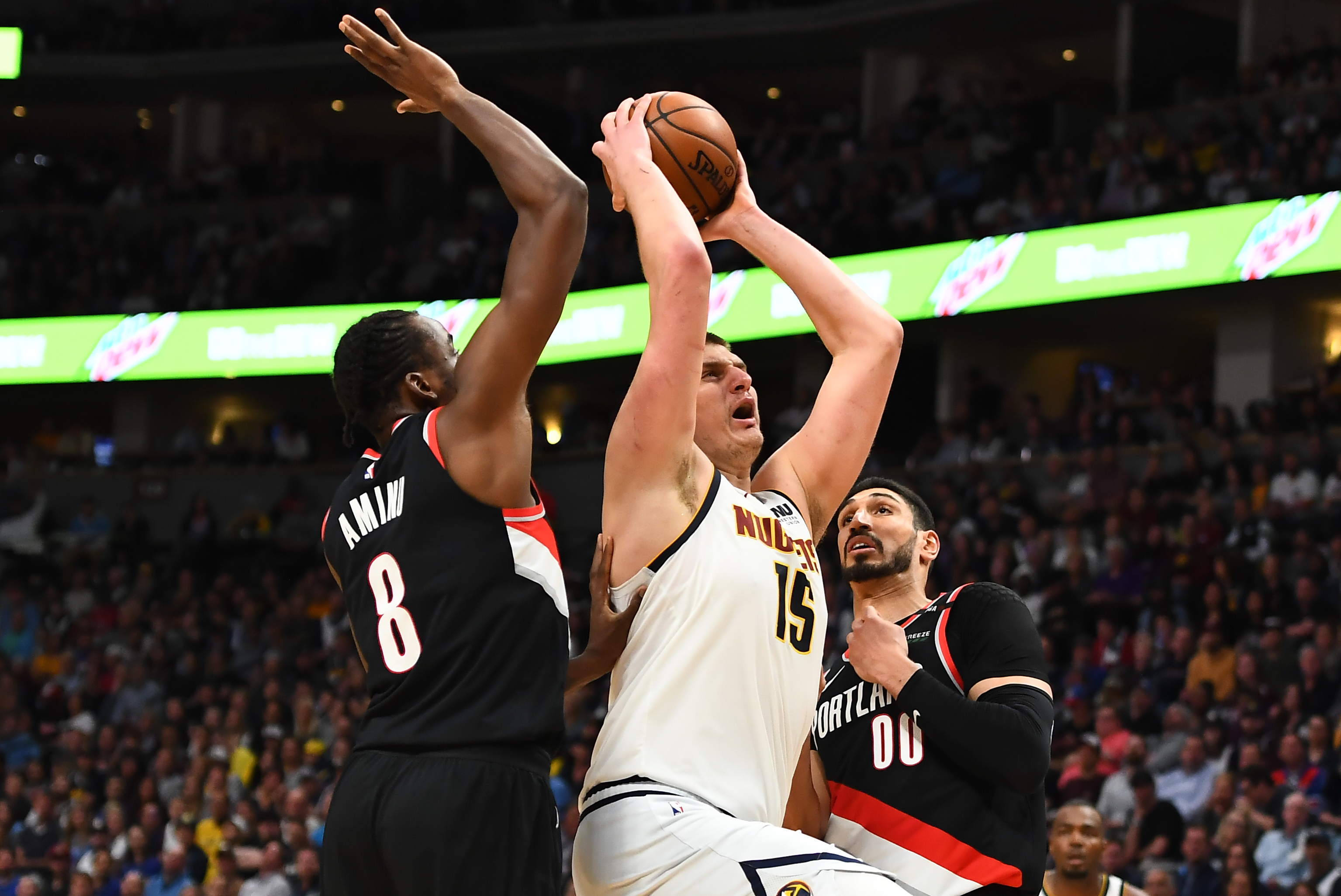 The Denver Nuggets are coming off of a pivotal game 4 where they evened up the series at 2-2 in the second round of the Western Conference playoffs. Denver also gained back home court advantage after their 116-112 victory over the Portland Trail Blazers where Nikola Jokic and Jamal Murray helped ensure the victory.
Jokic had his fourth career playoff triple-double with 21 points, 12 rebounds and 11 assists. Murray finished the game with 34 points and also went 11-of-11 from the free throw line including icing the game going 6-of-6 from the charity stripe in the final seconds of the game.
Denver looked to keep that momentum going in Tuesday evening's Game 5. They returned back to the Pepsi Center and took a 3-2 lead to give themselves a chance to close out the series in Portland.
The Nuggets put together one of their most complete games of the entire playoffs and beat Portland 124-98. With that I give you the good, bad and ugly.
Good – Denver came out punching
Nuggets came out and blitzed Portland from the opening tip and did not look back. They led by as many as 17 points in the first half and watched that lead grow as the game moved along.
Denver went into the half with a 64-45 lead over Portland and had six players score in double digits for the game, but it was the starters who really stepped up in this one.
The Blue Arrow has this move PERFECTED!#MileHighBasketball pic.twitter.com/REsWbKa3fE

— Denver Nuggets (@nuggets) May 8, 2019
Murray came alive in the second quarter as he finished with 11 points in the second frame alone as he hit some incredible shots that got the Pepsi Center crowd rocking. On the night, he had 18 points and nine assists while not committing a single turnover.
Another standout in this series has been the play of Paul Millsap. Millsap has found success in this matchup as he is too big, strong and his physicality has made it extremely difficult for the Portland bigs to slow him down. His veteran leadership was on full display for yet another game as he finished with 18 points, eight rebounds and had two blocks and a steal.
Gary Harris had 16 points and six rebounds. Denver also got solid production out of Torrey Craig who had eight points and eight rebounds, but everything still came down to Jokic, who was sensational.
The first time All-Star had another insane night. He fouled out, but not without finishing with an easy 25 points and 19 rebounds to go with six assists. Jokic has stepped up to the plate and onto the national scene with his play in his postseason debut.
When the starters are playing like this, Denver will be very difficult to beat.
Bad – Bench struggles again
Most of the Nuggets starters were on the bench to begin the fourth quarter and truly believed that their night was over as they went into the frame with a 93-65 lead.
Denver's bench unit has been struggling a bit in this series, but with a 28-point lead, it would be expected that Denver's reserves would be able to close the game out without much sweat.
Wrong.
Portland made things a bit interesting as they came out in the fourth quarter and made a bit of a comeback. Denver was forced to bring their big guns back in the game to ensure the victory.
"They cut it down to 20 or 22 and I always get nervous about taking guys out too early," Malone said. "I really loved the first three quarters. That fourth quarter was really tough to watch and sit there as they continued to eat away at the lead and make threes and we turned the ball over and did not get back, so it was just an insurance blanket for me."
Despite winning by 26 points, Denver's reserves were again outscored by the Trail Blazers 44-33. The Nuggets will have to find a way to get better production from their bench if they plan on going on the road and winning a possible game-clinching Game 6 to put them in the Western Conference Finals.
Ugly – Cold World
It is unfortunate that — in what is supposed to be one of the safest places in the world — our teachers, educational staff and scholars have to be fearful for their lives.
On Tuesday afternoon, hours before the Nuggets welcomed Portland to the Pepsi Center for Game 5, there was another senseless school shooting in Colorado.
At the STEM School in Highlands Ranch, there were two shooters that walked into their building before school was released and opened fire. Eight students were injured and one of them died as well. This is right on the heels of another incident regarding a woman who made threats with a weapon in several schools in Colorado about two weeks ago that caused different school districts state-wide to close down.
Both of the apparent shooters from Tuesday's incident are in custody, but that is not without affecting so many individuals and leaving our country in shock.
Nuggets head coach Michael Malone was one of those who was shaken by the atrocities that took place in his community of Highlands Ranch. Malone made it a point to begin his pregame press conference with a statement regarding the shooting.
"I wanted to start out with a quick word," Malone said. "I think we are all aware of what happened down in Highlands Ranch today at the STEM School. That is a community that I live in. I know that thoughts and prayers are never enough, but one student was killed and eight were injured. From myself, our team, our organization, our thoughts and prayers are with all of those families, those students, school administrators, everybody that was there today. It is a tragedy."
Malone lives only two minutes away from the school and he has daughters that go to school only moments away from where the incident occurred. While he prepared for one of the biggest games of his career, and also after one of the biggest wins of his career, he could not help but to think about the families affected by what happened.
Malone — like others not only in Colorado, but across the nation — were impacted by what is happening far too often and there must be a change and quickly.