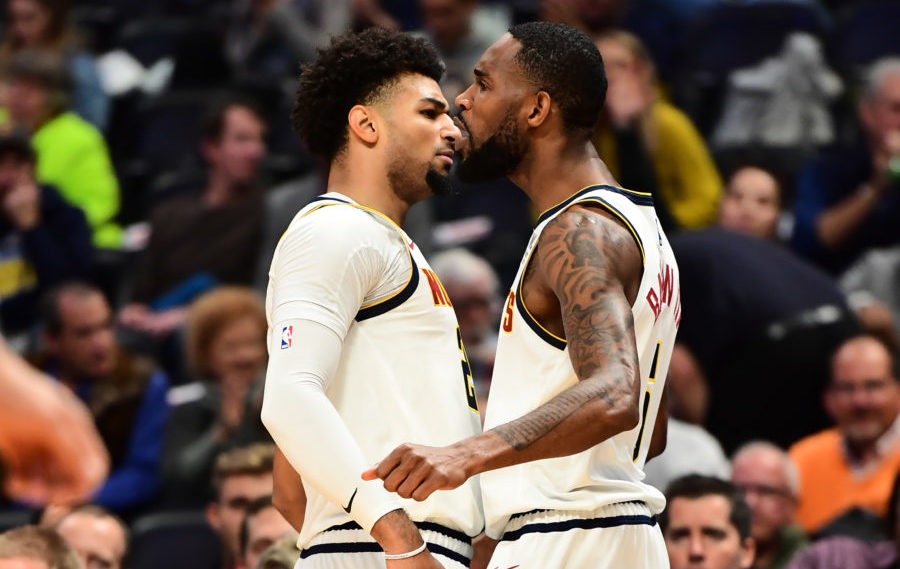 The Denver Nuggets have been far from perfect during their first six games of the 2019-20 season.
Their offense has been unrecognizable at times, Nikola Jokic has been a shell of himself, the defense has been inconsistent, and their bench unit has not lived up to their preseason expectations.
Still, despite all of those issues, the Nuggets are 4-2, but if they were going to grab their fifth win of the season, they had to get past the Miami Heat who have been the best team in the National Basketball Association in the early goings of the season.
By the time the final buzzer sounded, the Nuggets came away with their most impressive win of the season 109-89 at home over the Heat.
With that being said, here are the good, bad, and ugly from the Nuggets fifth win in seven tries.
Good – Will Barton III returns from toe injury
Barton III's impact on the Nuggets has been extremely underrated over the years, but during his two-game absence due to toe inflammation on his left foot, it became clear just how integral he is for this Nuggets roster.
With Torrey Craig starting in his place, the Nuggets offense struggled in a big way. With Craig on the floor alongside Jamal Murray, Gary Harris, Paul Millsap and Nikola Jokic, the Nuggets are posting a 101.1 offensive rating and have a -15.5 net rating. Simply stated, that is not going to get it done.
On the other hand, when Barton is in the starting five — prior to Denver's game against the Heat — the Nuggets have a 104.8 offensive rating, 89 defensive rating, and a +15.9 net rating which are all among team-high marks for five-man lineups.
Against the Heat, Barton lived up to those numbers. He was Denver's best player in the first half and it was not just because of his 12 points. He was arguably Denver's best defender and rebounder in the first 24 minutes of game time.
By the time he was subbed out in the fourth quarter, Barton III had solidified himself as the Nuggets most impactful player in the win as he accumulated 15 points on 5-10 shooting to go with 10 rebounds, four assists, one steal, and one block in 32 minutes of playing time.
If Tuesday night's game is any indicator, it seems that Will Barton III is back.
Bad – The injury bug is biting again
As the Nuggets battled in a tightly contested game with the Heat, they had two extremely unfortunate issues arise as both Gary Harris and Paul Millsap had left the game with injuries.
Harris came down on his ankle awkwardly at the end of the first half. As the third quarter arrived, word came down that Harris would miss the remainder of the game with an ankle injury. For Harris, who has had no shortage of lower body injuries over his career, the idea of another issue derailing yet another season was very concerning.
Still, there was a glimmer of hope after the game. Nuggets head coach Michael Malone was asked about Harris' status and said he did not feel his ankle injury was a serious issue. A Nuggets team source also conveyed the exact same thoughts to Mile High Sports after the game.
The hope with Harris is that he will be ready to go on Friday night when the Nuggets host the Philadelphia 76ers, who are 5-1 and the first seed in the Eastern Conference. The fact that Harris even has a chance to play in that game indicates that his injury is not too serious.
"Gary's ankle; I do not think is very severe," Malone explained. "I think with a couple days of rest and rehab, hopefully he will be able to play on Friday night."
When it comes to Millsap, things are a bit less clear. All that is known for certain is that Millsap and Justice Winslow of the Heat met head-to-head. While Winslow appeared to be ok, Millsap was bleeding profusely from his forehead. Malone said that he had a few different cuts on his head, but credited his toughness for being able to gut-out two free throws after taking that hit from Winslow.
According to Millsap's Instagram, he had to get 11 stitches after the game to close the cut on his head.
In terms of Millsap's status going forward, it seem that he will be ok, but there is no official word on the severity of his injury which is being called a face laceration. Malone felt that he could be ready to play on Friday against the 76ers.
Considering how bad these injuries could have been, the Nuggets may have dodged a bullet.
Ugly – Nikola Jokic still not quite himself
Once the ball was tipped up and the Nuggets battle with the Heat began, Nikola Jokic was on a mission to play with a different type of swagger than he has in the first six games of the season.
He was able to impact the game in multiple ways, was playing with tons of energy, created open looks for teammates, but a familiar foe derailed what looked to be the start of a very strong game for Jokic.
Instead of continuing to build on his strong start, Jokic picked up two quick fouls in the first quarter which sent him to the bench. He followed that up with his third foul of the game in the second quarter and his fourth foul in the third frame of the game.
All of that foul trouble led to Jokic playing a grand total of 23 minutes. He was unable to find a rhythm because of his inconsistent playing time which led to him only scoring nine points thanks to him shooting a rough 4-12 from the field and 1-4 from the three-point line. Jokic also added five rebounds and five assists, but also had four turnovers.
After the game, Jokic was asked about his teammates stepping up and he proceeded to explain that the Nuggets do not depend on him.
"We are a team in basketball," Jokic explained. "This is a team game or whatever. It is not one player. They do not depend on me. They are really good by themselves. They are playing really good without me."
That indifference or lack of awareness when it comes to his importance to the team is a big reason that Jamal Murray has been forced into a leadership role.
Sooner or later, Jokic will have to understand that he is the heartbeat of this Denver Nuggets team. They go as he goes and until Jokic embraces that pressure, Denver will have to find ways to make up for his shortcomings on nights like tonight.