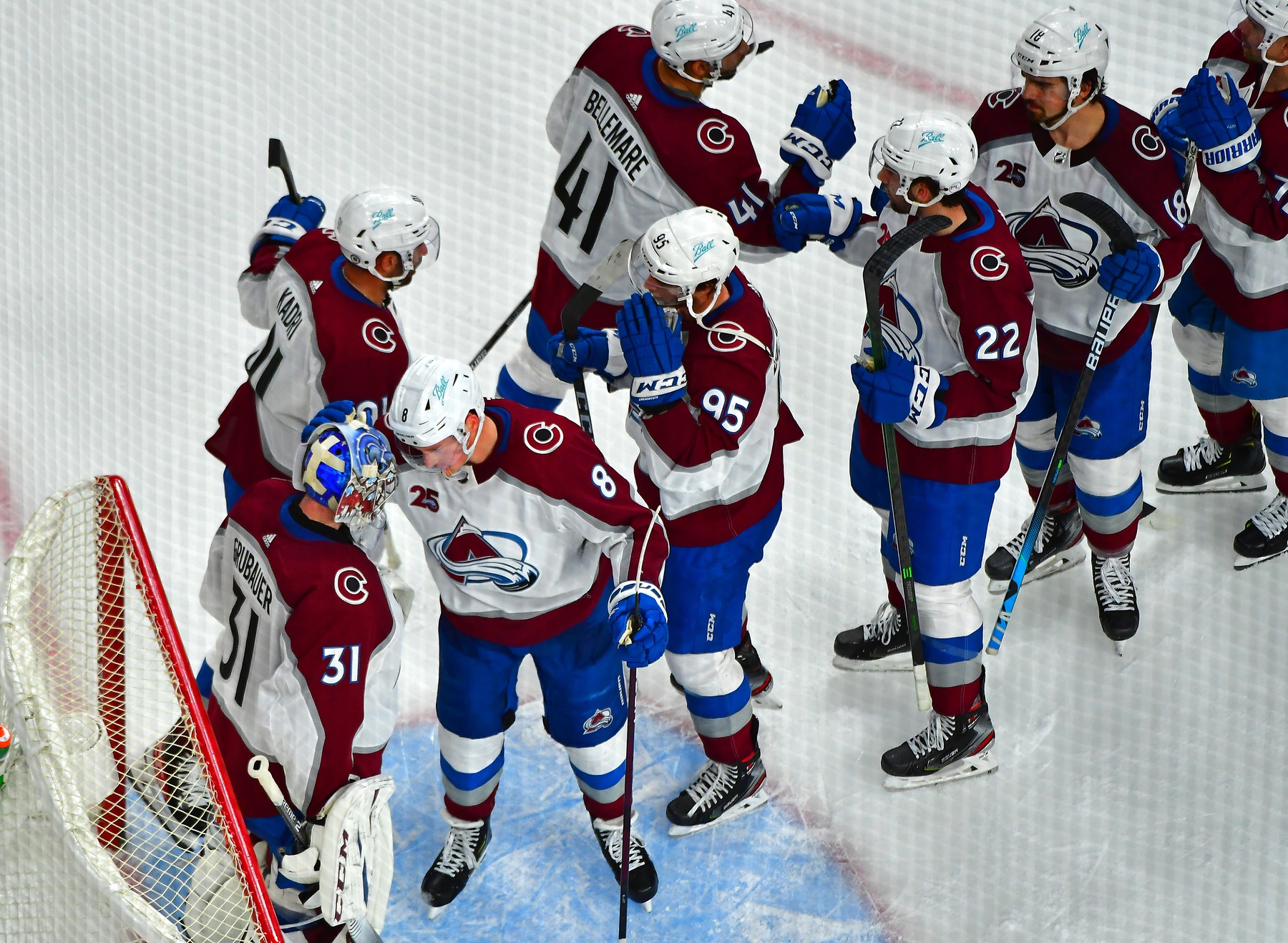 There are four Seasons in hockey, and the one we're in currently is the best of the bunch. Offseason is the worst, least enjoyable stage—followed closely by preseason. The regular season is enjoyable, but the postseason and the SuperUnknown that comes with it is like Christmas in whatever crazy month it even is anymore.
The games are intense, the pace unmatched, and the potential for any outcome often has me Wide Awake, even despite the just awful 8 p.m. (or later!) starts here in Colorado. And don't Call Me a Dog east coast and European fans, I'm old enough to complain about it despite you having it worse.
The Avs are on a Mission, reminiscent of the old 16W of yesteryear, ready to Blow Up the Outside World in their bid for that greatest trophy in all of earthly sport. They're up 1-0 on St. Louis despite Jordan Binnington being the one who nearly Outshined them in their playoff opener in front of a respectably packed house at Ball Arena on Monday.
Here at Mile High Sports, you've got columns from Terry Frei, coverage from Aarif Deen, and even Loud Love on a radio show with JJ Jerez and myself. That's not including the various other local outlets that are producing content faster than a Black Hole Sun.
I Nearly Forgot My Broken Heart with all the hype surrounding this greatest time of year, but there's just one issue I can't get over.
We're all One and the Same when it comes to who we can talk to and the stories we can tell. Postseason tales are some of the best content to create and consume when it comes to the NHL. There are individual yarns to untangle, accounts that reveal potential epics of triumph or travesty, line combinations, and more, and they all feed a narrative that exists as teams battle until the bitter end.
The trouble is, we all only have access to who is provided to us.
Want to know about Cale Makar's goal last night? He was one of two postgame player-offerings, so we all got the details on how he broke out of that Rusty Cage and drained a bullet of a shot.
Looking for more on the travails of Ryan Graves, who fought the puck nearly all night but also prevented a Mike Hoffman marker? You'll be Climbing Up the Walls while you wait for his next appearance.
Avs captain Gabriel Landeskog admitting he likes fighting but really prefers sticking up for his teammates? We could all Scream it to the mountain tops the second he said it.
Mikko Rantanen and Nathan MacKinnon discussing how they came together to score a tally when nobody on the Blues decided to cover them? I might as well be Searching With My Good Eye Closed for the details there.
Sure, some main storylines from Game 1 were addressed by those players gracing us lowly media members with their presence, but we've Been Away Too Long from the locker room. We didn't get a peep from Philipp Grubauer, Patrik Nemeth, Tyson Jost, MacKinnon, Rantanen, or any other member of the victorious squad.
We're totally reliant on head coach and media Spoonman Jared Bednar for any other thoughts or inquiries pertaining to on-ice happenings.
Zoom once was a verb that was used to describe the haste with which a player exited the dressing room so as not to have to talk to those of us tasked with informing the interested public. Now the word is a noun, a place, a Burden In My Hand that forces more homogenization outside the organization while also limiting accountability by withholding a conversation at all.
Forget asking for a one-on-one exclusive. Pouring Gasoline in North Carolina would get you better results.
We Fell on Black Days when the pandemic began to ravage the world, and I understand and endorse the reasoning behind protecting the players and staff (and sure us, too) from getting sick with something we had little way of stopping at the time. However, if rules are being relaxed By Crooked Steps, particularly when it comes to fully vaccinated players and teams—and even individuals out in larger society—then it is time to bring back access to more players than those chosen few.
If fan capacity is being increased, why isn't access being restored?
Maybe we don't all need to be commingling in giant scrums in the dressing room, like a Moth drawn to a light source, but having the opportunity to Be Yourself and seek out your own story and subject would help usher in hockey life after COVID-19 and make the postseason more interesting.
The day I could have a chat with a player about anything without a Zoom audience would be The Day I Tried to Live again in this new world. If we have to resort to some sort of vaccine press passport situation for that to happen, I'm your huckleberry. I Am The Highway. I'll happily lead people down that road if it means better stories and therefore a better fan experience.
I'll admit that I'm worried things will never go back to the way they were when it comes to the relationship between media members and the teams they cover. This situation makes it easy for clubs to control the narrative, and it Doesn't Remind Me of a viable situation from a coverage standpoint.
Let's hope it doesn't stay that way, or the excitement of a Cup-favorite powering through the postseason could disappear faster than an illegal internet stream of Altitude at the conclusion of a contest.
*The world lost the incomparable singer Chris Cornell four years ago Tuesday, so I've included a selection of my favorite songs of his in the text in honor of him. If you're in distress and need someone to talk to, call the National Suicide Prevention Lifeline at 1-800-273-8255.