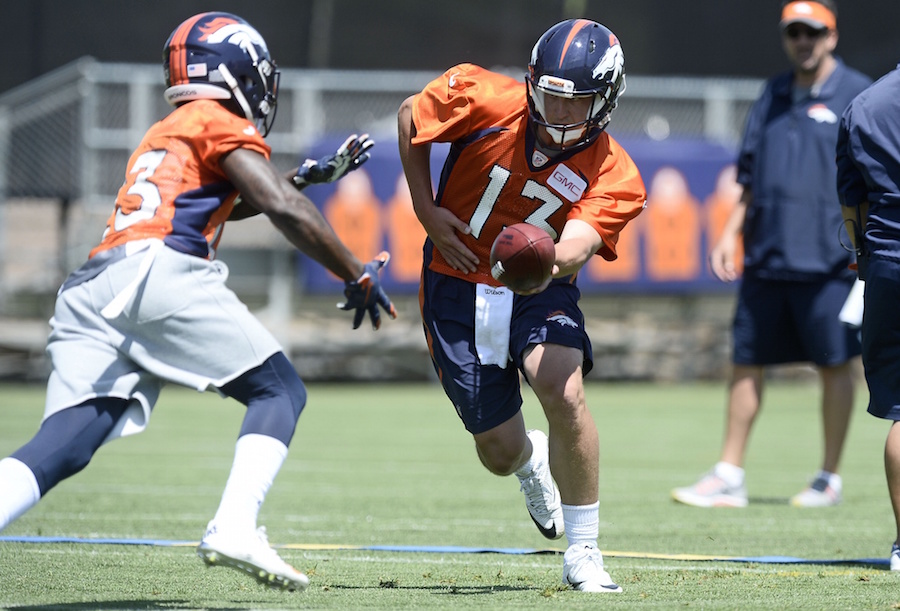 The Denver Broncos enter 2016 training camp with at least thee important position battles that could see veterans lose their jobs before camp is through.
Eric Goodman and Les Shapiro, co-hosts of Afternoon Drive on Mile High Sports AM 1340 | FM 104.7, disagree about which of those battles is most important, but they do agree this will be a hotly contested camp.
"Do you think the quarterback battle is the biggest battle of training camp? Because I think it is," Goodman said on Monday.
Shapiro disagreed, "No, I don't think so. I think Sanchez is the starting quarterback. When I think of a big battle, I think of a battle in which the loser doesn't make the team. Sanchez and Siemian are both going to make the team.
"I think there are some guys for their NFL lives, or at least their Broncos lives," Shapiro continued. "One of them is Ronnie Hillman; Devontae Booker's the real deal folks…Hillman has not lived up to the Bronco's expectations.
"Another guy that I think is in a real battle is the punter, Britton Colquitt. He's wearing a Super Bowl ring and he has been really good in the playoffs, but [his play in] the regular season is inconsistent the last couple years. They went out and drafted a punter (Riley Dixon). You don't draft a punter with the intent of cutting him."
"So in order, what are the things you are watching when you go out there?" Goodman inquired.
"Colquitt and Dixon is number one," according to Shapiro.
Colquitt is going into his eighth season with the Broncos. Colquitt's average yards per punt has slowly gone down since 2011, where he averaged 47.4 yards per punt. This last season was his worst, averaging 43.6 yards per punt. Riley Dixon is a rookie from Syracuse University who was drafted in the seventh round. Dixon's averages have gone up each year he was at Syracuse, averaging 43.7 yards per punt his senior year.
"Ronnie Hillman and Devontae Booker is number two," Shapiro says.
Hillman is going into his fifth year with the Broncos. He had his most productive year this last season, where he amassed 863 yards and seven touchdowns. Booker is a rookie out of The University of Utah who was drafted in the fourth round. Booker had two seasons of near 1500 rushing yards. Senior year he was on pace for 1500 rushing yards when he tore his knee with two games left.
For Goodman, it's Sanchez and Siemian: "I think Sanchez has a better chance because he's older, more experienced and I believe he sees this as his last chance."
Sanchez led the New York Jets to the AFC Championship Game in back-to-back seasons, but has not been back to the playoffs in six seasons (and a year missed with injury) since. He was 4-6 in 10 starts for Philadelphia over the past two seasons and has a lifetime passer rating of 74.3. Siemian has just one NFL snap to his name – a kneeldown. In his career at Northwestern, Siemian threw for 27 touchdowns and 24 interceptions
With training camp coming in a little over a week, the pressure will be on each of these veterans to perform or be cut.
Hear more talk about Broncos training camp and position battles in the podcast below…
Catch Afternoon Drive with Goodman and Shapiro on Mile High Sports AM 1340 | FM 104.7 or stream live any time for the best local coverage of Colorado sports from Denver's biggest sports talk lineup.