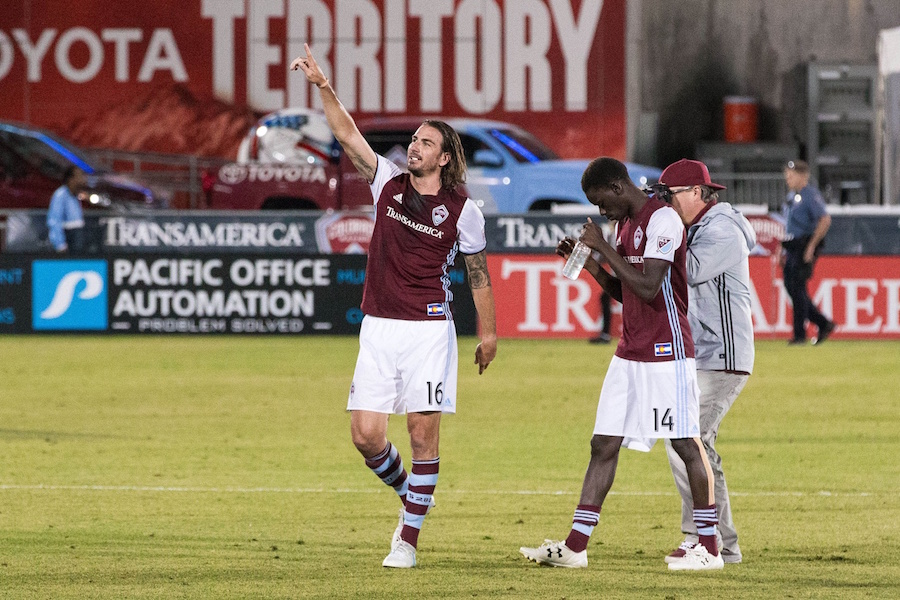 After an 89th-minute goal to give the Rapids the 2-1 victory on Saturday, Alan Gordon pulled double-duty by conducting an interview whilst supervising his gaggle of children, a fitting scene the day before Father's Day.
Saturday marked the Rapids' second MLS game in a row that Gordon has provided the heroics. On June 3, Gordon scored to make the Rapids 2-1 victors over the Columbus Crew. Both of his goals on the season have come in the 89th minute, and both have been game-winners. He's doing exactly what the Rapids' brass had hoped he would when they signed him away from the LA Galaxy in the offseason.
While fans surely don't appreciate the anxiety, the Rapids have had to come from behind to win their past three games. Against the Crew, they went down 1-0 on a Federico Higuain strike only to score the next two. Then, on June 13 in an Open Cup match, they spotted the USL side Oklahoma City Energy two goals before storming back and earning a 3-2 win. On Saturday, after allowing a goal from Sebastian Blanco goal in the first half, Dominique Badji pulled the Rapids level, then the super-sub Gordon did what he does best.
The comeback wins can be viewed as a microcosm of the Rapids 2017 season so far. Early in the year, the Rapids began the season in horrible fashion. Many fans and pundits alike had written them off. Their play was defensive-minded, ugly, and they were simply not scoring goals. The hashtag #FirePablo started to gain some traction. A trade that at the time seemed like a blatant trade for the future that would hurt the team in the present drew ire from fans. The team that had reached the Western Conference Finals less than a year before began the season with one win, one draw and six losses. The Rapids' home unbeaten streak came to crashing halt.
But then it all changed. The Rapids started gaining some chemistry with their new teammate Mohammed Saeid. They committed to playing the defense that brought them success in 2016. They started capitalizing on their counter-attacks. Now, since their abysmal start, the Rapids have turned things around. They are winners of four straight and five of their last seven in all competitions. They're only four points back from a playoff spot and have two games in hand on the sixth-place San Jose Earthquakes. They went from a joke to playoff contention in less than a month.
Where is the newfound resiliency coming from? According to Gordon, it's a fighter's mentality that he saw from the Rapids last season when he was with the Galaxy.
"If you're a team that comes back when you're down it's just character, always," Gordon said after Saturday's win. "That's something that I knew this team had. I played against this team last year, and they were fighters. They were a solid group, they fought for each other, and that was attractive for me because I'm that type of player."
Head coach Pablo Mastroeni echoed Gordon's sentiment about the character of his 2017 squad.
"When tactics and technique fail you, you have nothing," Mastroeni said. "So what do you have on the day when those two things fail you? You've got to have self belief, you've got to be convinced that you're going to work your way back into the game, and so that locker room there is committed to one another, and I think it's the kind of culture we have in that locker room, which is belief."
And believe the Rapids do. Whenever they've conceded goals in the past few games, their reaction is opposite to what one may assume. Instead of getting down on themselves, they fight. They claw themselves into good positions and bounce back. The resilience is impressive.
The Rapids next match is an important one. The LA Galaxy travel to Dick's Sporting Goods Park on Wednesday for a game between two teams that are vying to get into a playoff spot. Only two other teams in the Western Conference have played as few games as the Rapids this season; the Galaxy is one of them. On top of that, the Galaxy have three more points than the Rapids. If Colorado can secure the victory, they'll pull themselves even with LA, and solidify their status as playoff contenders.