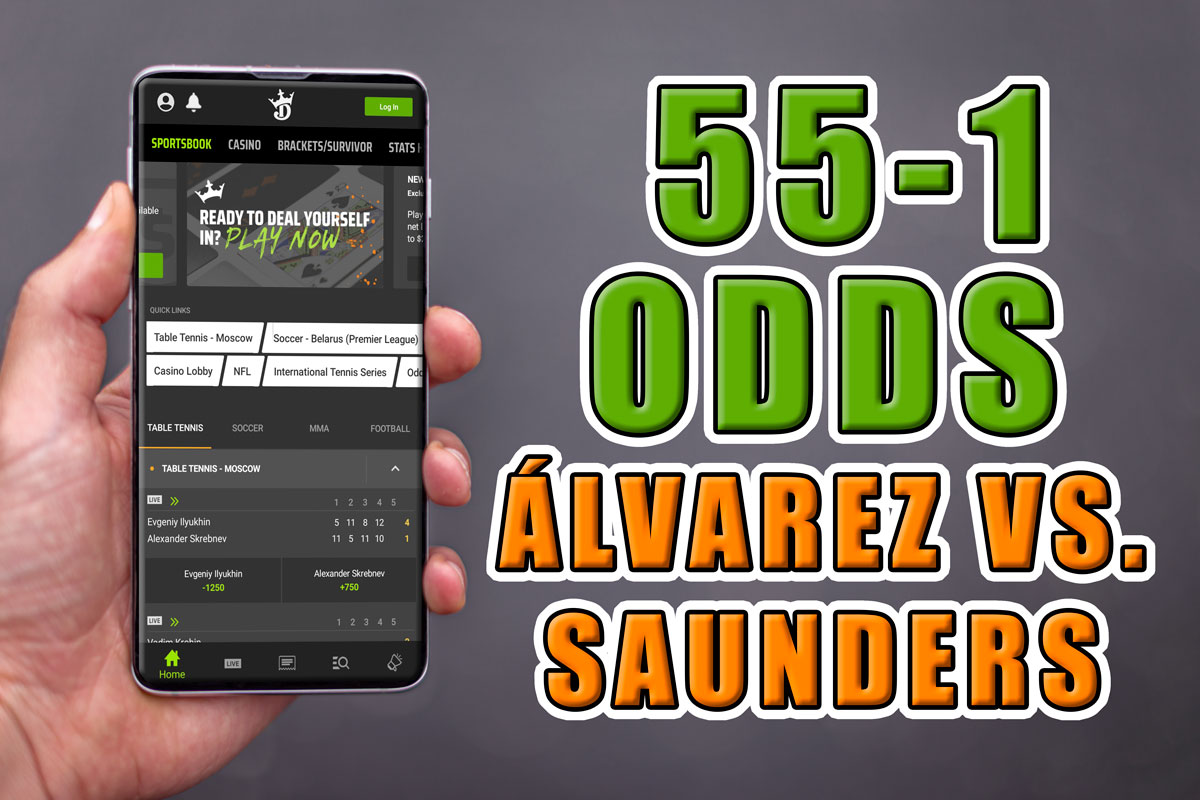 DraftKings Sportsbook is rolling out a tremendous deal for this Saturday's super middleweight boxing match between Canelo Alvarez and Billy Joe Saunders.
Those who register at DraftKings Sportsbook ahead of this highly anticipated fight will be able to take advantage of no-brainer 55-1 odds on either Alvarez or Saunders to win the match outright.
Yes, a no-brainer of a deal that you can't miss out on ahead of this weekend.
Register with DraftKings Sportsbook and grab 55-1 odds on either Alvarez or Saunders by clicking here.

DraftKings Promo
States: NY, LA, AZ, CO, PA, NJ, IN, IL, IA, MI, MI, VA, WY, TN, and WV
GET THE APP
DraftKings Sportsbook Alvarez vs. Saunders 55-1 Odds Promo
This offer is very simple. Just register and make an initial deposit at DraftKings Sportsbook. From there, you will be able to take part in a 55-1 odds promo that offers a low-risk, high-reward payout for Alvarez vs. Saunders this Saturday.
Here are some quick terms to know on this 55-1 odds offer:
You must be a new user to participate in this great deal. Pre-existing users of DraftKings Sportsbook will not be eligible.
The qualifying bet will be your first bet made after registering and can only be a single bet carrying a maximum wager of $1.
This offer is currently live, but you must place your bet prior to the start of the fight on Saturday, May 8.
The deal excludes live bets, parlays, free bets, cash-out bets, and voided bets.
You must be at least 21 years of age and located in Colorado, Iowa, Illinois, Indiana, Michigan, New Jersey, Pennsylvania, Tennessee, or West Virginia to participate.
How to Get 55-1 Odds on Alvarez vs. Saunders at DraftKings Sportsbook
Below is a list of steps you must complete in order to take part in this stellar odds offer:
Register with DraftKings Sportsbook — an easy process to complete. Get started by clicking here.
Make an initial deposit of at least $5 into your sportsbook account using any of the permitted methods (PayPayl, debit/credit card, etc.).
You'll then be provided with a single-use odds boost of 55-1 (+5500) to use on either fighter to win the match outright (if the boost doesn't initially appear, make sure you have registered and made an initial deposit, and refresh the page).
Select the boost from your betslip before placing your bet in order to apply the boost.
Make a max-$1 bet on either Alvarez or Saunders to win the fight.
Sit back, enjoy the fight, and if the fighter you choose wins, you'll earn $55 in free bets within 24 hours of the event's conclusion.
Alvarez vs. Saunders Odds
Per DraftKings Sportsbook, the normal odds of the fight are Alvarez -770, Saunders +450.
This means a $1 bet on Alvarez would net you a profit of $.13 if the wager were to hit. A $1 bet on Saunders, however, would net you a $4.50 profit if Billy Joe was to emerge victorious.
But if you take part in this deal, you will earn $55 on a $1 winning bet instead, which is why now is a great time to jump into the mix with DraftKings.
Register with DraftKings Sportsbook and grab 55-1 odds on either Alvarez or Saunders by clicking here.

DraftKings Promo
States: NY, LA, AZ, CO, PA, NJ, IN, IL, IA, MI, MI, VA, WY, TN, and WV
GET THE APP