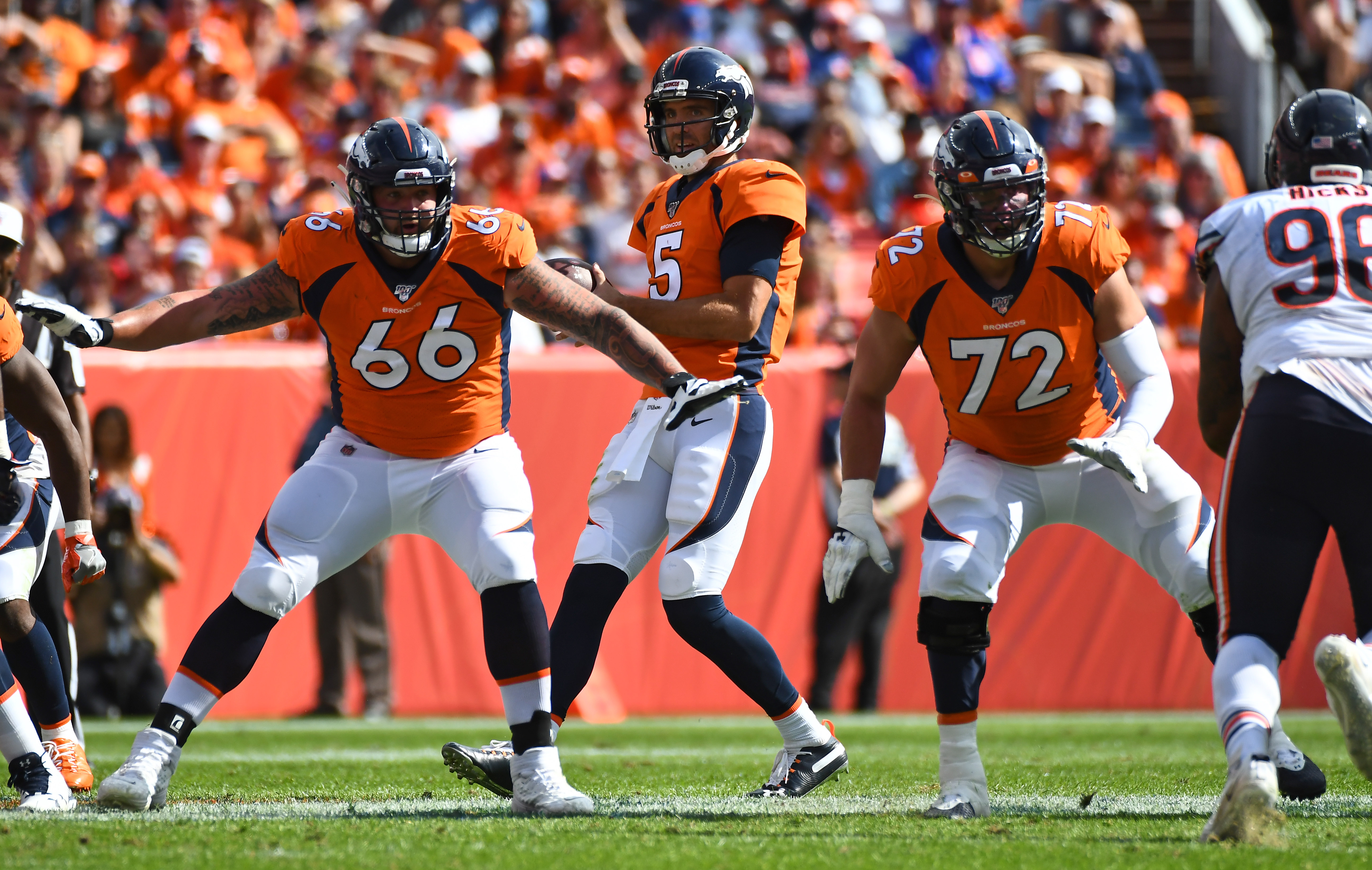 In this installment of What's On Draft, we'll be looking at how each of the Broncos' 2019 draft picks are performing.
While some members of Broncos Country entered the season with playoff aspirations, most viewed the season as a year of growth led by young talent under a new-and-improved coaching staff.
While the coaching staff is new, it hasn't necessarily looked much like an improvement yet, so let's focus on how the young talent is shaping up.
Round 1: Noah Fant.
Grade: D+
As Chris Wesseling of NFL.com recently said, "Noah Fant — the rookie tight end who looks like he's gonna have a really good career — has been one of the most mistake-prone players in the NFL through the first three weeks of this season."
That statement couldn't be more accurate.
Occasionally, we're given glimpses of what could be an elite tight end in a season or two with his unbelievable athleticism, and his combination of size, speed and vertical ability, but the negatives have greatly outweighed the positives so far.
Giving up the ball to Jaire Alexander in Denver's Week 3 loss to the Packers was Fant's most obvious error, but more negatively impactful, has been his struggles blocking. On the line, he often looks lost or confused as to what his assignment is.
There is plenty of time to remedy this, and it is positive that the blocking issues stem from confusion rather than an avoidance of contact, as is the case with many of the league's modern "hybrid" tight ends, but his 14.7 pass blocking grade is glaring.
Fant earns a D+ because even though he's looked over his skis the first three weeks of the season, that's unfortunately what is to be expected from a rookie tight end. They're forced to learn two positions at once, and it's incredibly rare that a player can play both roles from the start of their career.
He's also showcased incredible traits that just can't be taught, and if he can put all the mental pieces of the puzzle together, he'll be one of the league's very best at his position before too long.
Round 2: Dalton Risner
Grade: A
It's just three weeks in, but already the selection of Dalton Risner looks like a home run or maybe even a grand slam.
Last season, when the Colts selected left guard Quenton Nelson out of Notre Dame sixth overall he instantly became the best linemen on the team. That's to be expected out of a top-10 pick at guard, who's forecasted to be the best linemen prospect in a decade-plus. It's not expected out of a second-round, Senior Bowl guard from Wiggins, Colorado.
As Garett Bolles and Ronald Leary are struggling tremendously, and Elijah Wilkinson and Connor McGovern look somewhere between passable and subpar, Risner has stepped in and been Denver's anchor in the trenches from Day One.
As mentioned on the Broncos Blitz Podcast, you could even make the argument that he's been the most impressive player on offense. He's been the Broncos' best pass blocker and inarguably their best run blocker, on his way to earning an overall grade of 68.4 from Pro Football Focus. That's the fifth-highest grade on offense for the Broncos, and the highest by an offensive linemen by nearly 10 points.
Finding an instant-impact foundational building block in the second round is remarkable. The only thing holding Risner back from an A+ grade is a limited sample size due to it being so early in the season.
Dre'Mont Jones
Grade: B-
It's harder to get a good read on Dre'Mont Jones and the rest of the Broncos' rookies due to a very small number of snaps. That being said, it's hard to deny how impressive Jones has been early on, even if he hasn't lept off the screen.
For starters, he was incredible in the preseason and has carried that momentum out of the exhibition games and into the regular season.
It's no secret that the Broncos have had a hard time getting to the quarterback this season, however, Jones has been very successful. Despite rushing the passer on a mere 17 snaps through three games, he has been responsible for three of Denver's 26 quarterback pressures.
That may not sound impressive, but only Von Miller, Bradley Chubb and Shelby Harris have more, and they've rushed the passer on 71, 69 and 52 snaps, earning eight, four and four pressures respectively.
Jones' pressure rate of 17.6 percent is also over six percentage points better than the next-best Bronco (min. 10 pass rush attempts), Von Miller (11.3 percent), and according to PFF's pass rushing productivity metric, Jones is the sixth-most productive pass-rusher on the defensive line in the entire league, and the most productive among those yet to record a sack.
All three of these guys were terrific players in the preseason, including one that even earned the nickname "Dream-Killer" with his performance, but they have yet to make a meaningful impact on the team in the games that matter.
Combined, the threesome have played just 31 snaps, each hovering right around ten. It's nearly impossible to evaluate any player on that little playing time unless they do something phenomenally well (like Dre'Mont Jones rushing the passer).
Each looks like they'll play an important role on this team in the future, but because of draft status and the talent ahead of them at their respective positions, they're stuck on the bench for now.