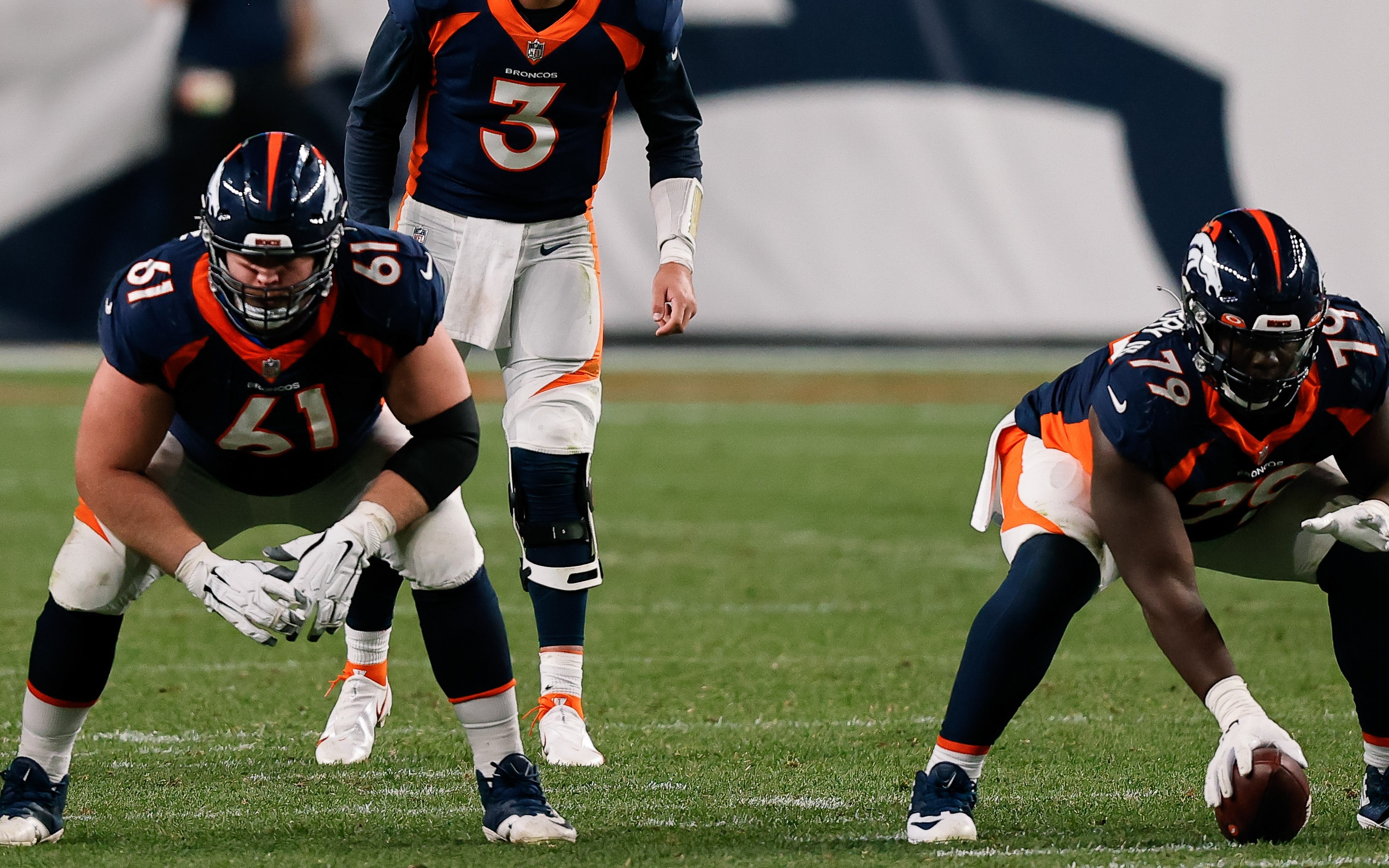 As the Denver Broncos embark on the journey of installing a brand new offense, veteran offensive lineman Graham Glasgow is eager to compete for a starting role on the offense in 2022. With the addition of new players, the Broncos' offensive line will feature plenty of competition this offseason.
After coming off of a major injury, how can the Broncos' third-year interior offensive lineman find his way back into the starting lineup?
How can the Denver Broncos utilize Graham Glasgow?
For the last two seasons, the Broncos have relied on Glasgow to help solidify the right side of the team's offensive line. In the 2020 NFL free agency period, the Broncos signed Glasgow to a 4-year deal worth $44 million.
Despite the Broncos' struggles on the offensive side of the ball, the versatile guard has started 20 games on the offensive line. After playing 87% of the Broncos' offensive snaps in 2020, he went on to play 84% in 2021.
Glasgow suffered a severe injury during the Broncos' 30-16 win against the Dallas Cowboys, which would sideline him for the rest of the season.
As Glasgow continues to ease his way back into the Denver Broncos lineup, he appears to be ahead of schedule in his recovery.
"Things are going well," Glasgow said. "I'd say I'm about 85% or so—maybe a little under that. Things have progressed super well, and I'd like to think that I'm a little bit ahead of schedule. Like I said, things are going well."
With mandatory minicamp approaching next week, Glasgow will likely compete with Lloyd Cushenberry and/or Quinn Meinerz at center and right guard.
Competition isn't an obstacle for Glasgow as he returns to the practice field.
"My mindset has not really changed," Glasgow said. "I'm no stranger to competition. I've competed in the past and I've competed for starting jobs in the past. This whole offseason, I've been competing with myself to get better in my rehab stuff. If I'm healthy, I'm just going to go out there and do what I can and do what I do. We'll see what comes out of that."
Why Glasgow returned to the Broncos this season
After being ruled out for the remainder of the 2021 season, Glasgow's future with the Broncos appeared to be in question. Initially expected to make around $8.7M this season, the Broncos' veteran restructured his contract as first reported by 9News' Mike Klis.
For instance, the simple restructure moves Glasgow's cost to $3.1M guaranteed money this season, however, he can make an additional $1.4M in incentives if he plays over 90% of the Broncos' offensive snaps this season.
"At this point in time, I'm just getting back into football, and I think that it's good to get some work at some other positions and kind of figure it out from there," Glasgow said. "Just being able to go out there and just play football in general has been good and been good for the rehab."
He believes that the Broncos can do something special this season and wanted to be part of it, which made it an easy decision for him to restructure. Whether he plays guard or center, he's embraced any role the team needs him to play.
Now he'll get the opportunity to work his way back into the starting lineup come training camp. How might the third-year veteran fit into the new outside zone scheme?
"I've always been able to pride myself on being able to do whatever," Glasgow said. "People like to say, 'Jack of all trades, master of none.' I don't really think that's a thing. I think that if you can do it, you can do it. It doesn't matter if you can do other things as well, but as I said, I think I can get it done. I think it suits me pretty well."
With mandatory minicamp set for next week, Glasgow will continue to ramp things up as he continues to recover from the leg fracture and torn ligaments in his foot and ankle that removed him from action last season.
All eyes will be on the various position battles on the offensive line throughout this entire offseason.