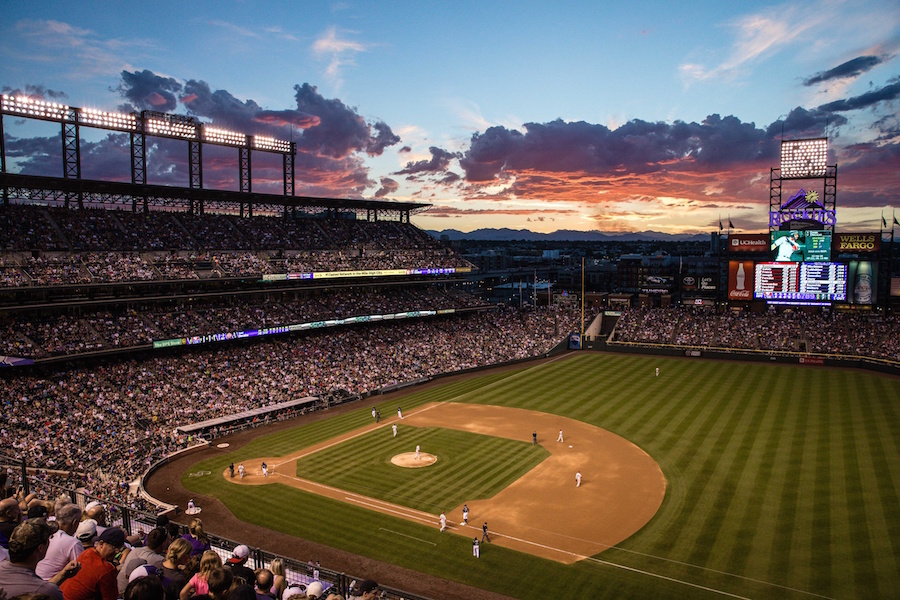 My father used to say, "Expect more out of someone, and they will become more." Well, I am going to expect more out of Rockies fans! Myself included.
I have not been the fan I should be, and I will now admit that.
For the past 20 years or so, like many of you I would go to that big beautiful restaurant/cantina on 20th and Blake to socialize. My cronies and I would eat Rockie Dogs or steak sandwiches, and have a cold one along the first base line. We would people watch and wait for our turn to stand up and yell whooooaaa as the wave passed our section. We would badmouth dinosaur mascots whose name we dare not speak. In our later years we would talk about our trip up the party deck or perhaps think about going to another establishment, planning to leave the park early, abandoning the team to just get ahead of the crowd. And what is worse in all of this is, we did it all in honor of the VISITING TEAM, of which we actually came to see. Oh what terrible fans are we.
We would have an injected a big huge BOOOO ready for Barry Bonds, a CHIPPER cheer for Glavin and Smoltz, or gone fishing for an autograph from Mike Trout. The Rockies in the past were bad, but so were we, the fans. It is time to get back to baseball. It's time to cheer for our own.
I grew up with a mitt in one hand and a scorers book in the other. Watching each pitch, coloring in a run scored, or scoring that hot liner a hit rather than an error. I was born into Dodger pajamas and a Red Sox hat. Baseball was my first passion, and unlike people, it has seldom let me down. I had no local team, unless you count the Jay Bell-era Sky Sox. We were forced to watch the MLB on TV or maybe catch a game on the radio. We had no choice; we had no local team.
In 1993, my father and I were lucky enough to sit with the 80,227 fans at the inaugural game at Mile High Stadium. My first live MLB game was viewed from the old orange-bleached benches of the South Stands in what was the true Mile High. The stadium seats were moved back and expanded to fit a baseball diamond, and it was indeed flawless. (How Colorado is that moment?)
Times have changed and we have grown accustomed to the Rockies being here – almost bored of them, with little or no expectation of them. Just another team not named the Broncos. It is ok to see a game once in a while, but Blake Street and Coors Field has become a tourist attraction. A sight that you take a distant relative to when they come into town. The Rockies as of late are not a team we cheer on and take note of, but rather we treat as an event; dinner with a show. THAT MENTALITY HAS TO CHANGE.
The Rockies have made some drastic changes in the last few years, and they are primed to make a move. We as fans have clamored for a solution to pitching. Now, with Chad Bettis, Jon Gray, Tyler Anderson, Tyler Chatwood and soon to be ready Jeff Hoffman, the Rockies have more to look forward to than possibly ever before. New coach Bud Black knows pitching, and obviously he saw something positive in this group of young arms to take on this job.
Rockies fans at Coors Field still love offense, and the offense loves Coors Field. Trevor Story, Nolan Arenado, DJ LeMahieu, Charlie Blackmon, Carlos Gonzalez, David Dahl, Ian Desmond. That group can rake no matter where they play. I would take that lineup over just about anyone, home or away.
I expect more out of the Rockies this year. I expect them to be in the playoff hunt in September. I expect them to not have a fire sale at the trade deadline. I expect them to win substantially more than they lose. And I also expect them to give us something to genuinely root for, for many years to come. If the Rockies meet any of these expectations, I expect you to be there as a fan, a real, live Rockies fan. Not just as a warmup to your night out, or a tourist attraction to entertain the out-of-towners, but to really be there. Watch the game, cheer for the home team, keep score, and please, please, stop with the wave.