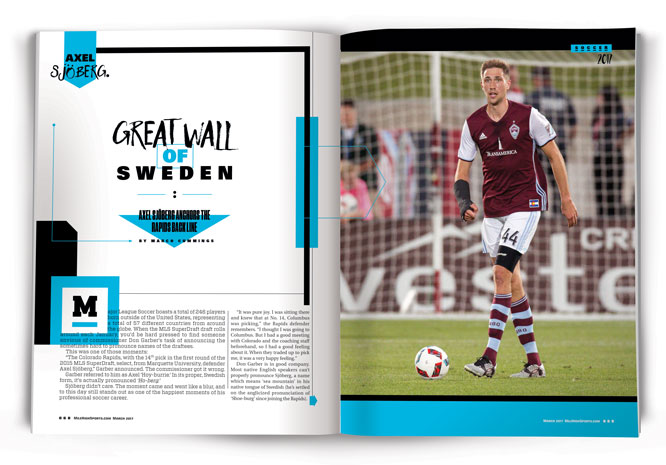 This story originally appeared in Mile High Sports Magazine. Read the full digital edition.
Major League Soccer boasts a total of 246 players born outside of the United States, representing a total of 57 different countries from around the globe. When the MLS SuperDraft draft rolls around each January, you'd be hard pressed to find someone envious of commissioner Don Garber's task of announcing the sometimes hard to pronounce names of the draftees.
This was one of those moments:
"The Colorado Rapids, with the 14th pick in the first round of the 2015 MLS SuperDraft, select, from Marquette University, defender Axel Sjöberg," Garber announced. The commissioner got it wrong.
Garber referred to him as Axel 'Hoy-burrie.' In its proper, Swedish form, it's actually pronounced 'Ho-berg.'
Sjöberg didn't care. The moment came and went like a blur, and to this day still stands out as one of the happiest moments of his professional soccer career.
"It was pure joy. I was sitting there and knew that at No. 14, Columbus was picking," the Rapids defender remembers. "I thought I was going to Columbus. But I had a good meeting with Colorado and the coaching staff beforehand, so I had a good feeling about it. When they traded up to pick me, it was a very happy feeling."
Don Garber is in good company. Most native English speakers can't properly pronounce Sjöberg, a name which means 'sea mountain' in his native tongue of Swedish (he's settled on the anglicized pronunciation of 'Shoe-burg' since joining the Rapids).
The name is fitting for the 25-year-old defender, whose massive 6-foot-7, 210-pound frame makes him the tallest player in MLS, earning him nicknames like 'Mountain Man,' 'Big Ax,' and 'The Big Easy' from teammates when he found his way to the mountainous destination of Colorado.
Sjöberg was unlike the typical college draftee. Prior to a four-year stint at Marquette University, he was already preparing for life as a professional soccer player. From the age of 6, he was groomed in the youth academy of Djurgårdens IF, one of the most storied clubs in the Allsvenskan, the top-flight league in Sweden. Yet when the time came to make the move to the men's senior team, the club of his boyhood didn't afford him the opportunity. Sjöberg was devastated.
That missed opportunity quickly unfolded into a new one, when his father suggested attending college in the United States as a different path. It was a path which would allow his son to play soccer at a high level, while at the same time earning a degree in finance should his soccer dream not pan out.
Despite the ongoing debate in both Europe and stateside as to whether American college soccer can produce some of the sport's elite, Sjöberg insists that it was this next step that helped him turn the corner in his professional career.
"It absolutely prepared me for MLS. I don't think I could've made it in MLS if I hadn't played in college first," he says. "It gives you a few years to learn the craft, adapt and grow into your body. I think the college system has great benefits, and for me it worked out great."
After being drafted by Colorado, the big Swede began to show flashes of his worth as a starter in his rookie campaign, scoring multiple goals off set pieces in the preseason and helping the Rapids achieve shutouts in his first two regular season appearances for the club.
But as Colorado's 2015 season rolled on, injuries began to pile up, while points in the table did not. Sjöberg was one of many Rapids players who spent time sidelined that season, missing multiple weeks with a knee injury, among others.
Broken down by the injuries and futility of the Rapids' 2015 campaign, he approached the following season with a renewed resolve and determination. It was themed around the concept of 'work smarter, not harder.'
"For me it was all about staying healthy and adapting to the tempo," Sjöberg explains.
"When you come in from college, obviously the quality is different; it's a higher level of play. You try to grow into the game as quickly as you can and try to take in everything. In the end, it was a very long season and you don't get a whole lot of rest. My body kind of broke down my first year. In the offseason, I really focused on giving myself a proper break and I came in mentally, emotionally and physically prepared for a long season and ready to show what I can do on the field. That's what helped me in my second year."
With better techniques in navigating the long and punishing season of MLS, Sjöberg displayed a meteoric rise in 2016. He more than doubled his appearances from the previous season with 31 starts. In doing so, he logged the most minutes of any defender on a Colorado Rapids defense that was undisputedly the best in MLS with a league-low of 32 goals conceded throughout the regular season. He also pitched in offensively with two goals – a game-winner in a 1-0 win over Seattle and an extra-time equalizer in a dramatic extra time 2-2 draw in Vancouver, scored after breaking his wrist in the game.
"His greatest ability as a player is to be honest with himself and continue to improve," Rapids head coach Pablo Mastroeni says. "A career is always a journey and you have your ups and downs. But if you have a good way to deal with things, to self-reflect and improve on things, you have a good infrastructure."
Known as a thinker throughout his 15-year playing career, Mastroeni has a keen eye to recognize that shared quality in Sjöberg.
"He's always thinking, and that's another great quality. When he comes to myself or [Rapids assistant coach Steve Cooke] he's got some well-thought-out questions. He's a great teammate and goes about his business in a way that's very professional."
Off the field, Sjöberg is a gentle giant, known as quiet and considerate by coaches and teammates. Appropriately, he enjoys low-key hobbies like photography, cooking, playing music and date nights with his girlfriend. His guilty pleasure? A cheat meal of ice cream on off days.
"My girlfriend and I like ice cream a little bit too much, especially when it's the summer in Colorado," he reveals. "We hit up different ice cream places, sometimes go up to the mountains and enjoy the scenery up there."
Like many of his teammates, Sjöberg also remains actively engaged in community and philanthropic efforts. These days, he volunteers with Calico Culture, an organization which forms connections and arranges extracurricular activities for international students. Sjöberg, of course, arranges pickup soccer games for the students; the sport otherwise known as "the world's game" serves as a cross-cultural link.
"Some speak fluent English, some don't," he explains. "It's really about integrating different people, where you get to learn about each other and gain an appreciation for American culture and different cultures. I did a lot of that when I came to college, learning about the U.S., the people and the culture."
It's a stark contrast from the enforcer that Sjöberg becomes on the field. His reserved demeanor turns fierce as he barks orders at teammates.
"Communication is what makes him a great defender," says teammate Bobby Burling. "We give him a hard time because on the field, he's one of the loudest guys out there. But at the end of the day, that's what you want in a center back."
He's also confident to bully the likes of some of MLS's best strikers including Sebastian Giovinco, David Villa and Bradley Wright-Phillips. In fact, none of the league's top five scorers could break down Colorado last season, which surely helped Sjöberg's case as a finalist for MLS Defender of the Year, in addition to his selection to the MLS Best XI.
"The better the team is, the better individuals are going to do overall," he says, humbly. "I was extremely happy to be on a good team and a lot of my success was related to my teammates and myself doing a good job with my teammates. It goes both ways. It's a team sport, so when you're on a good team, you do better."
To say the Rapids did better in 2016 is an understatement. On the back of the team's stellar defense, Colorado found itself in the playoffs for the first time under Mastroeni, the first time since 2013, and advanced to the Western Conference Championship for the first time since winning the MLS Cup in 2010.
Last season's campaign was largely regarded as a success, but bowing out early to the eventual MLS Cup winners, Seattle, at home left Colorado hungry for more. For Sjöberg and others, it's been the motivating factor in Colorado's preparation for 2017.
"Ending the season in the Conference Championship, falling short at home, I think it's a phenomenally strong motivator, not just for me, but for all of us," he emphasizes. "I still think that a lot of people don't believe in us, for better or for worse. Honestly, I don't really care. Some teams are going to be better prepared for us, but it's our job to be even better than last year."