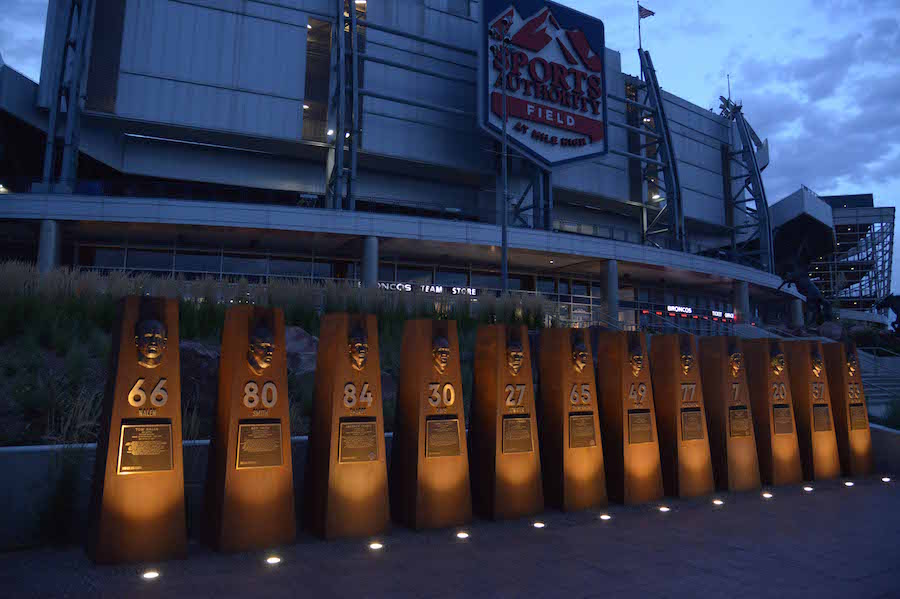 On Thursday, it was announced that another member would be inducted in the Denver Broncos Ring of Fame. That honoree will be the coach that led the Broncos to the very first Super Bowl appearance in franchise history.
Robert "Red" Miller coached the Broncos for just four seasons, but there have been very few that were more memorable. Hired following the 1976 season that had seen the Broncos post their best ever record under John Ralston, Miller inherited a team that was ready to win. Ralston had done a phenomenal job of assembling talent, but he had struggled to convert that talent into a winning unit.
Miller brought a contagious excitement to the team, and they responded by putting together a miracle run in 1977. The Broncos won their first-ever AFC West title, made the postseason for the first time, won their first playoff game, won their first AFC Championship, and went to their first Super Bowl in Miller's rookie season at the helm. He went 40-22 in Denver, behind what was one of the greatest defenses in NFL history, and will be officially inducted into the Ring of Fame during halftime of a home game in 2017. Miller is now the 32nd member to be given the esteemed honor of having his name displayed in the Denver Broncos Ring of Fame.
Red Miller's class of 2017 will be the 20th different class to be inducted. Out of all those great players and contributors to the Denver Broncos franchise, which class is the greatest?
His star didn't shine for very long, but you would be hard pressed to find one that burned brighter. Davis wasn't drafted until the sixth round of the 1995 NFL Draft, and he was a slim shot to even make the team, but turned out to be the perfect fit for Mike Shanahan's offensive scheme.
Davis rushed for over 1,000 yards in his first four seasons, won a Super Bowl MVP, a league MVP, and rewrote the Broncos rushing record book. In just 78 games, T.D. ran for over 7,600 yards, and 60 touchdowns. He was always at his best when the stakes were the highest. Davis ran for over 100 yards in seven of the eight playoff games in which he participated. In February, he was elected into the Pro Football Hall of Fame.
He was a small school guy, having attended little Savannah State, and was primarily known for being the younger brother of Sterling Sharpe. Yet, Shannon went on to make history with the Denver Broncos, and in the NFL.
Drafted in the seventh round of the 1990 NFL Draft, Sharpe became a match-up problem for opposing defenses. He could simply out-muscle cornerbacks and safeties, and linebackers struggled to keep up with his speed. Sharpe finished his career as the NFL's all-time leader amongst tight ends in receptions with 815, and in receiving yardage with over 10,000 yards. Sharpe was a three-time Super Bowl champion, an eight-time Pro Bowler, and somehow this small school guy was elected into the Pro Football Hall of Fame in 2011.
3. 2015: Pat Bowlen
No, he never took the field, but Pat Bowlen has done as much for the Denver Broncos as anyone in history. He purchased the Broncos in 1984, and has turned this franchise into one of the greatest in all of sports.
Bowlen is the only owner in NFL history to earn 300 wins in his first 30 seasons. In that time, the Broncos have been to eight Super Bowls, and have three world championships.
Today, we may take the Broncos success for granted. However, when Mr. Bowlen took ownership, this was a franchise with an abysmal 122-169-9 record, and just five postseason games. Under Bowlen, the Broncos have gone 343-224-1, and have now played in 36 postseason contests. Bowlen also served on numerous NFL committees, and was integral in some of the league's major contract negotiations. Pat Bowlen made the Denver Broncos a first-rate organization.
The inaugural class into the Ring of Fame is in a class of its own. Take the Broncos single season interception leader in Gonsoulin, add one of the most feared pass rushers in NFL history in Jackson, mix in one of the greatest wide receivers in franchise history with Taylor, and top it off with Little, who might be the single most important player in club history.
The Broncos very first Ring of Fame class is the greatest collection of players to be inducted at one time in the history of the team. Goose Gonsoulin was an excellent safety in the Broncos early years, and still owns the single season record for interceptions with 11. Rich "Tombstone" Jackson struck fear into the heart of opposing offenses, and racked up 43 sacks while in Denver. Lionel Taylor set franchise records that stood for years in receptions (543), receiving yards (6,872), and touchdowns (44).
Then there was Floyd Little, the best of the bunch. He played during some very lean years, and still managed to produce at a high level, with very little help. Little retired in 1975, as the NFL's 7th leading rusher. "The Franchise" was the very first superstar in Denver history, and was elected into the Pro Football Hall of Fame in 2010.
Yes, he is just one guy, but that guy is quite simply the most accomplished member of the Denver Broncos Ring of Fame. Elway is the only member of the ring that had the customary wait to be inducted waived, and was voted in just months after his retirement.
He led the Broncos to five Super Bowls, winning two, and finished his career by being named the MVP of Super Bowl XXXIII. He played more seasons, started more games, has more career yardage, and threw more touchdowns than anyone in team history. He is considered to be one of the greatest quarterbacks to ever play the game, and his contributions don't end with his playing career.
Elway was named Executive Vice President and General Manager of the team in 2011, and has continued the winning tradition in the front office. The Broncos have gone to two Super Bowls under Elway's guidance, and won their third World Championship in 2015. Elway was voted into Canton in 2004, and continues to add to his legacy every season.