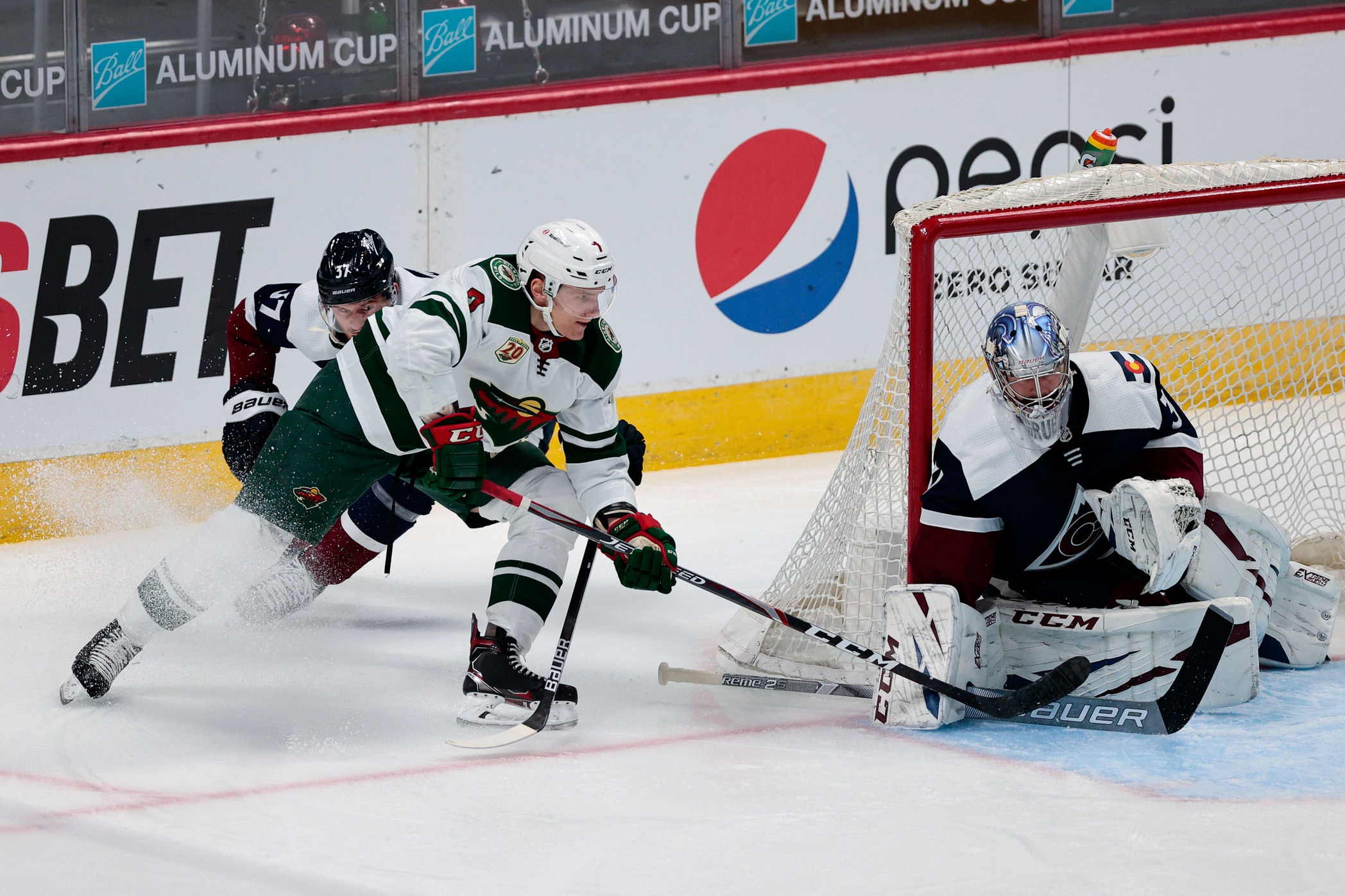 Nathan MacKinnon didn't play Tuesday. Neither did Erik Johnson. Nor Devon Toews, Pierre-Edouard Bellemare, Matt Calvert or Pavel Francouz. But the suddenly injury-riddled Avalanche were business as usual. And it was the depth scoring and Philipp Grubauer in goal that led the way.
Third-line winger Valeri Nichushkin scored the go-ahead goal in the second period and Grubauer stopped 27 shots to give Colorado a 2-1 victory over the Minnesota Wild at Ball Arena.
Fourth-line winger Logan O'Connor also scored for the Avs (7-3-1), who won without a goal from the top six for the first time this season. They extended their home winning streak to four games.
"I thought the bottom two lines played hard," Avs coach Jared Bednar said. "Some of those guys are eager to prove they deserve more ice time."
Grubauer's seven victories lead the NHL. He has been in goal for every Avs win, allowing just nine goals. Without backup goalie Francouz (lower-body), Colorado has relied heavily on Grubauer. He has played the second-most minutes among NHL goalies, trailing only Edmonton's Mikko Koskinen.
"He's really confident, really sure of himself right now," Bednar said of Grubauer's play. "He's not giving up a lot of rebounds down low. He's making the big saves when we need it so again I thought it was a great performance for him."
J.T. Compher replaced MacKinnon as the center on the top line and first power-play unit. The 25-year-old did not record a point but was noticeable in other ways, specifically in the second period. After watching teammate Cale Makar take a hit along the boards from Minnesota's Kyle Rau, Compher dropped the gloves with Rau.
Makar skated away unscathed, and the two combatants were sent to the box to serve their fighting majors. But Compher was given an extra two minutes for unsportsmanlike conduct.
The Wild's Kirill Kaprizov scored a power-play goal while Compher was in the penalty box, ending Colorado's streak of 22 consecutive killed penalties.
The Avalanche were unwilling to blame Compher for taking that penalty, rather he was applauded for sticking up for a teammate.
"All day long," Bednar said, when asked if he's okay with Compher's actions. "I thought they should've had the extra (penalty). I thought the hit was probably boarding or a charge. They don't call it, we get the extra."
The Avalanche did not allow a goal for the rest of the evening.
"If it ended up costing us the game it's a little bit different," Bednar said. "I think you got to stick up for one another. You got to police yourselves if the officials don't. I was fine with the play and I still am."
Makar added: "I really appreciate it when teammates do that. I've said this before but I shouldn't put myself in positions like that. I don't want guys to have to stand in, I should stand up for myself. But I appreciate what Comph did. We should've got the kill for him."
Makar played a team-high 26:23, logging over 25 minutes of ice time for the third consecutive game. His assist on O'Connor's goal extended his point streak to five games (seven points).
Makar has played a large role in Colorado's improved defense, but he still believes Grubauer has been the key component of the minimal goals against.
"Gruby has been incredible for us," he said. "He's the backbone of our team and honestly it just gives a lot of confidence playing in front of him. He plays consistently night in and night out."
Sam the leader: Defenseman Sam Girard, 22, wore the alternate captain's 'A' for the first time in his NHL career. Without usual alternate captain MacKinnon in the lineup, Bednar turned to Girard, saying that he made the decision "based off of who's leading us on the ice." And Girard has been that leader.
"I watch him play and watch the way he handles himself in the locker room," Bednar said. "That's what he is. He's a leader."
Injury front: Bednar said Tuesday morning that MacKinnon, Johnson, Toews, Bellemare, Calvert and Francouz are all out "week-to-week." None are expected to be in the lineup for the Avalanche's next three games. An update on their statuses, most notably MacKinnon, will come early next week.