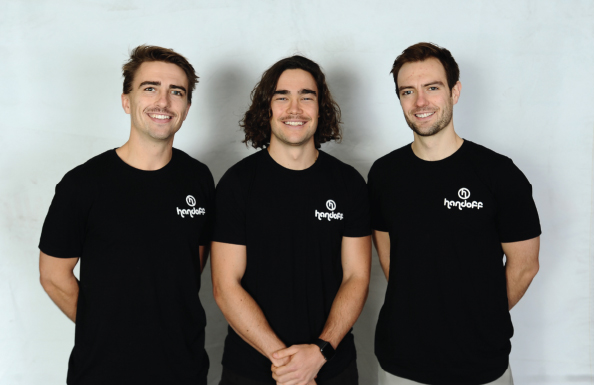 Here's the scenario. 
It's a great game. Nip and tuck. Tooth and nail. Lead changes galore. And it's not even halftime yet. This will be one for the ages. 
But there's a problem. 
The beer is disappearing from the 'fridge. The fifth is looking more like a twelfth. 
You can't let this party die. The finish is going to be too good. 
No problem. All you need is Handoff. And for that, all you need is Alexa or any smartphone.

Handoff is sports' newest clutch performer; it's a conversational beer, wine and liquor delivery platform supported by mobile, Alexa, and Google devices. With all deliveries guaranteed to be 60 minutes or less, you and your party should never run out of the good stuff again. 
More notable yet is that this isn't some spinoff from a multi-national, big-brand company. Handoff was born right here in Colorado. As co-founder Tommy Riley likes to put it, "Handoff was built by sports fans, for sports fans. We're on a mission to put an end to running out of drinks."
Tommy and co-founders Caden and Miles MacKenzie started exploring the idea sometime after college. Tommy and Caden played soccer together at Colorado College, while Miles played football at Ohio Wesleyan. Caden and Miles are Denver natives, both attended Denver East. 
"Caden and Miles are very technical," Tommy explains, "We knew that we had all the right pieces to bring our vision to life. We felt that the alcohol space was a great fit for an engaging, conversational order process; it does not need to be any more complicated than asking for exactly what you want or requesting a quick recommendation. It is incredibly convenient to be able to say, 'Recommend a red wine under $20,' or, 'Can we get a case of Bud Light.'"
The Handoff platform can be accessed via three different methods: The app via mobile device downloads, Alexa Skill, Google Action and Google Assistant. Users can order specific products, get recommendations or browse the many options Handoff's partners are offering. The idea was officially hatched in the summer of 2018 and have been working full time for all of 2019.
This past April, the service went live. What started in Colorado is beginning to spread. There are contracts with 3 stores in the Denver and Boulder areas. There are seven retailers about to launch in New York City.
And the best part is that the service is incredibly inexpensive. There's a $5 service charge for any delivery, charged by the store to the user. That's it – the equivalent to a small tip for your local bartender. 
Scratch that. The best part is that it's the fourth quarter, the game is still hanging in the balance and the doorbell rings. Just in time. Victory snatched from the jaws of defeat. 
Bottoms up. 
CLICK HERE to download the Handoff app or visit handofftech.com