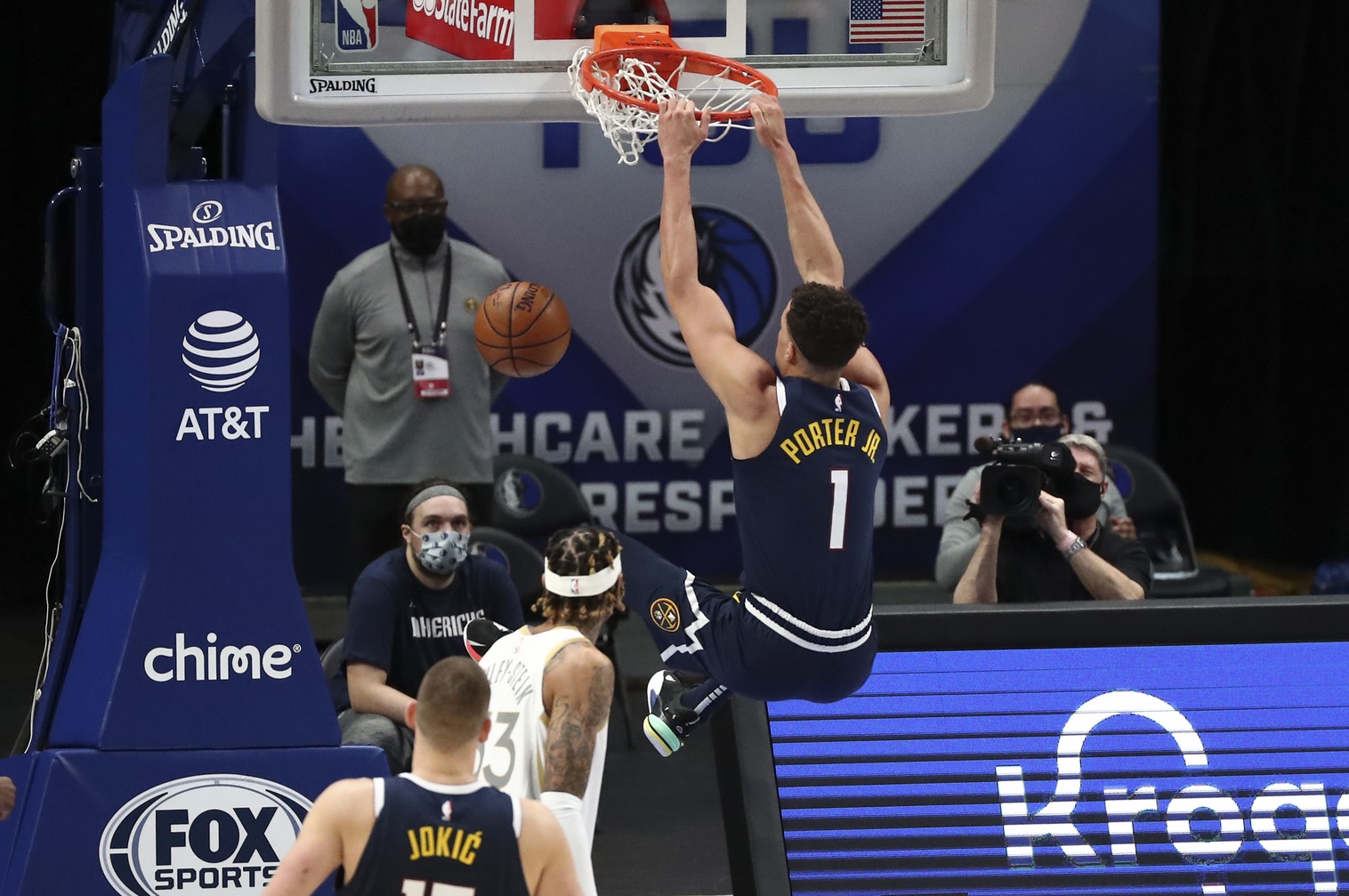 At the 4:28 mark of the third quarter, Michael Porter Jr. checked in for the first time in the second half of the Nuggets-Mavericks game last night. Up until that point, he'd played just 11 minutes.
And in that 11 minutes, Porter Jr. had produced 12 points and 5 rebounds – an efficient effort by any standard.
By comparison, there were two Nuggets players who didn't enjoy similar production. Will Barton had logged 20 minutes and scored just 4 points and nabbed just 2 rebounds. Gary Harris, who shot more efficiently than he as most of the season, provided the Nuggets with 26 minutes and pitched in 10 points and 3 rebounds. Barton and Harris both started; Porter Jr. came off the bench.
If you're a believer in the "plus-minus" stat, it's worth noting, that as the fourth quarter began, Porter Jr. sat at +9, Barton was at -6 and Harris – who plays for his defensive prowess, we're told – was also at -6.
Entering the fourth quarter, the Nuggets trailed by 2 in Dallas.
What's wrong with this picture?
Whether you're watching with your own eyes (not on Comcast) or assessing the intricacies of the analytics, there's only one, head-scratching question you must ask: Why in the H-E-double-toothpicks is Michael Porter Jr. not starting and playing more minutes?
In fact, Nuggets head coach Michael Malone doesn't even have a "this-or-that" kind of decision; he's got a "this-or-that-or-that" call to make. The decision that has currently found its way to Malone's desk is the kind most NBA coaches would love to have to make.
Porter Jr., or Barton or Harris? This coaching gig is easy, isn't it?
Here's the pat answer: Porter Jr. doesn't play great defense.
That's pretty much true. But what's also true is Denver's dirtiest little secret – neither do Harris or Barton. Sure, Harris is a better defender. But how much better isn't so black and white. Barton is marginally better (at best). At just 22-years-old, Porter Jr. is – understandably – a work in progress on the defensive end. Presumably, most 22-year-olds would be. It's probably fair to say, as color commentator Chris Marlow noted, "He's getting there." Late in the game, Porter Jr.'s presence defensively was more beneficial than it was harmful.
But in the fourth quarter, a funny thing happened. Malone stuck with his youngster – defensive "liability" or not. Porter Jr. didn't come out for a single minute of the fourth quarter. And it paid off. He finished with 30 points on 10-of-16 shooting and going 6-10 from the three-point line (including the game's biggest shot, the dagger that killed the Mavericks) and 8 rebounds, all of it coming in just 28 minutes. Porter Jr. had 12 points in the first half and 18 in the second – 11 in the fourth quarter alone.
That's a stat line the Nuggets simply don't often have on the roster. Perhaps Jamal Murray can do something similar; her certainly can, but typically he's going to take more shots in more minutes. Nikola Jokic can certainly produce at that level, but rarely shoots that much or that well from beyond the arch. These numbers are the kind that Porter Jr. is capable of, whether he's playing good defense or not.
Oh, by the way, the Nuggets came back to win 117-113.
Simply put, Denver doesn't win without Porter Jr.'s performance.
The only question one might ask is whether or not they'd have even had to come back if Porter Jr. had played more in the first 32 minutes?
It's time to put an end to this silliness. In Porter Jr.'s third season, it's time for Malone to stop teaching his youngster "tough" lessons. It's time to go all-in on Porter Jr., who has every bit as much upside as Jokic or Murray. In fact, he's the only player on the Nuggets roster – outside of Murray and Jokic – who could ascend to star status. And in the NBA, championship team must have three stars. The Nuggets aren't acquiring one (that's been proven), so development is the only path.
Maybe Porter Jr.'s defense doesn't satisfy Malone, a stickler for team and individual defense. Maybe Porter Jr. is young and foolish; there's plenty of speculation surrounding his most recent absence because of some kind of COVID-19 protocol issue.
But let's be serious: If the Nuggets have any shot at getting better this season – especially considering an offseason that clearly made them worse – it will be because of Michael Porter Jr.'s continued development.
Stop screwing around with him.
Start starting him.
Start playing him.
Because if the Nuggets don't, they'll eventually lose more than just games.