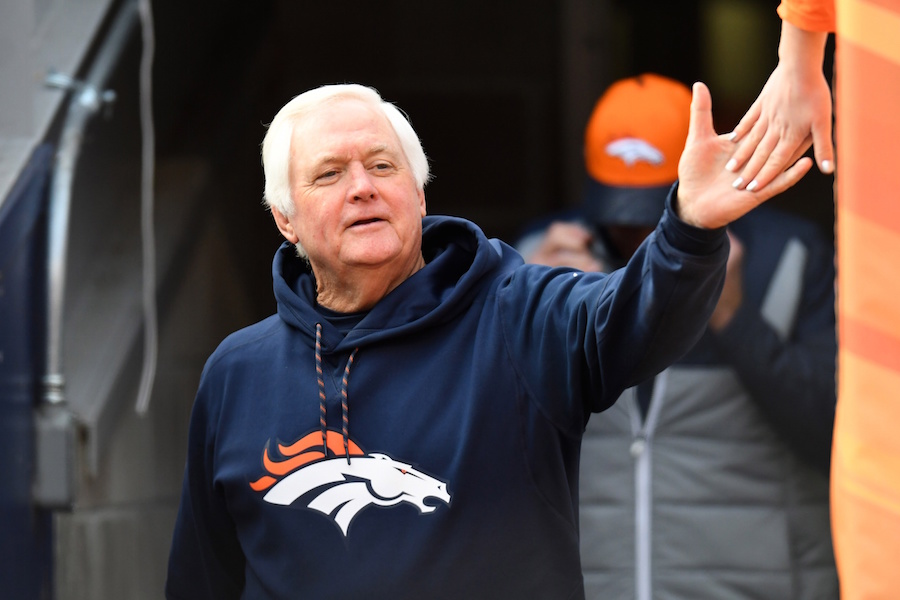 This is hard, but I want Wade Phillips to go.
Before you all start to come down on me, know this is hard for me as well. I love me some Wade Phillips. There is no coach I have ever been around who I have enjoyed more than Wade Phillips. Wade has a smile that invites you to start the day. Wade has humor, charisma and charm, which tends to unarm even the most self-centered media personality. Wade knows football, knows the people, knows the players, and he cares about all of them. Wade is the best of people, the best of coaches and the best of personalities. And I want him to leave. I have my reasons.
Reason 1: It is no longer Wade's Defense.
Vance Joseph is the new sheriff in town at Dove Valley; he is defensive-minded and certainly knows that side of the ball very well. Part of that knowledge is because of Coach Wade Phillips. Vance Joseph was a pupil of Wade Phillips during their shared time in Houston. Wade was the defensive coordinator from 2011 to 2013 and then later the interim coach of the team in 2013. Vance Joseph was the defensive backs coach during that same span and learned under Wade. Vance Joseph, while having seen what Wade's defenses can do and using that knowledge for his own success, also has picked up his own style along the way. VJ will have his own ideas of what to run, what the defensive look should be and how to counter NFL offenses. Wade will no longer be the lone ranger on the defensive side of the ball, as he was under the Kubiak crew. He would have to be subservient to Vance Joseph in regards to defense. It could become a problem, it could become an issue, it could make the team choose sides. Old guard versus new guard. "How we are doing things" versus "the way we used to do things." "How it should be" versus "How I said it should be." Wade doesn't need that. The Broncos don't need that. Certainly a new head coach doesn't need that. Wade needs to go.
Reason 2: Wade has a rare legacy in Denver
Wade Phillips, the man, the myth, the legend. We all truly love Wade. The media gather round, waiting for Wade's press conferences like kids waiting for grandpa to hand out butterscotch hard candy. The fans love Wade. Seldom is a bad name called or a finger ever pointed at Wade or his defense. And who can blame us? He has successfully organized a circus that was possibly the greatest defense in Broncos history. He has dealt with lions of the secondary like Aqib Talib, Chris Harris, Darian Stewart, and T.J. Ward. He has trained beasts and elephants on the front seven like DeMarcus Ware, Von Miller and Shane Ray to dance together and wreak havoc on the offensive backfield. And he has kept a Wolfe from harming anyone other than quarterbacks. Wade has handled these personalities. He has won his ring. He has graced us all with his charisma. And he can leave the circus without a scratch on him. Wade today is perfect and I don't want to think of him in any other way. Wade needs to go.
Reason 3: Wade needs to go get paid one last time!
Wade Phillips should have received a contract extension after winning Super Bowl 50, but he didn't. Now Wade, sitting without a contract, should go get his. In a pass first, ask questions later league Wade Phillips and the Broncos' defenses have been dominant. Wade Phillips has been in charge of the "No Fly Zone," otherwise known as the best damned pass defense in all of the NFL, the past two years. Wade Phillips' defenses have ranked 1st in pass defense both seasons with yards per game averaging 192.7. To give a perspective, the dominant 2016 Dallas Cowboys are giving up 260.4 yards per game. Wade deserves a raise, he deserves a pay day and that day probably isn't going to happen if he stays in Denver.
Plenty of teams would pay for Wade and he would be a popular hire just about anywhere as a defensive coordinator. Wade could get paid, and when I say paid, I mean PAID. Wade Phillips will turn 70 before training camp gets underway. This might be his last contract as a coach in the NFL. Wade isn't getting any younger, and he should be rewarded for the job he has done over these past two years. He has earned it, it is time for Wade to go.
Wade Phillips has been an absolute pleasure to be around. He has coached with class and dignity and entertained all of us along the way.
In the end, I hope the decision is Wade's to stay or go. Sadly, I don't think that option will be his, and I don't think it will be so.
So with a tear in my eye, and a wave goodbye…
I say it's time for Wade to go.