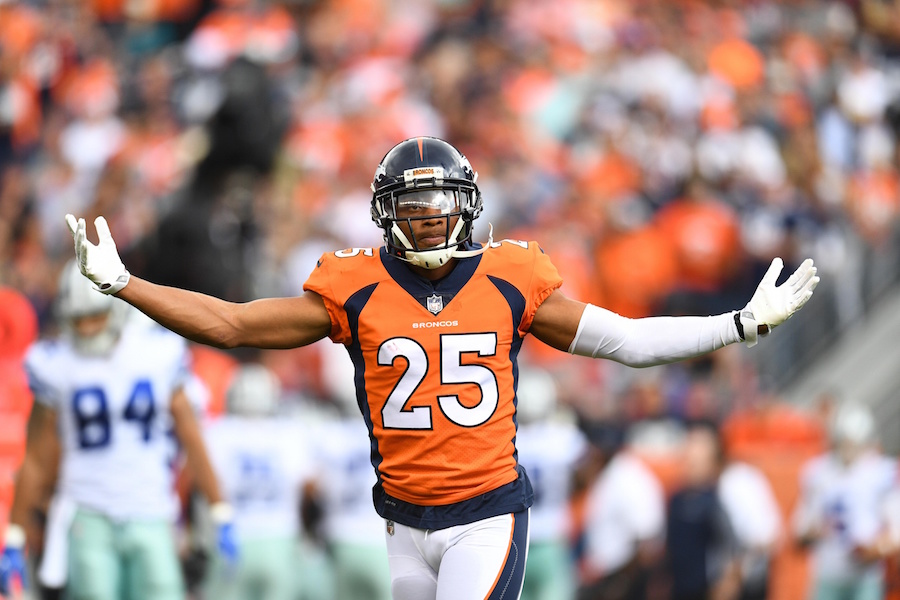 There will be no postseason for the Denver Broncos in 2017 as they were officially eliminated from playoff contention two weeks ago.
Two Broncos will get the chance to play some extra football, though. It was announced on Tuesday that both Von Miller and Aqib Talib were named to the 2018 Pro Bowl, while Chris Harris Jr. and Domata Peko Sr. were named alternates.
Although still an honor, the fact that Harris was skipped over for the Pro Bowl doesn't sit well with the 2016 first-team All-Pro. And it shouldn't. Both Harris Jr. and Peko Sr. played well enough to earn the honor.
"I'm undrafted," Harris said on Thursday. "It's always going to be like that. I have to go above and beyond on everything that I do even though I have the stats."
Fair or not, being looked over is something that Harris Jr. is used to at this point in his career. After going undrafted in 2011, Harris has worked hard to transform himself into one of the top cornerbacks in the NFL. His most recent snub snaps his three-year Pro Bowl streak.
"I have whatever I did, but I'm the second least thrown at corner in the league as a starter," Harris said. "I think I had a great season this year."
It seems that quarterbacks have learned to stay away from whoever Harris Jr. is assigned to cover. As he said on Thursday, it's difficult to make a significant impact on the game when quarterbacks are afraid to look his way. 2017 was the perfect example of that.
"Teams definitely played me differently," Harris said. "I didn't get enough targets to be able to change the game like I have in the past. I still had nice numbers and still gave up less touchdowns than a lot of people."
Despite not getting the attention from the opposing team's quarterback and the Pro Bowl voters, Harris still did have a nice season. With two games remaining, Harris Jr. tallied 38 tackles, one forced fumble and two interceptions.
The numbers do not tell the whole story. The fact that he takes one of the opposing team's receivers out of the play every time the ball is snapped is something that doesn't necessarily show up on the stat sheet, and that's something that defensive coordinator Joe Woods understands.
"Whether they vote him in or out or he's an alternate, the way I look at it, he's a Pro-Bowl player in my mind," Woods said on Thursday. "The things that he does for us defensively gives me a lot of flexibility in terms of what I call. He can play inside and outside. I'm happy I have him."
One of the reasons that Harris, the team's 2017 Walter Payton Man of the Year, has been able to set up camp at the top of the NFL's mountain of cornerbacks is because of instances like this. This isn't the first time he's been overlooked and it unfortunately probably won't be the last.
His latest snub will only add more fuel to his fire.