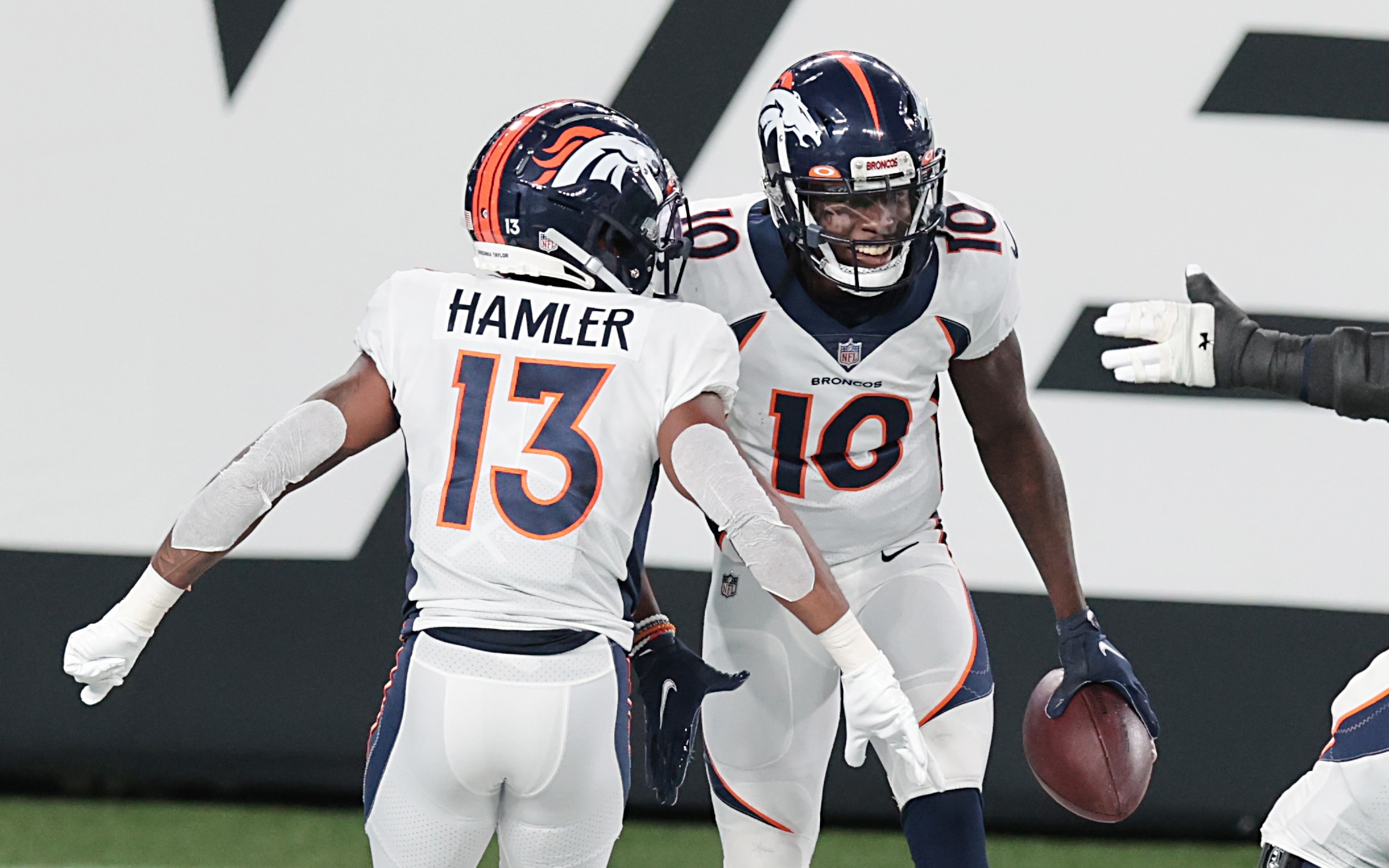 Much of the Denver Broncos offseason narrative has revolved around the discussion of Drew Lock and whether or not he can take a necessary leap forward in his development this offseason.
So far, the early returns haven't been too promising. However, fortunately for Broncos fans, two other young, offensive players appear ready to break out as superstars in 2021.
K.J. Hamler and Jerry Jeudy, especially, have been turning heads all throughout training camp and are looking like some of the best players on Denver's offense.
"Jerry Jeudy—he scares me, man," veteran quarterback Teddy Bridgewater said after Wednesday's practice. "The way he's in and out of breaks, he can't have any ACLs or knees. I wish I had his knees (laughs). That guy—the way he's able to change directions, he makes all of his routes look the same. He's doing a great job of attacking the ball when we throw it to him across the middle and making plays after the catch. He's having fun. That's what you love to see. That entire room—those guys—they feed off each other's energy. Jerry makes a play, you see Tim [Patrick] out there celebrating. If 'Court' (Courtland Sutton) makes a catch, you see Kendall [Hinton] high fiving, jumping up and having fun. When you can have comradery in a room, it's contagious."
That connection between Bridgewater and Jeudy has already developed nicely. They've been making big plays in tandem all camp long.
"We ran a play where I just had to read the safety and what the safety did," Bridgewater said. "I was able to hold the safety a little bit with my eyes, and Jerry did the rest. I threw it in a tight window and Jerry [Jeudy] made the catch. He went down and five seconds later he goes into the end zone like it's a fire drill and he's on fire. Like I said, he's having fun. That's just a glimpse and some of the flash that you see in the offense."
Drew Lock has also been impressed with Jeudy's eye-popping training camp performance, as well, of course.
"He's a very tough cover," Lock said. "It's almost like he has a plan before we snap the ball and how it feels like when we set this guy up—whoever it is. He does a pretty good job of getting open. I'll say that."
Hamler's superpower isn't route-running, but his truly rare speed and acceleration give him an opportunity to be a truly devastating weapon for the Broncos offense. If he takes a leap this season, it'll force opposing defenses to respect the deep ball in a whole new way, opening up countless opportunities for the offense underneath.
The former Nittany Lion has been fantastic in his own right throughout training camp and joint practices.
"He's definitely got the speed and quickness and the elusiveness that we liked when we drafted him," Fangio said, before acknowledging the lingering concern with Hamler. "He's got to stay [healthy] and put a clump of practices together because you can only get better by practicing. It's never more exemplified than these guys that we just got the last few days who are playing out there. It's really unfair to put them out there because they really don't know what to do. They're hanging on to their ass because they haven't practiced. Everybody needs practice. KJ needs a clump of practice that he's really not been able to have yet last year. He's had it right now. He's going, and hopefully he can keep it going."
The potential is undeniably there for the Broncos to have a highly exciting receiver tandem for the next half-decade or more.
Now they just need to figure out who's gonna throw them the ball.