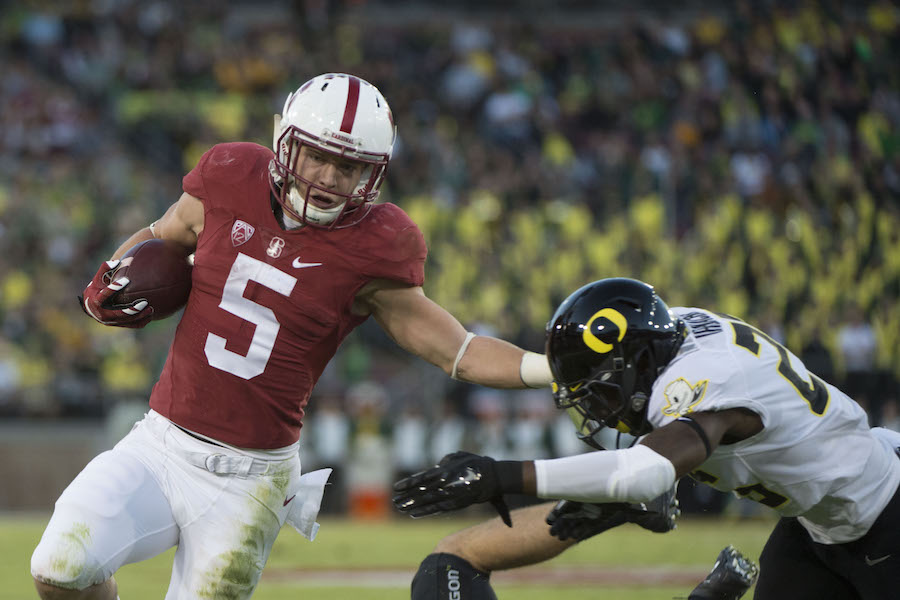 Last year John Huarte celebrated the 50th anniversary of his Heisman Trophy, won after a stellar 9-1 season at Notre Dame in which he passed for 2,062 yards and 16 touchdowns. On Saturday, Stanford do-everything back Christian McCaffrey, a Valor Christian grad, hopes to add his name to the list of Heisman winners.
"He's terrific," Huarte told David Hurlbut on Mile High Sports AM 1340 on Friday in advance of Saturday's ceremony, which Huarte will attend.
"He's just one of those gifted backs and obviously comes from really good stock, Huarte says. "The Stanford program is strong and smart and efficient; they're making holes for him and he's doing a great job…
"A lot of people didn't know too much about him until this year. All his skills: blocking, running, catching … and he's got a burst of speed."
Hurlbut describes McCaffrey as a "football player's football player."
Huarte can't reveal his vote for this year's Heisman Trophy, but says that he thinks the winner will come down to exposure. If McCaffrey did enough, especially late in the year, to show east coast and southern voters his skills, he could be celebrating his own Heisman victory 50 years from now.
It's a special fraternity, the Heisman club, says Hurlbut, who was fortunate enough to have Huarte on for two segments to not only discuss this year's crop of finalists, but also offer some unique insight on what the Heisman ceremony is like for finalists and past winners.
Huarte, who was drafted alongside Joe Namath, also took time to discuss his AFL, NFL and World Football League days.
Listen to the full discussion, plus NFL Week 14 picks, in the podcasts below…
Catch The Morning Huddle with David Hurlbut every weekday from 6a-7a on Mile High Sports AM 1340 or stream live any time for the best local coverage of what's new and what's next in Colorado sports.