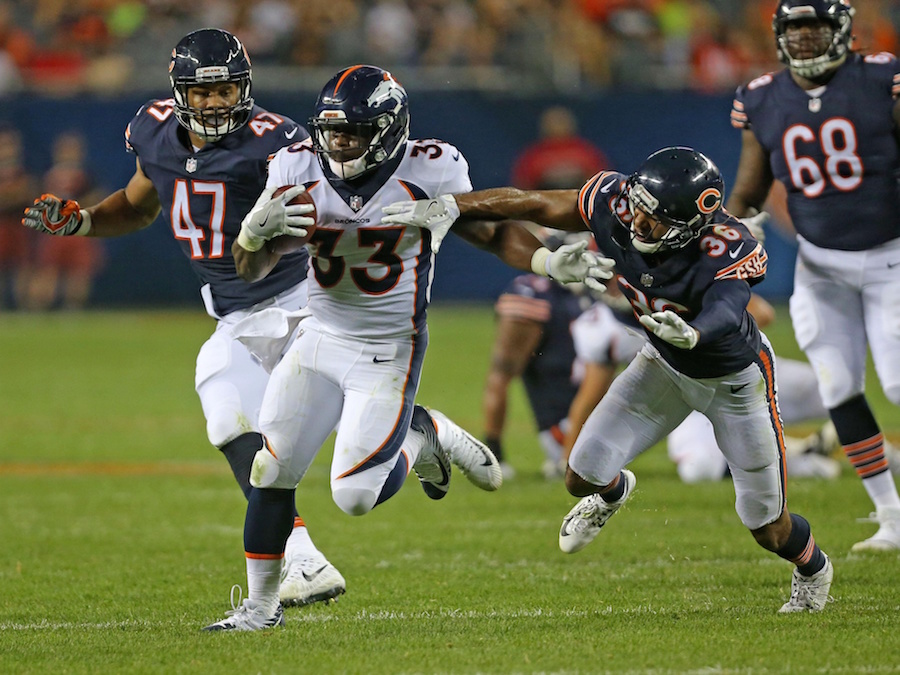 If two's company and three's a crowd, then four must be the Denver Broncos backfield.
Although the Broncos are just one game into the 2017 season, it appears that if their running game is already better than it was a season before. Following their 24-21 win over the Los Angeles Chargers on Monday Night Football, head coach Vance Joseph liked what he saw out of his backfield, which finished the game with 140 yards on the ground.
C.J. Anderson contributed 81 of those 140 yards on 20 carries, with Jamaal Charles adding 40 on his 10 carries and quarterback Trevor Siemian adding 19 and a touchdown on six carries of his own.
Now that Joseph has an idea of what his backfield is capable of, he's trying to figure out how to get the other half involved — and he knows that's going to take some time.
"We're trying to figure it out between [RB] C.J. [Anderson] and [RB] Jamaal [Charles] and having [RB] DeAngelo [Henderson] and even getting 'Book' [RB Devontae Booker] back in a week's time," Joseph said after practice on Wednesday. "It can obviously change by gameplan and by how he's feeling each week. We have four backs that we feel really good about. So, we can do a better job of spreading the carries out moving forward."
Rookie De'Angelo Henderson was the third active running back on the Broncos' roster for Monday night's game against the Chargers. While Henderson didn't get a carry in the win, he's remaining focused, knowing that carries will eventually come his way.
"I'm really just learning right now," Henderson said on Wednesday. "I feel like I bring a little bit of everything to the table, but right now, I'm just playing my role and learning from the guys in front of me."
With two Pro Bowl running backs in C.J. Anderson and Jamaal Charles, and a promising player in Devontae Booker, Henderson has a solid group to learn from.
"You can just tell that they've been around for a little bit," Henderson said of his teammates. "They've got a lot of experience, a lot of wisdom and a lot of good things to say on and off the field. Just being around them is real positive and real encouraging."
Booker, whose wrist injury from back in the spring went unnoticed until the 2016 fourth-round pick reported to training camp in July, returned to practice on Wednesday. Although Booker is not quite ready to make his full return to the field just yet, Henderson already knows what Booker's return will do to improve the running game.
"It's going to electrify it," Henderson said. "I think from what he did in college and what he did last year, he's shown that he can compete and he can play. He had a tremendous offseason. He had a great OTAs, minicamp. Unfortunately, he suffered that wrist injury and set him back a little bit, but I'm excited to see him back, because I know how much work he put into getting ready for the season."
Having four running backs that you're comfortable with sounds like a good problem to have, especially when all four of those running backs bring a little something different to the table. It will take some time for Joseph to figure out how to use all of the weapons that he has at his disposal, but when he figures it out, Henderson knows how special they can be.
"The sky's the limit," Henderson said. "We've got two Pro Bowlers. We've got Booker, who is up and coming. We've got [me, and I'm] learning. It's going to be very exciting to see what we can do."