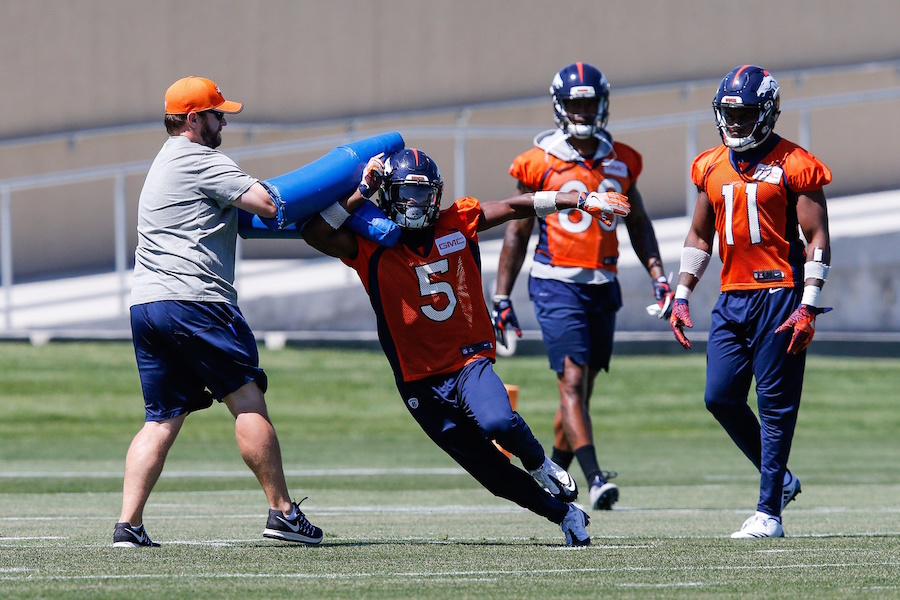 Few things knock a person into gear faster than the threat of someone taking their job.
A draft in which the Denver Broncos selected two wide receivers, Carlos Henderson with their first pick in the third round and Isaiah McKenzie with their second pick in the fifth, could be the case for strong springs out of the preexisting wide receivers on the roster.
The Broncos are searching for their go-to third wide receiver. While they have plenty of talent on the roster, their decision to draft two wide receivers could have been the spark needed to ramp up the competition in the wide receiver room.
Bennie Fowler, Cody Latimer and Jordan Taylor have all shown flashes of being the missing third piece to the duo that is Demaryius Thomas and Emmanuel Sanders, but the flashes haven't been consistent enough to earn the job.
According to head coach Vance Joseph, all three came to play this spring.
"I know Fowler had a hell of a camp. Latimer and Jordan [Taylor] who was healthy had a hell of a camp," Joseph said following the Broncos final mini camp practice. "That's a full room again."
The three combined for 35 catches for 430 yards and four touchdowns in 2016, as they all split time with each other and now free agent Jordan Norwood, who caught 21 for 232 yards and one touchdown.
While each of them have had their moments, Joseph feels like some young blood will help contribute to the third spot in 2017.
"We drafted two young guys who are going to help us in that spot," Joseph said. "It was a good room last year. We added, in my opinion, more speed."
Along with speed, versatility is another thing that both Henderson and McKenzie bring to the table. With Norwood gone, McKenzie could wind up making a splash as a returner. He also has the potential to make plays from anywhere on the offensive side of the ball.
"He is explosive," Joseph said. "He is fast and he plays fast all the time. He can do a lot of things for us in terms of punt returning, playing some halfback and being the slot guy. He's a smart guy and he's very competitive. He's a guy that should help us in the fall.
"When you draft guys that have a shot, it does naturally motivate guys. It should."
According to Joseph, the competitiveness that all five players have shown up to this point is a sign of some tough decisions ahead.
"It's going to be a tough decision in terms of who makes our football team, but that's the way it should be," Joseph said. "You want every spot on your football team to be that way. You want it tough and competitive in training camp."
Joseph will have plenty of time to make that decision, as the Broncos are now in their five-week break before training camp.