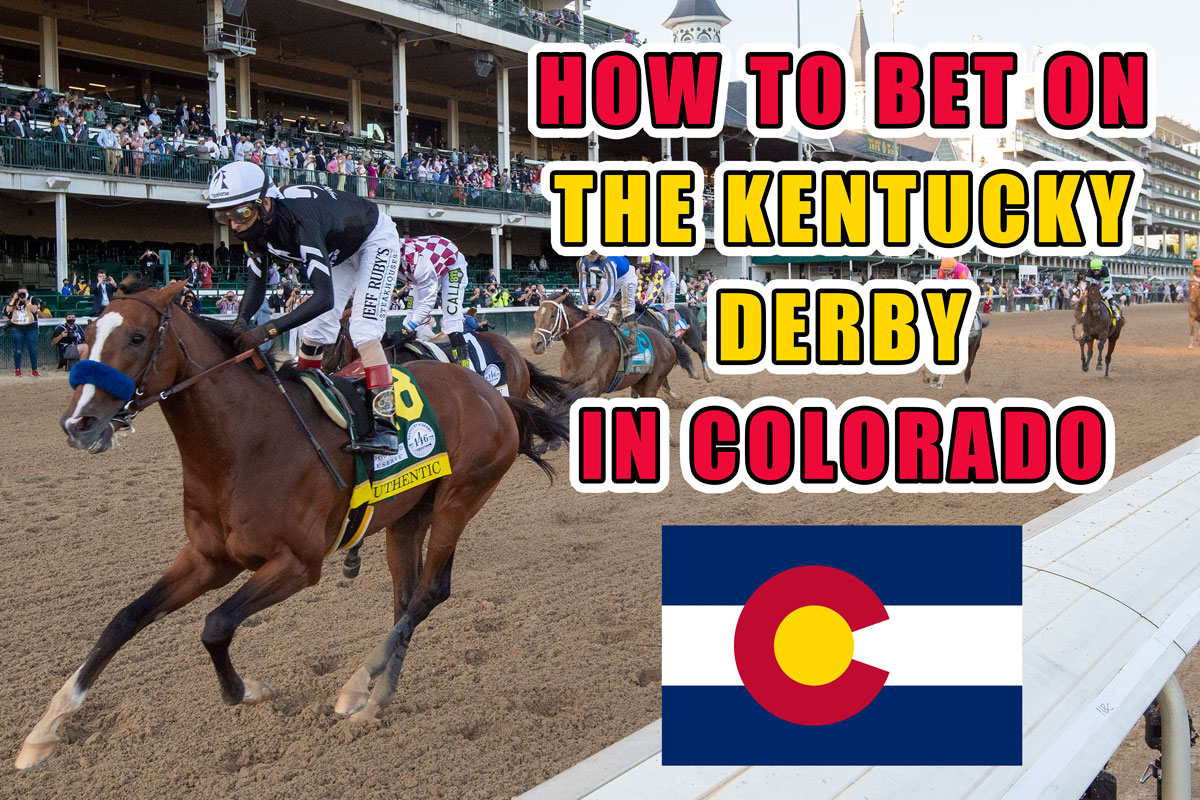 Colorado bettors are in luck as they prepare for the 147th running of the Kentucky Derby this weekend.
It is legal to bet on the Kentucky Derby online in the state of Colorado. Popular betting horse racing betting app TVG gives those located in the state the ability to bet on wide range of Kentucky Derby outcomes.
Betting on horse racing is a little bit different than typical sports wagering, so we will walk you through everything you need to know for this weekend. The Kentucky Derby is the first of the Triple Crown races and it signals that summer is right around the corner.
Click here to grab a risk-free bet of up to $300 to use on the Kentucky Derby at TVG.
You Can Bet on the Kentucky Derby in Colorado
Online sports betting was legalized in Colorado in November of 2019 and it officially launched in May of 2020. One full year of sports betting in the state means that many Colorado residents are already familiar with how things work. DraftKings, FanDuel, PointsBet, BetMGM, and FOX Bet are just a few of the popular sportsbooks that operate in the Centennial State.
However, you won't find Kentucky Derby odds at any of those online sportsbooks this weekend. Still, you will be able to bet online, it's just that  betting on the Kentucky Derby, and horse racing in general, is slightly different. Colorado is one of 31 states that allows online betting on horse racing.
How To Bet the Kentucky Derby in Colorado
So, for seasoned Colorado sports bettors, there is only one place to go for the Kentucky Derby this weekend — TVG. Players who are looking for an easy-to-use interface showcasing the best odds can turn to the TVG, the premier destination for horse racing.
Much like the process to sign up for DraftKings or FanDuel, bettors will need to create an account on TVG to get in on the action. It's worth noting that TVG is the sister app of FanDuel, which means you can expect the same level of convenience when signing up and placing your bets. All it takes is three easy steps to create an account and start placing your bets.
Sign up with the TVG app by clicking here.
Make a first deposit using any of the secure and convenient banking methods.
Place your first bet risk-free up to $300.
How To Bet on Horse Racing
Placing a wager down on a horse race is a bit different from betting on the moneyline, spread, or total in a football or basketball game. The easiest type of bet is simply to pick a horse to win and go from there. However, there are a ton of different ways to bet on the ponies.
Let's go through a few of the most popular methods for betting on horse racing.
Win, Place, Show
These are some of the easiest methods to wrap your head around. Win, place, or show simply means you are picking the first, second, and third horses to finish.
Win: You win if the horse you picked finishes first.
Place: This bet pays out for horses that finish in first or second place.
Show: Show bets win on horses that come in first, second, or third place.
These bets can be a little more complicated when they are part of an exotic bet, but we'll get to those in a moment.
Exotic Bets
Vertical exotic bets are part of a series of bets on one particular race. These are parlays on a race where bettors can choose between an exacta, trifecta, or superfecta.
Exacta: This bet wins when the bettor correctly predicts the win and place.
Trifecta: Unsurprisingly, a trifecta hits when the first three horses are chosen correctly.
Superfecta: The superfecta can make bettors big money when they accurately predict the first four finishers of the race.
All three of these exotic bets can be boxed. Essentially, this means that you are giving away some of the odds to give yourself an improved chance at winning. Boxing your bet simply means that you will win regardless of the order of the finish.
For example, if you place an exacta box on horse No. 1 and horse No. 2 to win and show, respectively, you will cash that bet if the horses flip flop on winning and showing.
Horizontal
Horizontal exotic bets can be fun as well. This is a parlay bet that takes place across multiple races. Rather than picking an exact outcome for a single race, bettors can pick winners in multiple races. Players can include up to six races in a horizontal bet.
Given the fact that all eyes are going to be on the Kentucky Derby, we don't expect many multi-race bets.
Kentucky Derby Odds
Here are the current odds for the 147th running of the Kentucky Derby:
| Horse | Odds |
| --- | --- |
| Known Agenda | 6-1 |
| Like the King | 50-1 |
| Brooklyn Strong | 50-1 |
| Keepmeinmind | 50-1 |
| Sainthood | 50-1 |
| O Besos | 20-1 |
| Mandaloun | 15-1 |
| Medina Spirit | 15-1 |
| Hot Rod Charlie | 8-1 |
| Midnight Bourbon | 20-1 |
| Dynamic One | 20-1 |
| Helium | 50-1 |
| Hidden Stash | 50-1 |
| Essential Quality | 2-1 |
| Rock Your World | 5-1 |
| King Fury | 20-1 |
| Highly Motivated | 10-1 |
| Super Stock | 30-1 |
| Soup and Sandwich | 30-1 |
| Bourbonic | 30-1 |
Kentucky Derby Favorites
Essential Quality is the odds-on favorite to win the Kentucky Derby at 2-1 odds, but there are a number of legitimate challengers who await him in the starting gates.
Rock Your World (5-1), Known Agenda (6-1), Hot Rod Charlie (8-1), and Highly Motivated (10-1) all have decent odds to win it at Churchill Downs on Saturday.
Longshots
Winning a bet on a favorite is always nice, but there is nothing quite like nailing a pick on a long shot. There are a number of horses going off at 50-1—Like the King, Brooklyn Strong, Keepmeinmind, Sainthood, Helium, and Hidden Stash.
There are also a few options on horses at 30-1 odds—Super Stock, Soup and Sandwich, Bourbonic. A soup and sandwich is a great option for lunch, but it remains to be seen if this horse can shock the world by winning the Kentucky Derby.
Click here to grab a risk-free bet of up to $300 to use on the Kentucky Derby at TVG.