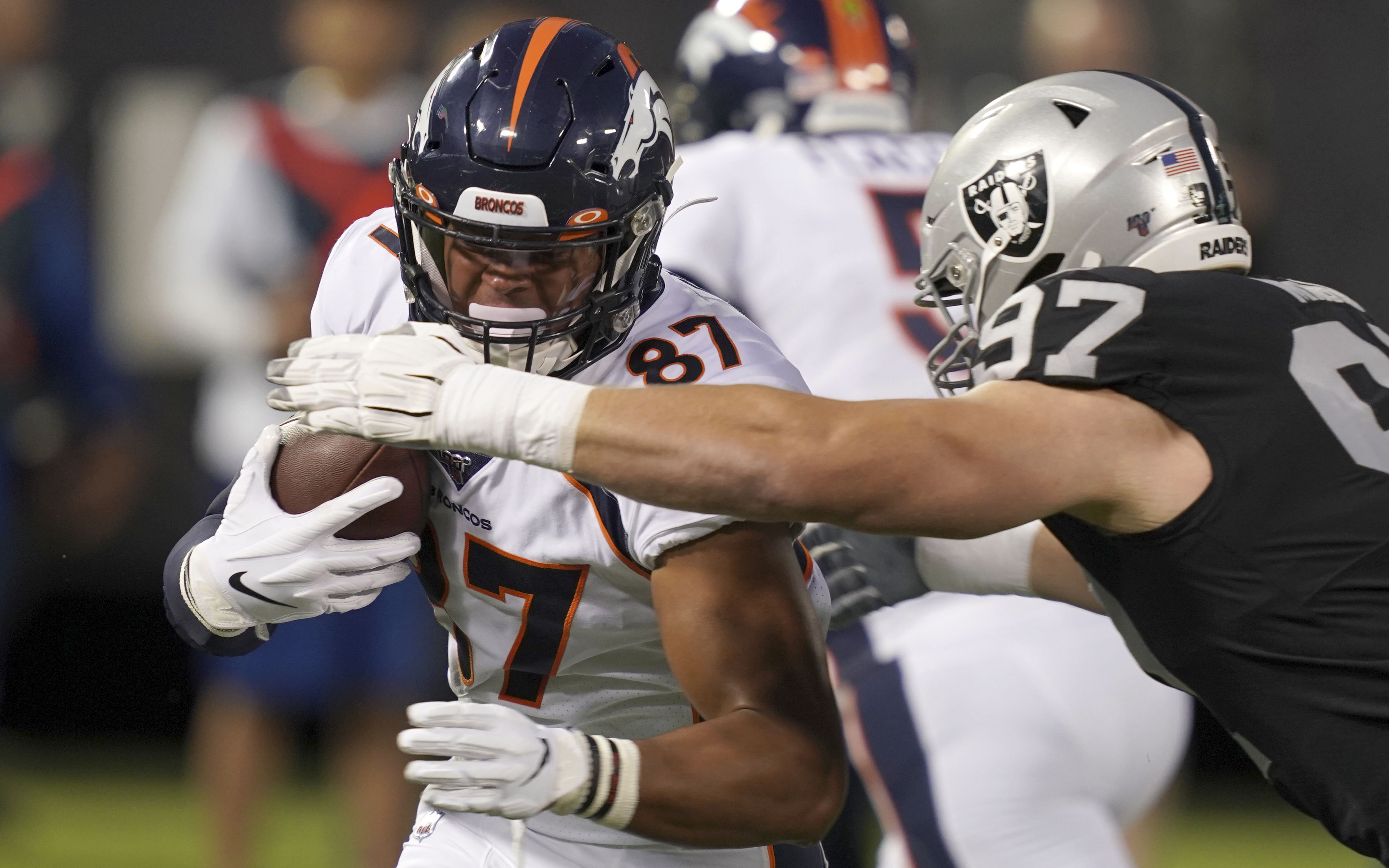 When a player is selected in the first round of the NFL draft, teams, coaches and fans are expecting that young man to become a star.
That's the burden on tight end Noah Fant of the Denver Broncos.
And in his first ever NFL game, there were more mistakes than solid plays for the No. 20 overall pick.
Fant started the game somewhat roughly, with a drop, but followed it up with a 20-yard reception, giving a glimpse of what could be when he becomes game ready. But, the game-defining drive for Fant came in the late third quarter when the Broncos needed him to succeed the most.
Backed up to their own five yard line, Joe Flacco hit Fant for a nice, nine-yard gain. But on second down, the tight end completely missed his block which resulted in a two-yard loss. On third and 3, Flacco threw the ball in Fant's direction, albeit low, and the Broncos ended the third quarter with a punt.
At that point in the game, Denver trailed 14-6 and desperately needed a scoring drive. Instead, they gave the ball back to the hometown Raiders who put a touchdown on the board of their own to basically put the game out of reach.
Fant caught a mere 2-of-5 targets in his first game, a paltry catch percentage of 40. Two of them were relatively easy, should-be catches and the other was much more difficult. But the struggles didn't end there as Fant not only missed that key block which was mentioned earlier, but at least one more block in the running game as well.
Hey, he may have the upside of being another receiver when he gets adjusted to the speed of the NFL game, but as a tight end, he's got to block well too.
Here's the thing about Fant; the Broncos could've taken Devin Bush at No. 10 overall but decided to trade back and eventually take Fant at No. 20. Bush, who plays inside linebacker where the Broncos are thin, enjoyed an 11-tackle first game with the Steelers, although they were dismantled by the Patriots.
But, we have to qualify here that inside linebackers are expected to excel immediately, while everyone knows it takes tight ends time to become great.
Great tight ends like Jason Witten (370 yards) and George Kittle (515 yards) struggled in their first seasons in the NFL, too. It's highly unlikely we see Fant at his best in this, his rookie season, and Broncos fans will have to be patient to see what he turns into.
Simply, it's going to be a long, up-and-down year for the new tight end.
But, make no mistake about it, Fant still has to become a star. That's what it means to be taken at No. 20 overall.
John Elway has done some great things in the NFL Draft, namely selecting Von Miller and Bradley Chubb while finding a ton of truly talented players after the selection process. But, what Elway hasn't done well is select first-round talent. Sylvester Williams, Shane Ray and Paxton Lynch are all first-round busts by Elway, and Garett Bolles remains on the precipice.
Fant not only has to become a star to legitimize his position in the draft, but to help Elway's resume, too.