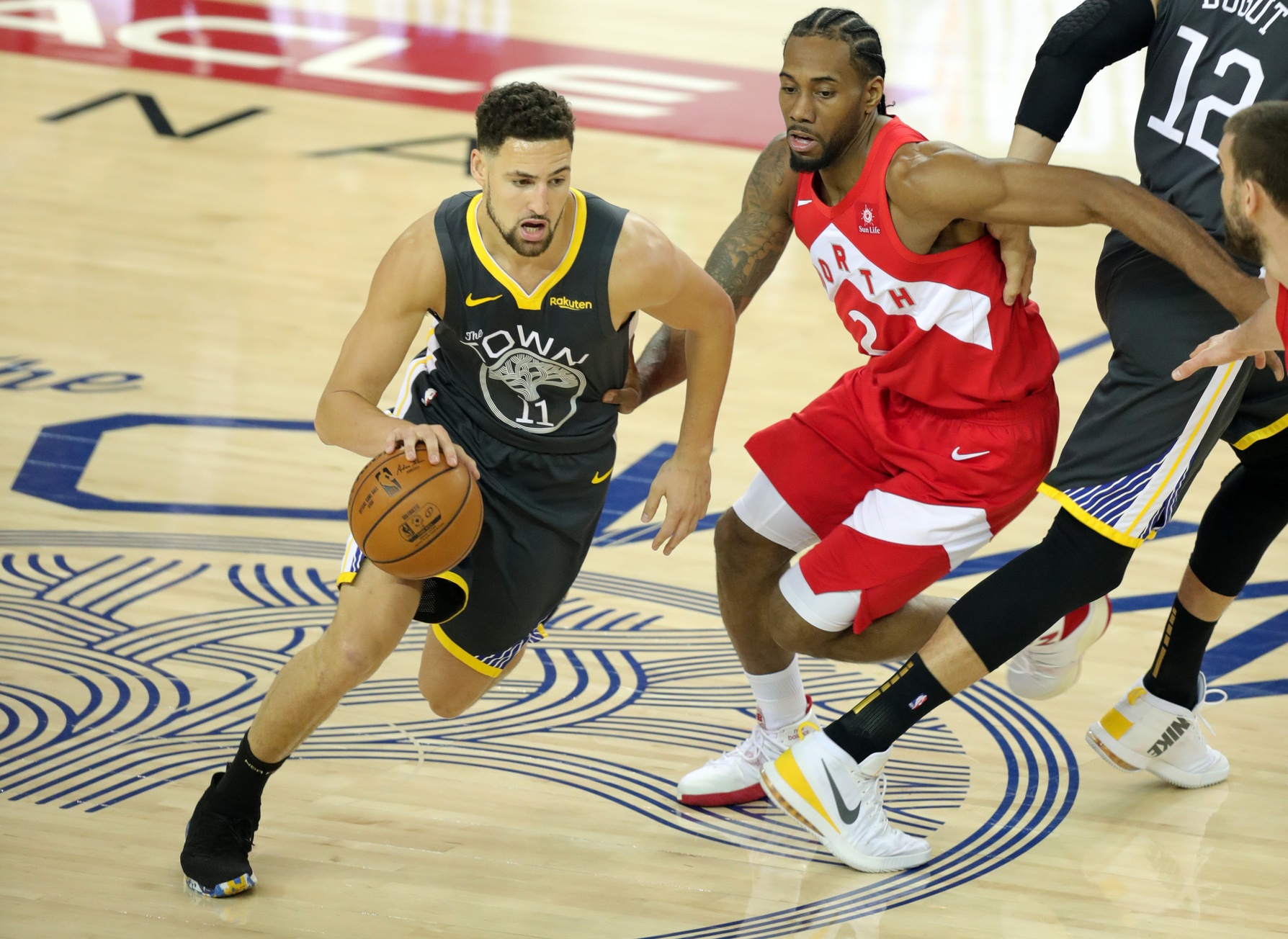 So K.D. and his bum Achilles tendon will opt to become a free agent.
And, reportedly, Klay Thompson, who tore his ACL in Game 6 of the NBA Finals, will also become a free agent and would consider a meeting with the L.A. Clippers if Golden State doesn't offer him a max contract.
Durant likely has big plans to go to New York or something, although some still believe the Warriors could still be where he winds up. And Golden State is still – despite all the rumblings about the Clippers – the odds on favorite to sign Thompson, who's one of the franchise's most notable players.
Then again, there's just something that feels funny about all of it. The Warriors should step up and pay both guys. Easy to say when it's not your $70-plus million sitting on the bench for an entire season. There's a loyalty factor, a trust factor that should come into play. Why then, does it feel like it won't?
And really, both guys should want to re-sign with Golden State, too. In the 2020-21 season, when the band's all back together and healthy, they'll be the darlings of the NBA. Instead of being a hated collection of stars, they'll be the comeback kids. And oh by the way, they'll still be the best team in the Association then. What player doesn't want that?
Well, K.D. is a different kind of cat, trying desperately to redefine his own legacy. And Thompson seems like a great player just a bit frustrated by the fact he's not considered "elite" – in the league or on his own roster. Thompson was visibly and audibly irritated about not making any of the three All-NBA teams; perhaps there's a desire to prove everyone wrong and win elsewhere.
And that's what leads us to Denver.
Can someone please explain why Denver is not on the list of potential teams best-suited for Thompson?
Let's see. What was the Nuggets biggest Achilles heel (no pun intended) in the postseason?
They. Couldn't. Shoot.
During the postseason, Denver ranked 8th in total field goal percentage and 6th in 3-point percentage. They were also 7th in free-throw percentage. Considering that four (or five) teams finished the playoffs better than the Nuggets, these rankings basically make sense.
Golden State, meanwhile – mostly without the services of Durant – ranked 1st in shooting percentage and 3-point percentage, and 3rd in free-throw percentage. Specifically, Klay Thompson made 44.3 percent of the 3-pointers he took (ranking 15th amongst all players in the playoffs) and made more threes than any player other than teammate Steph Curry.
By comparison, Nuggets starting guards Jamal Murray and Gary Harris hit on 33.7 percent (53rd best) and 35.1 percent (46th best) respectively.
Hypothetically, substituting Thompson in for either player advances the Nuggets to the Western Conference Finals, and it's not even close.
Everyone agrees the Nuggets have one of the NBA's best up-and-coming rosters. Nikola Jokic alone is a player plenty of teams would love to build around. But reality suggests that the teams with the best guards are going to win. What if they were to instantly upgrade one of the guard positions, specifically at shooting guard? Imagine Jokic finding someone like Thompson wide open possession after possession.
Offensively, Thompson could play two or three, and point in a pinch. Defensively, he can practically guard anyone other than a five. Thompson is one of the best defenders in all of basketball, something the Nuggets could undoubtedly use.
Call me crazy, but if Thompson were to join the Nuggets, I think they'd be one of a few teams favored to win a title next season (even if Thompson is out until March).
And the thing is, that's a win-win for both team and player.
The Nuggets get a piece hey don't already have, desperately need and one that every team should want. Signing Thompson is also addition by subtraction, making the Warriors far less formidable in years to come.
And for Thompson, he gets to be the guy. Denver's offense sets up perfectly to showcase Thompson's skillset better than any team in the NBA (not to mention, it works a lot like Golden State's offense, where Draymond Green and Nikola Jokic are pass-first big men creating all sorts of opportunities for open shooters. Thompson would not only be viewed as one of the league's elite players – as will be proven by an increase in personal statistics – but he could be the 2020 or 2021 version of Kawhi Leonard, a transformational player who's capable of lifting a franchise that's previously been unliftable.
This is not my pitch, however.
It should be the pitch used by Tim Connelly, and, to some extent, Klay Thompon's agent.
Hey, Klay, why not Denver?