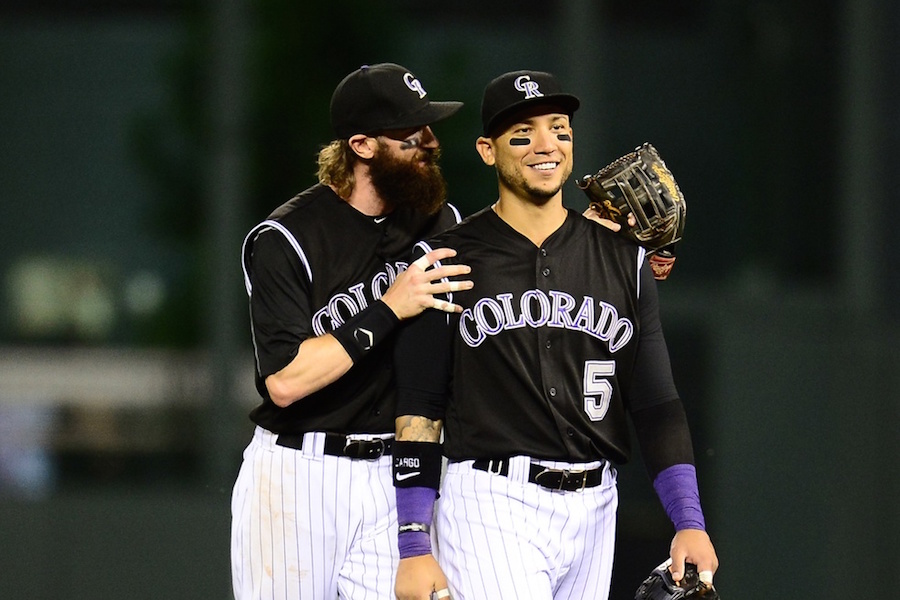 All I know is that the asking price for Carlos Gonzalez or Charlie Blackmon had better be extremely high.
Not a handful of prospects. Not a boatload of potential. Not anything less than a king's ransom. Herschel Walker kind of stuff.
But are they worth that? Depends how badly someone wants them.
If the rumors are true – that teams contending for the playoffs are interested in trading for either Gonzalez or Blackmon – then the Rockies had better stand pat on what most would consider a ridiculous asking price. If they don't, it's not worth trading either one of their star outfielders.
I say all of this having gained a tremendous amount of confidence in and respect for what Jeff Bridich has done in a relatively short amount of time as Rockies general manager. I say this believing that Bridich should be applauded (wildly) for his bold trade of Troy Tulowitizki last year. I say this after 22-year old David Dahl made his major league debut, going 1-for-4, scoring a run and for the most part looking like the talent we hope he'll be, looking like the type of player who could – if need be – fill in for a traded star. I say this knowing, that above all things, the Rockies need pitching – and Bridich isn't going to be able to go out and sign whichever free agents he'd like in the offseason.
I say this: Keep the Rockies outfield intact. Please.
Here's why:
Among the greatest eras of Rockies baseball (define that however you'd like) is the stretch that earned the franchise the nickname "The Blake Street Bombers." The '95 team, one that fell into this category, was made up of an outfield that could, well, bomb. With Dante Bichette in left, a combination of Mike Kingery and Ellis Burks in center and Larry Walker in right, the daily lineup –which also included great hitters Vinny Castilla and Andres Gallaraga – was worth the price of admission, win or lose. In fact, it boasted four hitters who blasted 30 or more home runs (86 coming from Walker and Bichette alone). Burks and Kingery combined for 22.
That team bombed its way to a wild card playoff spot, pitching be damned. The Rockies pitching staff that season was mediocre at best. The lowest ERA amongst (typical) starters that season was 4.21, a number put up by Kevin Ritz who also had the most wins with 11. (Ritz also had the most losses with 11 and the most starts with 28.) Outside of Bill Swift, who went 9-3 on 19 starts, the staff was made up of sub-.500 records and relievers who picked up cheap wins on the late inning accolades of the Bombers. Fans poured through the turnstiles to the tune of 47,084 per game (bests in the bigs) to watch the Rockies… hit.
Now, admittedly, those were different times. Coors Field was brand spankin' new. The ball was flying out of every park (maybe it had something to do with PEDs, maybe it didn't). And there was no humidor or Screen Monster in right center.
But the Rockies have a chance – right now – to replicate that model. This year the club boasts three players who should top the 30-HR mark. Trevor Story leads the team with 27. Arenado is a modern-day Vinny Castilla, but better in the field, and currently has 25. Gonzalez is close to the pace with 20. And with 12 home runs, Charlie Blackmon plays the role of Burks pretty well, but he hits for a higher average and runs the bases better. And all these guys are near or in their prime.
Let's say that Dahl is the player the Rockies believe he is – talk about an outfield in 2017! Add an infield that features Arenado, Story, D.J. LeMahieu (who shoulda' been an All-Star), and a very respectable Mark Reynolds at first, and there are very few places to "fault" the Rockies everyday lineup. In fact, let's go ahead and say that people will pay to come and watch that lineup hit.
Now, the difference between the '95 Rockies and the 2016 Rockies, is that Bridich has constructed an even better starting rotation. Every current Rockies starter, other than an aging Jorge De La Rosa has a .500 record or better. The bullpen probably isn't as good (the '95 team, featuring names like Darren Holmes, Curtis Leskanic and Steve Reed, gets the edge in the bullpen) but Bridich can actually get creative there – it's not impossible to get free agent bullpen pitchers (whereas starters simply ain't comin').
Why break up what could be one of the best-hitting lineups (and defenses) in Rockies history? And for what? Some prospects? How has Miguel Castro, who came over in the Tulowitzki trade, panned out? Not too well is the long and short answer.
Besides, the last thing fans in Colorado need is another kick in the gut. While it's not likely the team makes a push for a wild card spot, it's still within reach. They don't need the organization telling them, "Hey, sorry, we're not worth watching from now until Oct. 1, but wait'll next year…again." Bring this Dahl kid up and see what happens.
Bridich was brilliant in unloading Tulowitzki on Toronto. The oft-injured shortstop was a high-mileage liability with multiple monster contract years ahead. Whether the GM knew how good Story was going to be we'll never know; we only know Story has been nothing short of spectacular.
Still, Bridich shouldn't unload another star. Let's see what the Rockies have in Dahl, and let's see what Bridich can do with the bullpen next season. In the meantime, hit and hit some more. As late as Sept. 10, the 2007 Rockies were seven games back of the NL West lead. Right now, with a lot more baseball to play, they're 11 games back of the division and six back of the wild card. Who knows, but the playoffs aren't out of the question. Not yet.
So don't trade either of two everyday players worth watching in the midst of a season that's also still worth watching. Now's not the time.