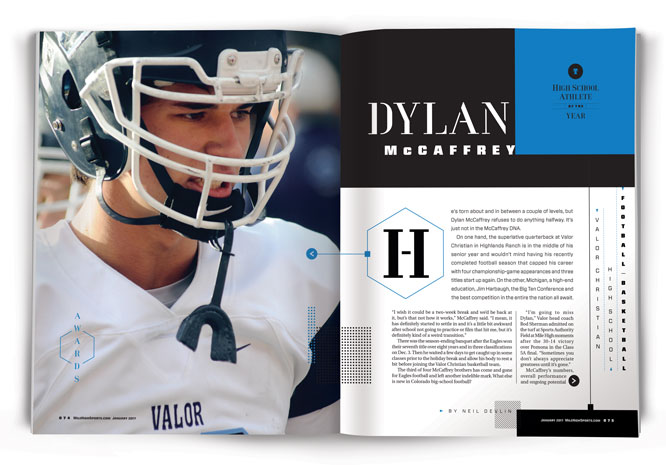 This story originally appeared in Mile High Sports Magazine. Read the full digital edition.
He's torn about and in between a couple of levels, but Dylan McCaffrey refuses to do anything halfway. It's just not in the McCaffrey DNA.
On one hand, the superlative quarterback at Valor Christian in Highlands Ranch is in the middle of his senior year and wouldn't mind having his recently completed football season that capped his career with four championship-game appearances and three titles start up again. On the other, Michigan, a high-end education, Jim Harbaugh, the Big Ten Conference and the best competition in the entire the nation all await.
"I wish it could be a two-week break and we'd be back at it, but's that not how it works," McCaffrey said. "I mean, it has definitely started to settle in and it's a little bit awkward after school not going to practice or film that hit me, but it's definitely kind of a weird transition."
There was the season-ending banquet after the Eagles won their seventh title over eight years and in three classifications on Dec. 3. Then he waited a few days to get caught up in some classes prior to the holiday break and allow his body to rest a bit before joining the Valor Christian basketball team.
The third of four McCaffrey brothers has come and gone for Eagles football and left another indelible mark. What else is new in Colorado big-school football?
"I'm going to miss Dylan," Valor head coach Rod Sherman admitted on the turf at Sports Authority Field at Mile High moments after the 30-14 victory over Pomona in the Class 5A final. "Sometimes you don't always appreciate greatness until it's gone."
McCaffrey's numbers, overall performance and ongoing potential clearly will leave an indelible mark in state annals. Consider the top quarterbacks of recent decades. Loveland's Collin Klein. Fairvew's Craig Ochs. Bear Creek's Justin Holland. Arvada West's Steve Cutlip. Mullen's Ryan Clement. McCaffrey has the statistics, victories, state titles, national interest and potential to surpass all of them of he hasn't already.
For instance:
Valor Christian was a dominant 46-9 in his career, 33-8 with him as a starter. The Eagles won three of four titles and were 19-1 in the playoffs, 14-1 with him as the starter.
For his career, McCaffrey (6-foot-5, 208 pounds and still growing) was a crack 578-of-906 (64 percent) for a whopping 8,023 yards, 80 touchdowns and only 17 interceptions. He also rushed 352 times for 1,735 yards (4.9 average) for 36 TDs and got up after every shot he took, so don't bother questioning his toughness.
Big games? In four finals, the past three as a starter, McCaffrey was 44-of-76 for 577 yards, five TDs and zero interceptions. He was also 41-for-169 in rushing for two more TDs.
Over the past two seasons, McCaffrey threw for 5,596 yards, 58 TDs and only nine interceptions.
Touch and arm strength? Followers still talk about the perfect fade he threw for a 2-point conversion late in the 2015 finale as well as the touch pass he tossed to younger brother Luke for a TD in the most-recent title game. And his lazer-laced seed into double coverage a year ago in the title game for a TD to Ben Waters was a throw many high-schoolers can't make.
McCaffrey could have named his school on the way to verbally committing to the Wolverines. The University of Colorado offered before his sophomore season. He is the 60th-ranked player in the Class of 2017, according to ESPN, No. 52 and a four-star recruit by Rivals.com.
Harbaugh, who has created as much college buzz as any coach since returning to his alma mater after leading the San Francisco 49ers, piqued local interest a year ago when he successfully landed Fairview defensive lineman Carlo Kemp (who is redshirting). It grew here in Denver when he and Wolverines passing-game coordinator and quarterbacks/wide receivers coach Jedd Fisch were on the sidelines for the big-school final at Mile High.
"Harbaugh? Yes, yes, it made me even more nervous for Dylan," said his mother, Lisa McCaffrey, adding it's always "nerve-racking" when watching any of her sons play. "I was overwhelmed (about Harbaugh being there). And I was really proud of Dylan handling it."
No problem, Dylan said, not blinking as his future college coach – he'll sign with the Wolverines in February – was in attendance at his final prep game and said it "was really cool. We could finally talk. There are so many rules … but I got to spend the day with him and got a win."
McCaffrey, who won't leave Valor early, is under no illusions about what he's getting himself into – and he can't wait to try it. He also has a 3.8 grade-point average that he's eager to apply to college classes.
"I probably will end up redshirting," he said. "Even if I'm not playing, I'll be competing my butt off and getting better, on the scout team or taking [second-team] reps. I'll be learning and being patient. I think I chose a school not just for football and that's a big thing I'm fortunate with. I'm looking forward to every second of it."
This won't be the Centennial or the Mt. Lincoln league.
"It will be very different, with Michigan State and Ohio State …  it will definitely be a big step, one I'm ready to take and ready to climb," McCaffrey said. "Hopefully, it ends up all good. I trust the coaches to put me in when I'm ready to be put in."
Sherman said it may be McCaffrey's best attribute.
"I thought he did some great things, but more than anything he's a competitor, just a great Christian competitor," the coach said. "He's a great quarterback who is so talented, but what you pay attention to is his competitiveness and his character."
McCaffrey said he has inherited it from his family. Father Ed was a Broncos wide receiver who remains popular today. Oldest brother Max starred at Duke and was a late cut by the Oakland Raiders. All-purpose Stanford back Christian was runner-up for last year's Heisman Trophy. And younger brother Luke, who already has an offer from Duke, recently completed his sophomore season at Valor in which he quickly emerged as the team's top returner, receiver and defender in the secondary.
"We all play different positions, so I try to follow their workouts, but we also all root for each other; we all have a very good bond," McCaffrey said.
There is still a thought or two about leaving his prep football career behind "that stings a bit, but you have to accept those. I'm happy where I'm at and there's a lot more football to play.
"As far as high school goes, I'm happy I went out on top."