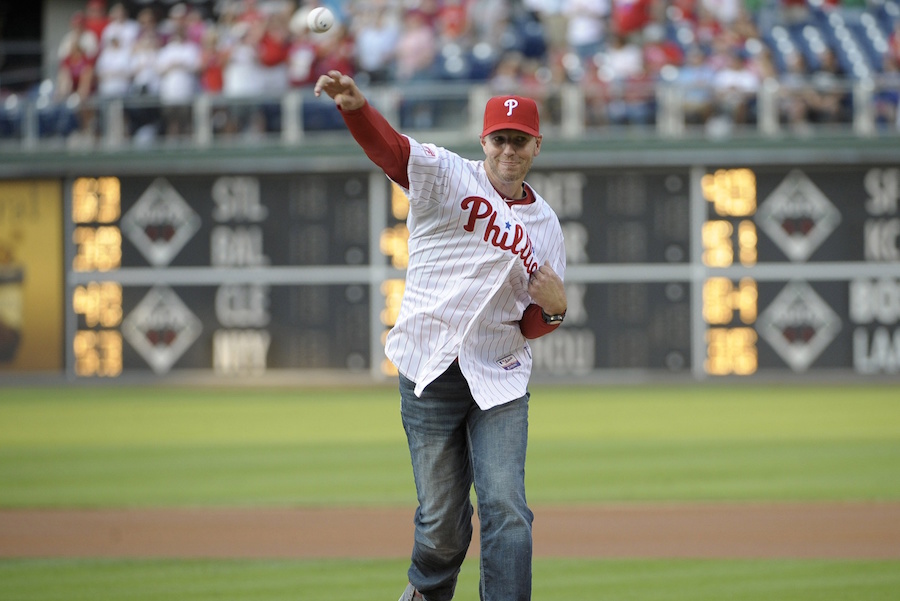 A friend called. I was on the exercise bike in the home man cave and watching a "Law & Order" rerun. Did I hear, he asked? Roy Halladay was dead.
What? How? When? Why? Are you sure? It was as shocking as it was true. The former Arvada West High School star pitcher died in a plane crash. The 40-year-old is gone.
It's probably the most terrible aspect of being a high-school sports writer. Sometimes the kids you cover, the ones you spend time with, the teenagers you meet along with their families, even the lucky ones who advance to the pinnacle of their sport, unexpectedly die.
In Halladay's case, the native-Colorado son of a commercial pilot was doing one of the things he loved, flying his own plane, but that doesn't make it any easier.
This was a guy who was full of life, a man who retired before 40, and was a husband, father and considerable member of his community, but he never felt it necessary to let everybody know it every time they saw him. As a major-league pitcher, he was in the public's eye, yes, but by no means was it his thing. More than just lip service, he actually was the guy who was always there early before everyone to get his work in, but, again, no, he didn't chest-thump about it or let guys like me know it.
In the family home in what was then a significantly less built-up northwest Arvada, the teenaged Halladay had a batting cage in the basement as well as a hanging tire in front of a mattress, where he practiced for hours. He also sought the tutelage of the late Bus Campbell, a beloved, in-state pitching guru, and by the time he was in high school the kid who would grow to a strapping 6-foot-6 was a major factor.
In 1994, the son born Harry Leroy Halladay III was a large part of the 'Cats Class 6A (the final one before changing to 5A) championship. A year later, A-West again made the big-school final and it turned into one for the ages. Star-studded rosters for both the 'Cats and ever-present Cherry Creek took two days to decide it as one of the quickest, darkest thunderstorms during prep play halted the game in the middle innings and postponed it to Sunday. (I remember because it was my younger son's birthday and the wife wasn't too thrilled I would be late for the party.)
Cherry Creek's Brad Lidge started the game on Saturday in Colorado Springs. Halladay came on for a rare relief appearance on Sunday. I remember the A-West parents boldly chattering among themselves that the Bruins "hadn't seen anything like this," although a fatigued Halladay was touched for a double as well as a sacrifice fly for the winning run. And as I was driven home for the birthday party, I wrote the story that included Cherry Creek winning the Triple Crown of sorts, the only such institution to win Colorado titles in football, boys basketball and baseball during the same school year.
And I remember thinking how empty Halladay felt, his last prep outing resulting in a loss in a title game. He was distraught, but he took it like the young man he was.
For what it's worth, my personal claim to fame of sorts involved warming up Halladay in the A-West bullpen. Coach Jim Capra was okay with it. A friend was shooting photographs for a story and there I was, crouching with a catcher's mitt, no mask and no cup (sometimes I'm not that smart) 60 feet, 6 inches away from a prep stud. Trust me; it was an experience, and I was still playing in an adult league. Halladay alerted me that he "needed to get loose," and no question over the next several minutes he got as loose as creamed corn. And stronger. He also threw the heaviest ball I've ever been able to catch. At one point, my left hand would have sworn Halladay was firing a shot put and I recall muttering to myself, "Who the heck can hit this?"
I also got to be there at his home in June 1995 when he was drafted 17th overall by the Toronto Blue Jays. His mom made the best queso dip I've consumed to this day. And the joy on his voice when the news arrived on his selection? It was real. Halladay also was good enough to take my call after a start in his rookie year and we chatted like he had just played for the 'Cats.
As for working hard, Halladay was legendary. I think one of the best stories was when his team made an appearance at Coors Field and the local media wanted to feature him. It didn't happen. It was a work day for Roy, a prepare day, and nothing was going to interfere.
And when he signed with the Phillies – I grew up next to Philadelphia – I became ecstatic and quickly called childhood friends. Philly had a second "Doc" to add to its considerable sports history; even the descendants of those who booed Santa Claus had someone to embrace. I knew Roy would be their kind of guy. Works hard. And keeps his mouth shut. If those aren't lost arts for so many pros today, I don't know what are.
Of course, many of us couldn't predict in 1995 that Halladay would grow into one of only six pitchers to win the Cy Young Award in both the American and National leagues or make eight All-Star Games, win 20 games in a season (three times), 203 overall, finish 98 games above .500 for his career, and throw a perfect game as well as a no-hitter in the postseason. When it was going badly for him early in his career and he was sent down to Class A ball and was too embarrassed to return to Colorado, few were surprised to learn he took it like a man, didn't whine and put in the work to return.
What a guy like me could predict, however, was that the All-Colorado pitcher I chose and maybe the best I've seen would be a terrific teammate, act humbly and grow into a man who clearly understood his place in this life, one who loved his family and cared about others.
Thanks for the ride, Roy. It ended too soon.