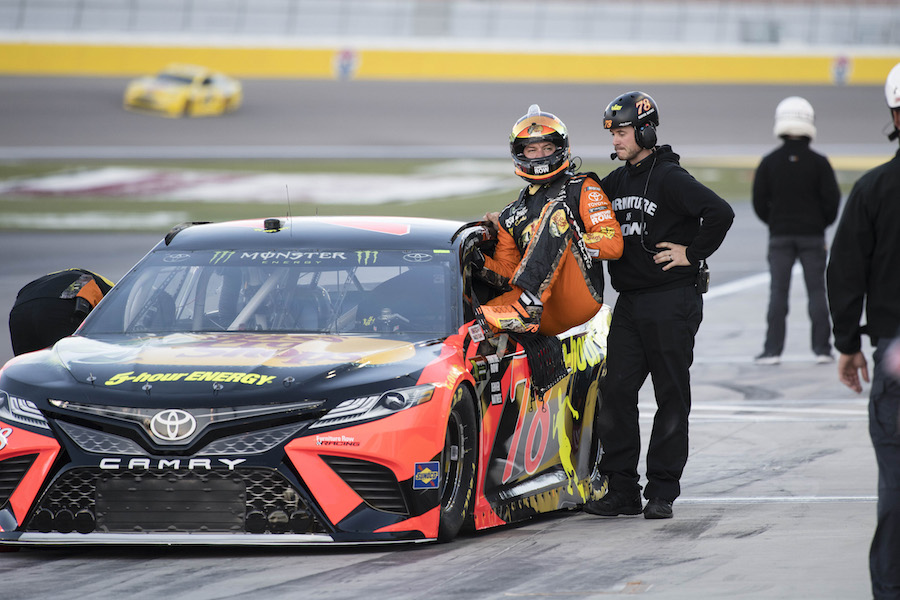 Martin Truex Jr. fought high winds and a tire issue Friday to qualify fourth for Sunday's Pennzoil 400 at Las Vegas Motor Speedway.
Truex's No. 78 Bass Pro Shops/5-hour ENERGY Toyota ran a lap of 28.424 seconds at 189.980 mph in the pole round on the 1.5-mile oval despite having a right-front tire equalize (same air pressures in the inner liner and outer tire) during the first round. He finished 10th in the first round and fifth in the second round.
The Furniture Row Racing driver will line up on the outside of Row 2 for the 267-lap, 400.5-mile race.
"I had no idea, to be honest," said Truex about the tire issue. "They did such a good job of trying to make up for it and figure out how to set the air pressure. At the end of the day I'm sure it was not helping us to get the car right, because for whatever reason that last run we got really tight in turn three. I don't know if that had something to do with it or if it was just our adjustments. For the guys to overcome that and get faster each round, it was a really good effort. Goodyear said they would let us put a new inner liner in that tire so we could start the race on it and be fine."
Truex earned his first of eight victories last season at Las Vegas Motor Speedway.
Ryan Blaney earned the pole. The balance of the top 12 qualifiers were: Kevin Harvick, Kurt Busch, Truex, Kyle Larson, Chase Elliott, Ricky Stenhouse Jr., Brad Keselowski, Erik Jones, Joey Logano, Clint Bowyer, and Paul Menard.
Sunday's Pennzoil 400 presented by Jiffy Lube will air live beginning at 1 p.m. MT (3 p.m. ET) on Fox, SiriusXM NASCAR Radio Channel 90 and PRN.