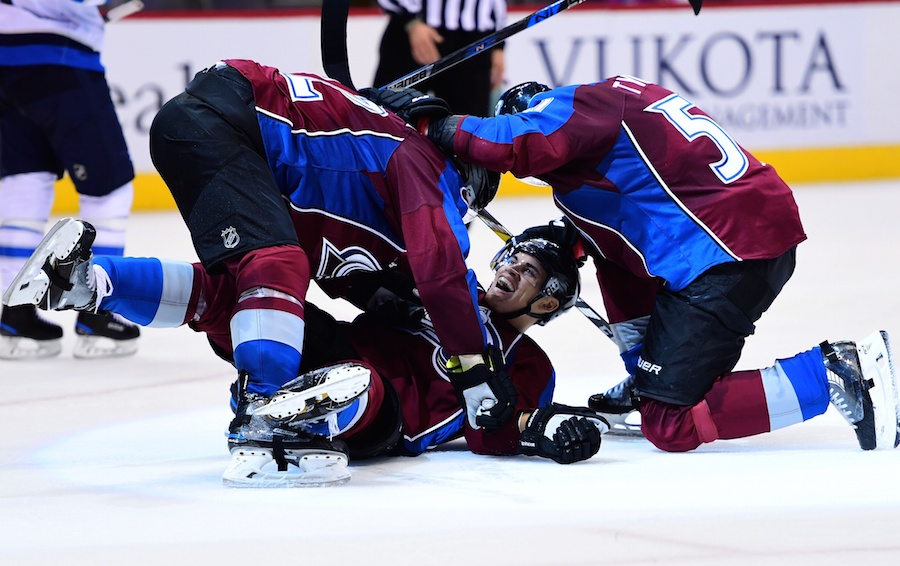 When your offense isn't clicking, sometimes you need a little help from the opposition. A Colorado Avalanche team that had scored just five goals in five games, four of them losses, heading into Friday night's matchup with Winnipeg got just that. Rene Bourque was ultimately credited with the game-winner, but it was the Jets' Nikolaj Ehlers errant pass that slipped past Michael Hutchinson 1:32 into the extra frame to hand Colorado their first win in three games.
The four other goals in the game were all scored in the second period. Colorado's top draft pick in 2015, Mikko Rantanen, scored his first NHL goal, a wrister on the power play, early in the period to give Colorado a lead. Bourque would tally the Avs' second goal off a beautiful feed from Tyson Barrie.
Semyon Varlamov, who made 16 saves on the night, couldn't stop Blake Wheeler and Mark Scheifele, who each scored to level things through two. Wheeler converted a turnover and Scheifele scored on the power play, his 10th goal of the season. Scheifele trails only his linemate Patrik Laine (11) for the NHL lead. It was the third man on that line, Ehlers, though, whose own goal was the difference.
The win was not enough to pull Colorado out of the basement in the Central Division. They'll need help from Anaheim, who hosts Nashville Saturday night, before getting another chance on Sunday to leapfrog the Predators. Colorado hosts Boston at 5 p.m.