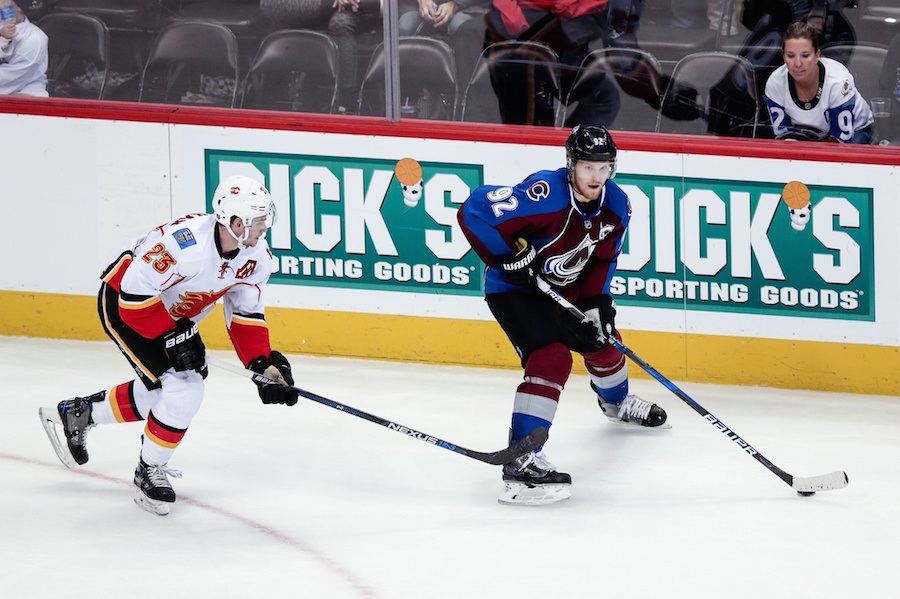 Just when the offense started showing signs of life, the defense stumbled and the Colorado Avalanche dropped its sixth game in seven, 6-3, to the Calgary Flames.
The Avalanche jumped out to a one-goal lead in the first period on a beautiful slap shot from Gabriel Landeskog, but the flood gates would open on Calvin Pickard in the second period. Calgary scored three unanswered goals, including one that bounced off the skate of an Avs defender and another that bounced off the end board, then off Pickard's back and into the net. Jarome Iginla brought Colorado back within one on a one-timer later in the frame, but another bad bounce and sloppy defensive play gave Calgary the two-goal advantage.
Pickard made an outstanding save on a Mikael Backlund shot, but couldn't contain the puck at the top of the crease. It bounced off the skate of Francois Beauchemin and in for Calgary's third fluky goal of the game. The Flames extended their lead in the third period on Johnny Gaudreau's second goal of the game. Landeskog scored again to give Colorado a fighting chance with six minutes remaining, but Kris Versteeg put things completely out of reach with a power play goal just over a minute later.
Colorado has a pair of games remaining before the calendar flips over to 2017. They are in Dallas on Thursday and then host the New York Rangers on New Year's Eve.